Vanilla Almond Breeze Almond Milk Has Been Recalled For Possible Milk Allergens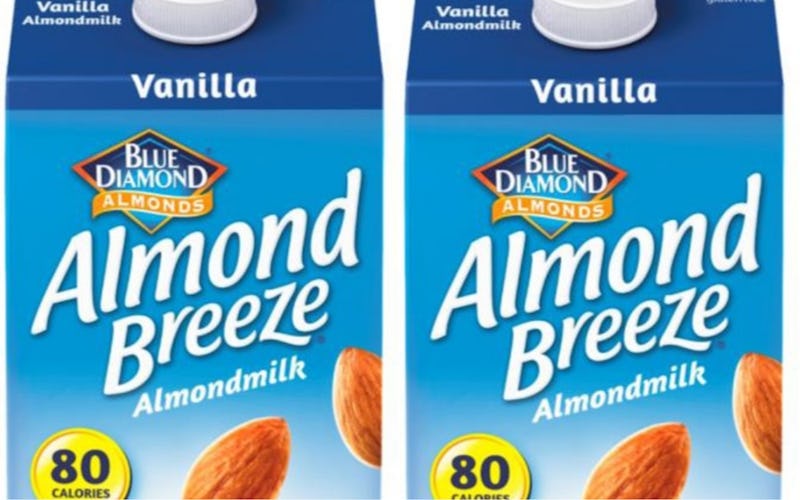 If you drink almond milk because of a sensitivity or allergy to dairy milk, you may want to check your fridge. Half-gallon cartons of refrigerated Blue Diamond Vanilla Almond Breeze almond milk have been recalled for potentially containing dairy milk without "milk" being listed as an allergen on the label. The recall doesn't affect all half-gallons of Vanilla Almond Breeze; only ones with a use-by date of September 2, 2018, according to the Food & Drug Administration. (Bustle has reached out to Almond Breeze about the recall, and will update this post upon response.)
The FDA notes that an affected beverage is safe to drink for people who don't have milk allergies or sensitivities, but for those who are allergic or have a severe sensitivity, drinking the milk could be life-threatening. So far, there has been one report of an allergic reaction, but medical care was not needed.
The recall affects over 145,000 cartons of almond milk, which were sent to stores in 28 states (Alabama, Arkansas, Connecticut, Florida, Georgia, Iowa, Illinois, Indiana, Kentucky, Louisiana, Maryland, Maine, Michigan, Minnesota, Missouri, Mississippi, North Carolina, Nebraska, New Jersey, New York, Ohio, Oklahoma, Pennsylvania, South Carolina, Tennessee, Texas, Virginia, and Wisconsin). The FDA website has more information about what the stamped use-by date and UPC code looks like on the recalled item, along with a photo of one of the affected cartons.
According to the FDA, those who purchased one of the recalled containers can return it to the store where they bought it for a refund or exchange, or can fill out a form on the Blue Diamond website. (It's unclear from the statement from the FDA and from HP Hood LLC what filling out the web form achieves, but there is a "Contact Us" form available on the site.)
The FDA and Hood didn't share how dairy milk could have gotten into the almond milk. HP Hood LLC, which produces Almond Breeze is primarily a dairy company, but it's not yet clear if this connection is related to the recall.
This is far from the only high-profile brand whose name has ended up on a recall list in the past few weeks; varieties of Ritz crackers and Goldfish crackers were recently recalled, as well as salads and wraps from certain grocery chains, including Trader Joe's. A Chipotle in Ohio also temporarily shut down last weekend after over 350 customer complaints of illnesses. It certainly does seem to be a summer for recall headlines.
While the variety of Almond Breeze affected by the recall is safe to drink for those who don't have a milk allergy or sensitivity, anyone who bought almond milk was clearly not looking to buy dairy milk, so there are probably going to be a lot of returns and exchanges going on at supermarkets across the 28 affected states. When it comes to product recalls, the best thing to do is just to stay updated via the FDA and the Centers for Disease Control and Prevention.