Victoria Beckham's Carpool Karaoke Invite Could Mean A Spice Girls Reunion — FINALLY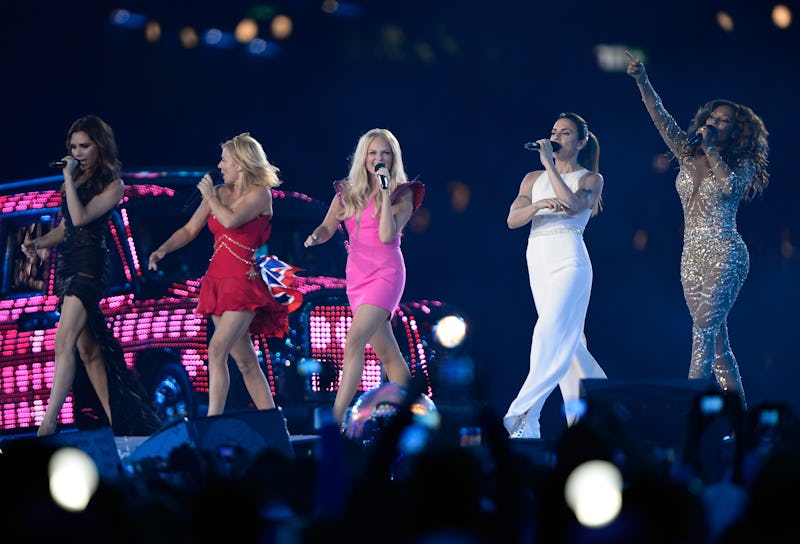 Pascal Le Segretain/Getty Images Sport/Getty Images
James Corden really, really, really wants to see the Spice Girls sing karaoke in a car. On the Thursday, April 12 episode of The Late Late Show with James Corden, the titular host asked Victoria Beckham if a Spice Girls edition of Carpool Karaoke could ever happen. While she did not speak on behalf of the rest of the group, she did say that if the Spice Girls ever do Carpool Karaoke together, she would be a part of it. Again, nothing is confirmed and nothing is official, but if Melanie Brown, Melanie Chisholm, Emma Bunton, and Geri Horner all decide they are down to belt out some tunes in the Carpool Karaoke vehicle one day, it genuinely sounds like Posh Spice would be there with bells on.
Earlier this year, the Spice Force Five got together for the first time since 2012. When Corden asked Beckham about this iconic meeting, she replied,
"It was so great seeing the girls. You know, we're all still friends, we're still very close, and it was great to be there, and Geri's kids were there. We were just hanging out, having some lunch, just talking about it's not about us going on tour, it's not about us recording new material, but how do we pass the girl power message on to future generations? What does that look like? What is it? Because now, never has there been more of an important time to spread that message as there is now. So what does that look like?"
Without missing a beat, Corden replied, "Well, it looks like a Carpool Karaoke with the Spice Girls." And then, Beckham said that would be "hilarious." And then, Corden asked her if she would be on board. And then, Beckham laughed.
And then, Beckham went and uttered nine words that prompted Corden and the audience to erupt. Posh Spice said,
"I will do Carpool Karaoke with the Spice Girls."
You really can't get less cryptic than that. Posh Spice is game, y'all.
If this were to eventually take place, it would not be Beckham's first Carpool Karaoke. In 2017, Beckham and Corden taped a parody trailer for Mannequin that included a scene where the pair sang along with "Spice Up Your Life." And maybe, just maybe, we will one day be lucky enough to see all five Spice Girls sing along with "Spice Up Your Life" while they go for a ride in Corden's car.
Corden seems pretty committed to making this dream a reality. When the host of The Late Late Show appeared on Bunton's Heart Radio program in March, he invited her and the rest of the Spices to be on the recurring karaoke segment. Corden said,
"I think it would break the internet … To be clear, this is not the first time that this has come up. There's been endless phone calls that have already been made. I think I got in touch with Simon Fuller about four and a half minutes after that Instagram photo."
Baby Spice chuckled, "You're good. Isn't he good?" Though her response wasn't as transparent as Beckham's, she did say a Spice Girls reunion on Carpool Karaoke "would be special." She also picked up her phone and jokingly yelled, "Girls, come on!"
Speaking of reunions, how about The Picture the Spice Girls posted on Friday, Feb. 2, eh? What a glorious moment.
Shortly after The Picture hit the internet, the quintet released the following statement to Entertainment Tonight:
"We have enjoyed a wonderful afternoon catching-up and reminiscing about the amazing times we have spent together. We are always overwhelmed at how much interest there is across the whole world for The Spice Girls. The time now feels right to explore some incredible new opportunities together. We all agree that there are many exciting possibilities that will once again embrace the original essence of The Spice Girls, while reinforcing our message of female empowerment for future generations."
The get-together generated some pretty major reunion tour rumors, but before things could spiral out of control, Beckham shut down the scuttlebutt. On Feb. 10, Posh Spice told British Vogue, "I'm not going on tour. The girls aren't going on tour."
A Spice Girls tour may not be in the tea leaves, but as for doing some zig-a-zig-karaoke together in Corden's car? Well, it sure seems like Beckham is open to buckling her seatbelt and buckling up for a drive down Nostalgia Lane with her former bandmates. So cross your peace fingers, and never give up on the good times or the possibility of the Spice Girls being on Carpool Karaoke.