Emma Bunton Just Revealed More About The Spice Girls Reunion & Fans Should Listen Up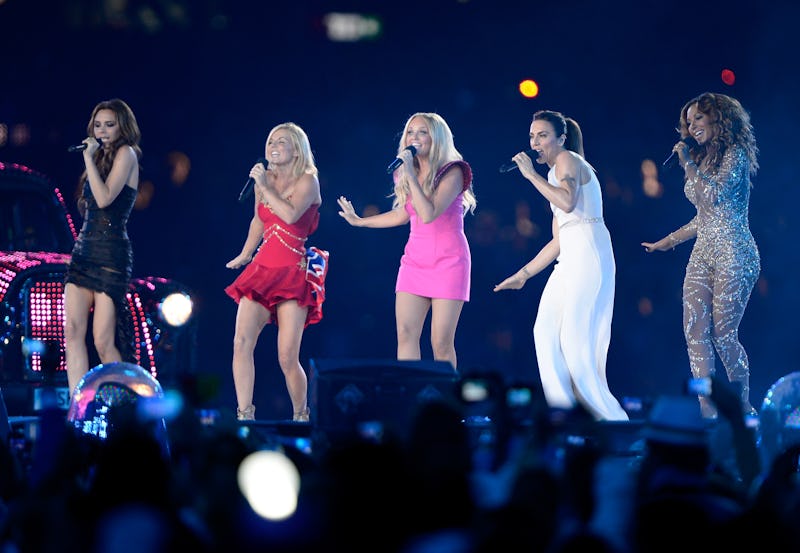 Pascal Le Segretain/Getty Images Sport/Getty Images
Slam it to the left if you're having a good time, and shake it to the right if you have some questions about those legendary pictures the Spice Girls took together last Friday. Lucky you, Emma Bunton addressed the Spice Girls summit that took place last week on Monday's episode of her Heart FM morning show. She didn't officially announce a reunion event or anything of the like, but she did hint that some sort of Spice Girls reunion thing might happen eventually. Never give up on the good times, gotta believe in the possibility of a Spice Girls reunion after all.
On Feb. 2, the "Spice Up Your Life" quintet reportedly met up at Ginger Spice's home for tea, sushi, and nostalgia. Yes, even Sporty Spice and Posh Spice — the two Spices who've said they wouldn't be down to do a reunion event — were present and accounted for. The group posted photos and videos of this historic get-together on Instagram. Naturally, folks wanted to know what it was that prompted all five Spice Girls to meet up for the first time since 2012. Was this nothing more than a friendly hangout, or were the Spice Force Five up to something?
On the Feb. 5 episode of the Heart Breakfast radio program, Baby Spice's co-host Jamie Theakston did the planet a solid and asked her to spill what happened when she got together with Geri Horner, Melanie Brown, Melanie Chisholm, Victoria Beckham, and Spice Girls manager Simon Fuller last Friday. According to The Sun, Bunton offered up the following morsel:
"The main thing was that we sat together and have gone, 'Right, there's things, there's opportunities here, are we all in?' So exciting things to come."
And when Theakston wondered if this gathering had anything to do with the recent rumor that they'd been offered £10 million each to reunite, according to The Sun, Baby Spice reportedly replied,
"Oh ha ha ha. No, again, it was being together and figuring things out, there's lot of opportunities for us especially right now, needing a bit of girl power in the world."
Oh? OK then, Cryptic Spice. Guess we'll just have to sit tight until the group shares what those "opportunities" are.
For the last several years, you couldn't toss a platform shoe at a tabloid without hitting a piece of gossip about a possible Spice Girls reunion. There were whispers about the band coming together for the 20th anniversary of "Wannabe." There was tittle-tattle about the Spice Girls and the Backstreet Boys potentially joining '90s pop forces for an iconic tour. And when two of the five Spices publicly opted out of any future reunion plans, the other three got together and considered proceeding as a trio. Oh, and there was also a rumor about a reality show where wannabes would compete for the vacated spots in the group. And heck, just last month, Horner told The Daily Mail that there were no tour plans on the horizon. "I'm always open to doing something with the girls," she said, "but there are no plans at the moment."
But now, it seems like something may finally happen. On Friday, the Spice Girls issued the following statement to Entertainment Tonight:
"We have enjoyed a wonderful afternoon catching-up and reminiscing about the amazing times we have spent together. We are always overwhelmed at how much interest there is across the whole world for The Spice Girls. The time now feels right to explore some incredible new opportunities together. We all agree that there are many exciting possibilities that will once again embrace the original essence of The Spice Girls, while reinforcing our message of female empowerment for future generations."
And the day after the Spice Girls shared those earth-shattering Insta posts, Mel C talked about pictures on BBC Radio 2's Saturday Breakfast Show. According to the BBC, Sporty Spice told Dermot O'Leary,
"It's the worst kept secret in showbiz always. It was lovely to get together, so we are talking about opportunities, ideas we have for the future... but you know, it's early stages and there's nothing set in stone, there is no big announcement."
All of this sounds quite encouraging and awesome and holy Chupa Chups this could really be the beginning of a new Spice Girls chapter.
Yeah, seeing all five Spice Girls plus their manager together is a big deal, and it does seem like something major is on the horizon, but remember: nothing's been confirmed. If the last five years have taught fans anything, it's that it's best to not get emotionally attached to any Spice Girls reunion chatter. Again, this recent meeting seems pretty promising, but it's probably best to not get zig-a-zig-ahead of ourselves.
Whatever does or doesn't happen, at the very least, we got those terrific pics and videos of the Spice Girls hanging out in 2018. And just like that sold out show at Royal Albert Hall at the end of Spice World, these Instagram posts were so worth the wait.