Victoria Beckham Just Set The Record Straight About Why She's Not Joining The Spice Girls Tour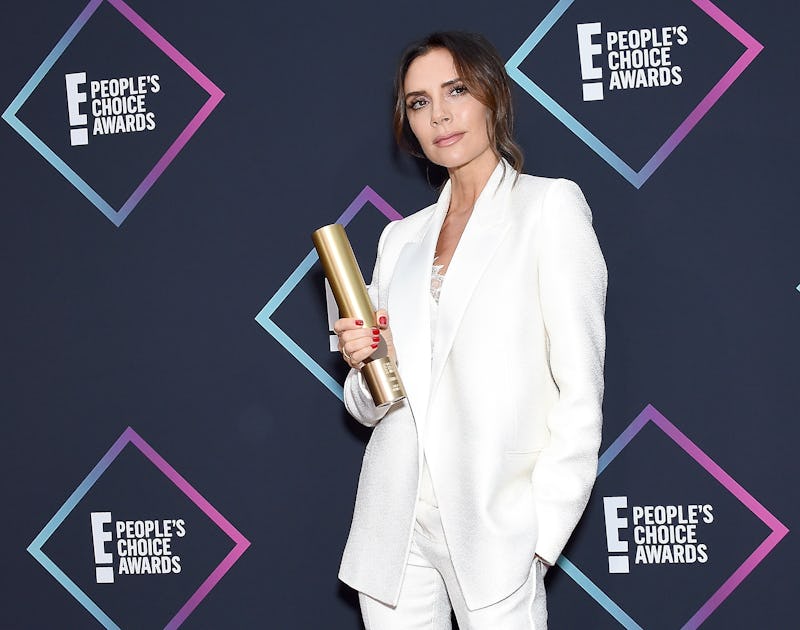 Gregg DeGuire/Getty Images Entertainment/Getty Images
It's true that Posh Spice won't be taking part in next year's highly anticipated return to Spice World, by way of the group's reunion tour. But, luckily, her upcoming absence isn't due to lingering bad blood, or anything like that. Victoria Beckham's latest comments on the Spice Girls reunion, which the star shared with Extra reporter Renee Bargh during the People's Choice Awards Sunday, Nov. 11, make it clear that Posh is still very much in support of her former bandmates' forthcoming return to the stage.
"I think the girls are going to do a great job," Beckham told the outlet, referencing fellow Spice Girls Emma Bunton, Geri Horner, Melanie Chisholm, and Melanie Brown, all of whom are set to perform in next summer's big reunion tour. Continuing, Beckham reportedly told Extra that the women "have great things planned," and she's looking forward to watching their iconic musical magic take center stage once again alongside droves of dedicated fans.
But how come she won't be performing alongside the other ladies on tour? As it turns out, the reason Beckham won't appear in the Spice Girls reunion tour reportedly boils down to some very understandable personal and professional circumstances: scheduling conflicts, familial obligations, and the like. As she told Extra, "I have so much going on with my business and my family."
As Beckham is a fashion designer, businessperson, and mother of four, she definitely has a ton on her plate right now. And so keeping all of that in mind, it's really not much of a surprise that she decided to opt out of what would have probably been a pretty major — and lengthy — commitment with the Spice Girls reunion tour.
That said, this is technically the first time fans are hearing Beckham's explanation for not joining in. (A Vogue UK article from Nov. 5, just after ticket sales were officially announced, cited "business commitments" as the reason for her lack of involvement, but that was pretty vague.) That same day, Beckham took to Instagram with a message responding to the Spice Girls reunion tour announcement for the first time. Though she didn't provide any additional context regarding her own participation, it was obvious that Posh had been championing her former bandmates' exciting return since the beginning. Captioning a totally fierce photo of the Spice Girls, sans Posh, Beckham wrote:
"Being in the Spice Girls was a hugely important part of my life and I wish my girls so much love and fun as they go back on tour next year. I know they will put on an amazing show and the fantastic fans past and present are going to have a wonderful time!"
Even though it's a little disappointing to hear that Beckham won't appear on tour herself, at least fans can rest assured knowing she still has her former bandmates' best interests at heart. Plus, as Beckham told Extra during Sunday night's show (where she accepted the evening's Fashion Icon Award, according to several outlets), she's still doling out empowerment like it's her day job, even without the help of her Spice-y sisters. "It started with girl power all those years ago and now it's the same message but it's empowering women through fashion," Beckham reportedly said.
Continuing, she said what she loves most is helping women "feel like the best version of themselves." And if Beckham's support for her former Spice sisters thus far is any indication, it seems she's actually continuing to do exactly that, in more ways than one. Again, that really shouldn't come as a surprise. After all, contracts might expire and whatnot, but friendship — as the song goes — never ends.