Mel B Implied Victoria May Join The Spice Girls For SOME Dates, So There's Hope Yet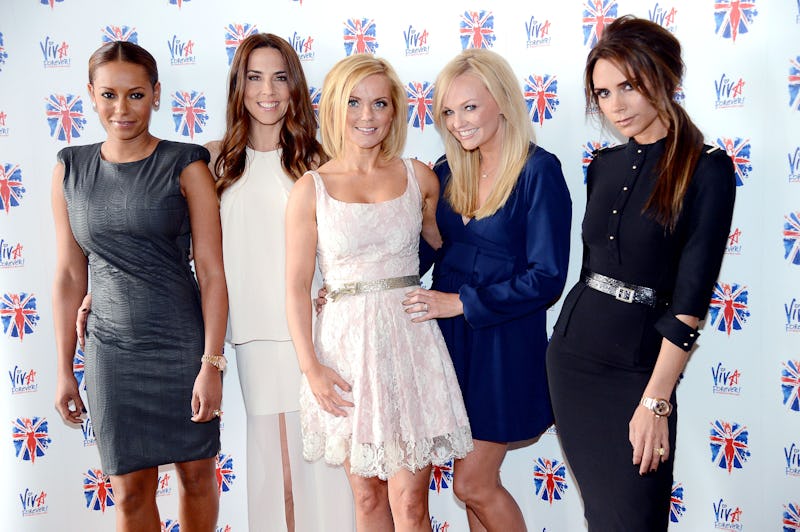 Richard Young/Shutterstock
Rumours that one of the greatest '90s girl bands would be getting back together have been rife all year. But now it's confirmed that the Spice Girls really will be taking to the stage once again. The question is: will Victoria Beckham appear on the Spice Girls reunion tour? Or are the band sadly reuniting as a four-piece?
Sadly, the original five piece will not be reunited, as Victoria Beckham will not be going on tour. In a statement issued by the designer, she said: "Being in the Spice Girls was a hugely important part of my life and I wish my girls so much love and fun as they go back on tour, I know they will put on an amazing show and the fantastic fans past and present are going to have a wonderful time!"
Judging by the recent catch up between Victoria and Mel C, it seems things are more than amicable within the group. Plus, as The Sun reports, VB is likely to do extremely well financially from the tour. It's not impossible that she could make a surprise appearance during one of the tour nights, however. Mel B recently commented on The Late Late Show with James Corden show that Beckham "may join us for a few," before joking, "she better do." I've reached out to her representative for comment but am yet to hear back. Their reunion was announced on Monday afternoon with a humorous video announcing the six night tour, with tickets going on sale via Ticketmaster at 10:30 a.m. on Saturday 10 November.
It's not surprising to hear that 44-year-old Beckham has decided not to throw on her little black dress. She has just celebrated the tenth anniversary of her fashion brand; an achievement that only comes from total dedication. News that the Spice Girls' UK tour will take up the entirety of next summer also doesn't bode well for the head of a fashion label. New York Fashion Week, where Beckham traditionally showcases her new collection, begins in September, making the summer months the prime time for any finishing touches.
The designer has also spoken openly about not wanting to join her bandmates on stage. In a recent interview with Vogue Australia, she admitted that fellow British star Elton John helped her say no. "I told [John]: 'You're the reason why I stopped the Spice Girls.' I went to see him in Vegas and I remember sitting there very near to the front and looking at him singing those songs he'd sung time after time, year after year, and his passion and his enjoyment was incredible, even after all that time.
"And a few nights later, I was on stage at Madison Square Garden with the Spice Girls and I thought, it's almost like a waste that I'm given this opportunity. I appreciate the time I've had with the girls, but I don't have what Elton can have after all these years. There was nothing there, other than that my kids were in the audience and I wanted them to see Mummy doing the Spice Girls."
It's unclear exactly when Beckham is referring to but it's likely her revelation came about during the 2007/2008 Return of the Spice Girls tour which saw all five members travel the globe. The women have only performed together once since then, entertaining the crowds at the closing ceremony of the 2012 Olympics.
Beckham does still see the other Spice Girls. Just a few days ago, she posted a photo of herself with Melanie C, congratulating her on a performance at the Global Gift Gala and hashtagging the post with #friendshipneverends and #girlpower. She's still got it.
And, of course, who can forget the photo that broke the internet earlier this year? Beckham was the first to post an image of all five members (herself, Geri Horner, Melanie C, Mel B, and Emma Bunton) at Horner's house, starting up the very first rumours of a reunion tour. Beckham told Vogue Australia that it was nothing more than "a lunch to see how everybody was."
However, one of the other Spice Girls may have caused a tiny rift. Over the weekend, Mel B was seen attending a Halloween party dressed as Beckham. She wore an LBD, a mask of Beckham's face, and held an axe that read: "No, I am not going on tour." Her friend dressed as David Beckham and held a sign that had "Please please please do it for the Spice fans!" written on it.
Let's pray for a complete reunion at some point in the next year. Beckham's mind seems set but one thing's clear: she really does love a bit of nostalgia.