These Adorable Pics Prove The Beckhams & The Ramsays Are Total BFF Families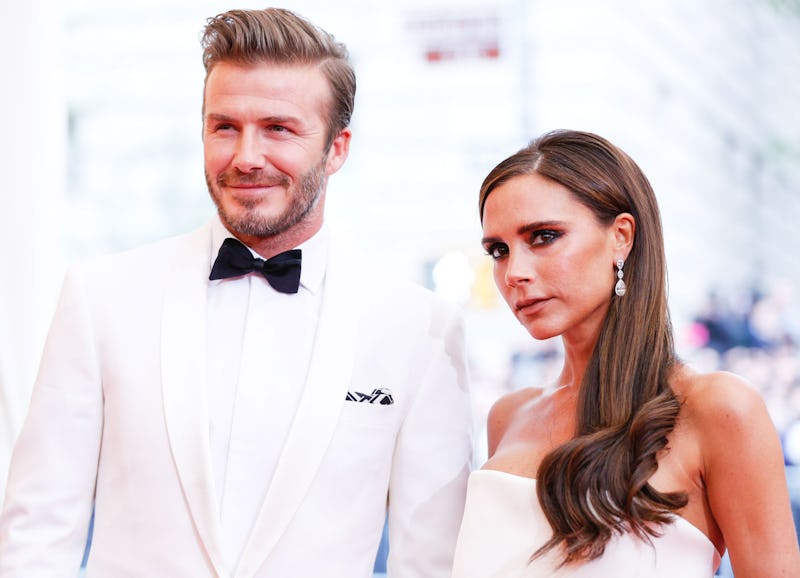 Julian Mackler/BFAnyc.com/Shutterstock
If you follow Victoria Beckham on social media, you might have seen a certain pic she took at best pal Tana Ramsay's 44th birthday celebrations. In Victoria Beckham's Instagram picture, she and the birthday gal are joined by their famous husbands David and Gordon, and of course their plentiful broods — and honestly, it's so freakin' cute. But this isn't the first time the famous clans have got together. In fact, these two families have an album's worth of pictures that will melt your heart.
They have a friendship that goes back years, a decade in fact, and between them they have 35 restaurants — including seven Michelin-starred, a world-dominating pop career, an international fashion brand, a Golden Boot, more than 20 published cookbooks, and eight children. According to the Mirror, the friendship began when Gordon catered the Beckham's pre-World Cup party in 2006, and became stronger when both families relocated to LA due to David and Gordon's work commitments. The pair are so close they even came close to opening a London restaurant together.
David and Gordon also share a sporting past; before Gordon's prolific TV and cookery career, he was signed by Rangers F.C. at the age of 15, and was set for a career in football before injuries held him back, according to Ramsay's 2006 autobiography. Tana and Victoria, meanwhile, share a love of fashion and exercise, and all four know what it takes to bring up four children (the Beckhams have three boys, Brooklyn, Romeo, Cruz, plus daughter Harper, while the Ramsays have daughters Megan and Matilda, and twins Holly and Jack, the Daily Mail reports). They also share a love of fine wine, as demonstrated in Victoria's Insta story from Tana's birthday, which according to a report by the Daily Mail, featured a bottle of 2013 Château Margaux that values at around £470.24.
The families have enjoyed a stream of to-die-for holidays together, including a trip to the Maldives, where Cruz and Tilly Ramsay could be seen swimming with turtles together (below).
The kids could also be seen providing a spot of evening entertainment in this adorable video (below) of them dancing along to a Christmas song. Clearly taking inspiration from his mother, Cruz apparently provided the vocals while the rest of the crew acted as backing dancers for the clip.
In another pic of the families enjoying spending time together, Brooklyn, taking time out from his budding photography career, can be seen in this snap larking around with the Ramsays' only son Jack in this hilarious Boomerang:
And back in 2016, fans were treated to this immense selfie of both families on a plane on the way to the islands in the Indian Ocean:
But the fun isn't limited to holidays. The Beckhams and Ramsays also seem to have just as good a time in London. In this snap, the gang can be seen messing around on whizboards, before reportedly going to a Mumford and Sons concert together:
Earlier this year, the clans also looked to be having the time of their lives when they enjoyed a lavish retreat in the UK, complete with pizza and slime making, according to Hello magazine. Tilly and Cruz, clearly the adventurers of the group, could be seen on her Instagram making the most of the recent snowfall.
And while they might look like they have it all thanks to their ridiculously successful parents, these are kids with serious ambition. Cruz has a career in music in his sights, while Romeo has already modelled for the likes of Burberry, and Brooklyn has photographed models such as Cara Delevingne.
Ramsay told the Telegraph, meanwhile, that he is instilling a firm work ethic in his own brood. The youngest, 16-year-old Tilly, is already a cookery star in the making, hosting her own show on CBBC (Matilda and the Ramsay Bunch) and is also launching her own cookbook. And as for little Harper? Well, watch this space.
One thing's for sure, I absolutely need an invitation to their next holiday. Can I get on the list please?