Victoria's Secret Is Under Fire For Allegedly Copying A Beloved Makeup Brand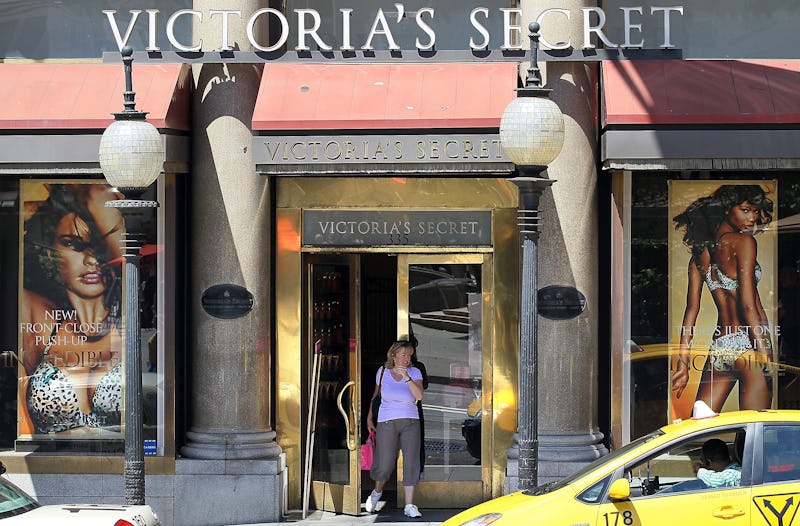 Justin Sullivan/Getty Images News/Getty Images
While tons of brand experience controversy, none may have seen as much fire as Victoria's Secret. From a consistent lack of body diversity in advertisements to the controversial decision to air footage of model Ming Xi's fall at the 2017 VS Fashion Show Runway, there's a lot of criticism circulating around the brand. And it isn't over. Victoria's Secret is now being accused of copying Pat McGrath's iconic packaging.
Bustle has reached out to Victoria's Secret for comment on the alleged copying.
Makeup artist Pat McGrath is a legend in the world of beauty. From styling runway shows to creating stunning looks on the covers of magazines to her gig withVogue, her talent knows no bounds. That also seems to be true of her very own cosmetics line. Pat McGrath Labs has made a name for itself by launching multiple limited edition products and recently ventured into a permanent collection. But the unique packaging of those products doesn't appear to be so unique anymore.
According to Teen Vogue, Instagram account Diet Prada first noticed the similarities between Victoria's Secret and Pat McGrath Labs product packaging. Both feature a bag filled to the brim with sequins that are used to conceal a product. While Victoria's Secret's packaging is smaller and features a ribbon so that it may be hung from a tree, the two are a bit too close for comfort for some.
Teen Vogue was also astute enough to notice that McGrath herself commented on the post saying, "😱😱😱😱I LOVE UOOOO @diet_prada ⚡️⚡️⚡️❤️❤️❤️😍"
While the makeup artist hasn't released an official statement about the Victoria's Secret packaging, it appears clear that she has definitely seen it for herself — and may just agree with the post.
Fans had also started to notice the similarities in the packaging as well, calling out Victoria's Secret for its alleged copy.
The timing of the allegations comes right on the heels of video that showed several of the models at the brand's recent runway show singing Cardi B's mega-hit "Bodak Yellow." While seemingly innocuous, many of the non-black models sang the n-word while rapping along, which is definitely not OK. Now, it's being alleged that the brand may have stolen a packaging design from a black artist and beauty icon.
This wouldn't be the first time that Victoria's Secret has faced allegations of casual racism and cultural appropriation. In 2012, Karlie Kloss walked down the runway in a Native American headdress, which was edited out of the broadcast after outcry for being appropriative.
Then, there was the brand's decision to send black models down the runway in "tribal" attire.
While Pat McGrath Labs is by no means a small, indie brand, that almost makes the alleged copying worse. With such an iconic packaging, Victoria's Secret can't claim they weren't aware of McGrath's aesthetic, one that is inarguably similar to their recent releases.
According to the Hollywood Reporter, viewership for the annual Victoria's Secret Fashion Show dropped again in 2017. Fortune reports that sales are down for the brand, even after last year when they decided to remove their swimwear and apparel sections from the business. With several missteps plaguing the brand, it may be time to reevaluate business practices to prevent the constant hot water.
While the brand has always been famous — or infamous, for some —these allegations of copying creative property is just another stain on the brand.