This Video Of Demi Lovato's Fans Throwing An impromptu Concert Will Leave You Teary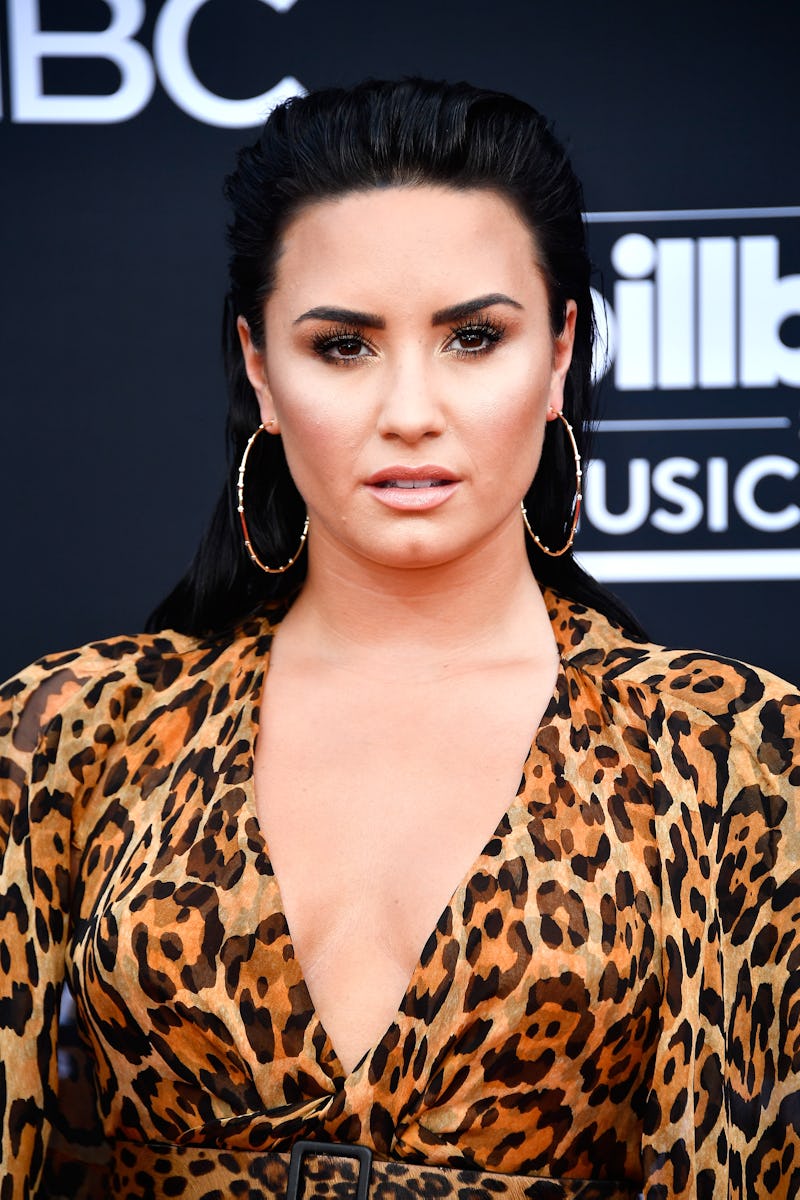 Frazer Harrison/Getty Images Entertainment/Getty Images
The Lovatics found a beautiful way to honor singer Demi Lovato in the wake of her apparent drug overdose. On Friday, July 27, fans of Demi Lovato held an impromptu concert at the Atlantic City Beach, where she was scheduled to perform, as reported by Entertainment Weekly. The "Sober" singer's concerts have been canceled for the immediate future as she focuses on getting better.
Even though they knew Lovato wouldn't be there, many of her fans showed up at the venue anyway. Together, they sang some of the singer's greatest hits, including her latest single, "Sober." The poignant song about losing sobriety was released on June 21, just a little more than a month before she was rushed to the hospital on Tuesday, July 24, as reported by TMZ.
Later on Tuesday, Levato's rep issued a statement to Bustle about her reported hospitalization. The statement read:
Demi is awake and with her family who want to express thanks to everyone for the love, prayers and support. Some of the information being reported is incorrect and they respectfully ask for privacy and not speculation as her health and recovery is the most important thing right now.
Her fans definitely seem to agree. In the video, it's clear just how much love the Lovatics are sending to their favorite singer. Lovato's openness about her struggles with bipolar disorder, eating disorders, and substance abuse have touched many of her fans. Seeing them sing "Sober" is emotional, but it's also a beautiful way to send the 25-year-old a message of support. In her song, Lovato sings,
"Mama, I'm so sorry I'm not sober anymore / And daddy please forgive me for the drinks spilled on the floor. And I'm sorry for the fans I lost who watched me fall again / I wanna be a role model, but I'm only human."
Hearing those words echoed by the fans who showed up at Atlantic City Beach to express their devotion to Lovato, and to wish her a speedy recovery is a reminder of just how many lives she's touched. International Business Times reporter Rachael Ellenbogen captured part of the gathering on video. See the amazing moment fans sang "Confidant" below.
Ellenbogen tweeted,
"We're Confident. We're Warriors. We're #Lovatics, and we're Sorry Not Sorry about it.
Demi Lovato might not be here in #AtlanticCity tonight, but she's here with us in spirit, as we all come together to celebrate @ddlovato and all that she is."
Her sentiments were echoed by fans and celebrities alike after the news of Lovato's apparent overdose broke. Lady Gaga tweeted, "We should all wrap our arms of love around Demi Lovato. I am so happy you're alive. Thank God. If I know my monsters as well as I believe I do, we all wish you self-compassion and inner peace. And may you receive the love so many have for you. #ImConfidentInDemi Demi, I love you." And Lovato's ex, Joe Jonas, wrote, "Like all of you I am thinking of @DDLovato right now. She needs our prayers and support. We all know how strong you are Demi. #prayfordemi."
While there hasn't been another update about her condition since Tuesday, it seems that the 25-year-old is surrounded by her family, and is hopefully taking time to rest and work on getting better. In the meantime, her fans are making sure she knows that they'll always be in her corner no matter what.