Video Of Jennifer Hudson's Performance At Aretha Franklin's Funeral Will Make You Tear Up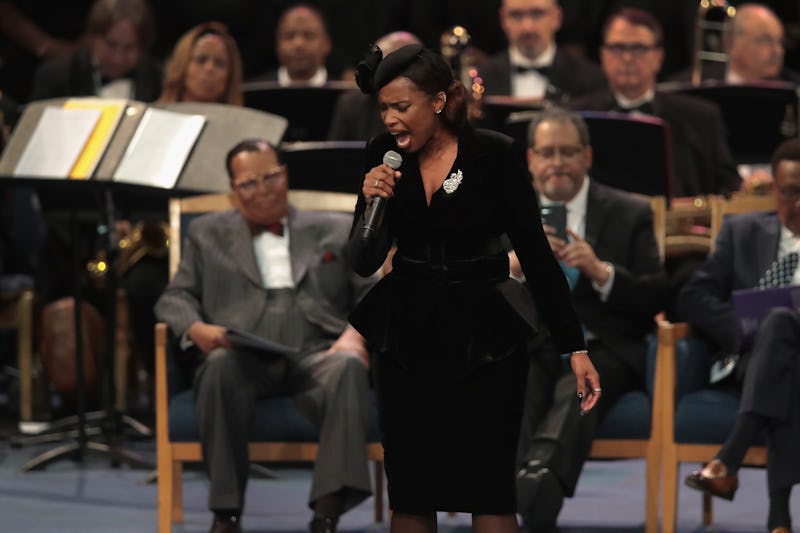 Scott Olson/Getty Images News/Getty Images
An inimitable legend was honored at Greater Grace Temple in Detroit on Friday, Aug. 31, and the event gave a number of artists a chance to celebrate the Queen of Soul. Oscar winner Jennifer Hudson performed at Aretha Franklin's funeral, and her transcendent rendition of "Amazing Grace" will leave you scrambling for the nearest box of tissues. As previously reported, Hudson was one of several musicians invited to sing at the late musician's service. And did she ever pay the icon tribute.
Franklin passed away on Aug. 16 at the age of 76. In a statement provided to to AP and ClickOnDetroit, Franklin's longtime publicist, Gwendolyn Quinn, said the legendary singer's cause of death was advance pancreatic cancer of the neuroendocrine type. The statement to ClickOnDetroit reads in part,
"Franklin, 76 years old, passed away on Thursday morning, August 16 at 9:50 a.m. at her home in Detroit, MI, surrounded by family and loved ones. Franklin's official cause of death was due to advance pancreatic cancer of the neuroendocrine type, which was confirmed by Franklin's Oncologist, Dr. Philip Phillips of Karmanos Cancer Institute in Detroit, MI."
Franklin's impact on music cannot be overstated, and Hudson is one of many celebrities who expressed their grief after the tragic news broke. Hudson wrote on Instagram,
"I have no words , so I will let the Queen say it ! But I will Say while teaching me about your life , u taught me so much about life and schooled me in mine . I will never forget those teachings #riparethafranklin"
When it came time to perform on Aug. 31, whew, did the Dreamgirls star show Franklin some serious respect. Hudson brought the house down over and over again when she performed Franklin's version of the hymn that appears on 1972's Amazing Grace, and hey, if there was anyone who was going to deliver, it's Hudson. And the thousands of people who attended the ceremony sure seemed to agree: Hudson received a standing ovation. You can watch her chill-inducing tribute to Franklin below.
In 2015, The Wrap reported Hudson was "in discussions" to portray Franklin in a biopic. A few years later, these discussions were taken to a new level. On Jan. 29, E! News reported Clive Davis announced Hudson was set to star in a movie about the "Rock Steady" singer's life. He broke the news at his annual Grammys party, noting Hudson had "been anointed by Aretha herself."
According to E! News, the music industry titan added,
"She stops any and every show she's in. Her voice is truly incredible. When they ask, 'Where's the next Aretha? Where will the next Aretha will come from?' I say, 'It's her."
Hudson reacted to the news on Instagram the following day, writing,
"And this guys ....... I don't even know what to say .... look at God !#Arethafranklin u have no idea how humbled , I am!"
Franklin's body of work is untouchable, her voice undeniable, and her legacy unending, and her influence will only continue shine through artists like Hudson.