Video Of Lin-Manuel Miranda's 'Hamilton' Sing-A-Long At A Bar Will Give You Major FOMO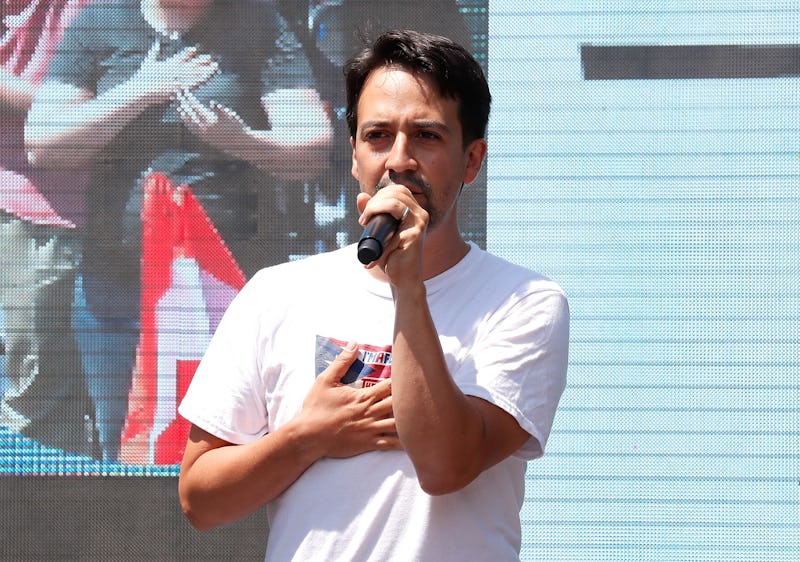 Paul Morigi/Getty Images Entertainment/Getty Images
This is one way to make a bar go totally Ham-ilton. The Broadway gods have blessed the internet with video of Lin-Manuel Miranda's Hamilton sing-a-long, and the room where it happened was in a small Welsh pub called Porters. In a huge surprise for fans, the Hamilton creator took the stage at the Cardiff, Wales watering hole's monthly musical theater night called Jane's Calamity to perform songs from both his Tony-winning musical as well as Broadway's Les Misérables on Thursday, Sept. 6.
As seen in videos posted to social media, a pianist began to play Hamilton's opening number at which point the Broadway legend — disguised in a hoodie — made his way to the stage to spit some of his famous lyrics. If that wasn't enough, Miranda also performed "Stars" from Les Misérables as well as a rendition of Hamilton's "My Shot," to close out the evening. The playwright also happily made cameos in fans' videos of the performance in addition to posing for selfies.
After videos of Miranda's performances went viral, Wales Online spoke to the man at the piano, a 32-year-old secondary school music teacher named Neil Parker, who said that he didn't find out Miranda would be showing up until hours beforehand. "We sent him a couple of tweets over the last few weeks and he sent us a message this morning asking if there was any chance he could come along and we could sort something out," Parker told the UK publication. "Performing his own songs in front of him was nerve wracking, scared is an understatement."
Another audience member told the website: "It's crazy when an internationally famous person whose work you admire and inspires you suddenly turns up in your local and sings songs around piano with you!"
Several other lucky attendees shared very similar thoughts about the mind-blowing experience on Twitter as well. Recounting the once-in-a-lifetime night, one user attempted to put a price on the honestly priceless encounter. (She estimated a cost of £1000, or approximately $1,292 US Dollars, for a ticket to see Hamilton in New York City, for those who are curious.) "Now Hamilton is standing across the room from me," she wrote.
Others took a moment to sing Miranda's praises on their social media accounts, with one fan admitting she cried and another letting Miranda know exactly how meaningful the "unforgettable moment" was.
Another attendee perfectly — and hilariously — summed up her experience, tweeting a photo along with the caption: "Yeah sex is great but have you ever sung My Shot with Lin Manuel Miranda?" She certainly made a valid argument.
According to the BBC, Miranda is currently across the pond filming its TV adaptation of His Dark Materials, a trilogy of fantasy novels by British author Philip Pullman. He's set to star in the series alongside James McAvoy and Ruth Wilson.
While in the UK, Miranda also attended a special Hamilton gala performance in London's West End to benefit Prince Harry's Sentebale charity on Wednesday, Aug. 29. The royal (along with wife Meghan Markle, Duchess of Sussex), not only met Miranda but also sang a few bars from "You'll Be Back" at the event. Miranda was clearly thrilled by the impromptu performance, as seen in the video posted on Twitter by Kensington Palace.
Speaking to reporters prior the benefit, Miranda noted it was a "huge honor" that Harry and Meghan are Hamilton fans and would be in the audience. "You don't get that every day," he said, per People. "You get heads of state, we've had some popular folks come see our show, but you don't often get a direct descendant of one of your main characters." (As Miranda later tweeted, Harry is the "great-great-great-great-great-great grandson" of King George III who is featured in his hit production.)
Anyone who's seen Miranda perform — whether in an official capacity or not — knows that the experience is one not to be forgotten, and his recent surprise pub performance is clearly no exception.