This Video Of Tiffany Haddish Jumping A Rope To Meet Meryl Streep At The Oscars Is SO GOOD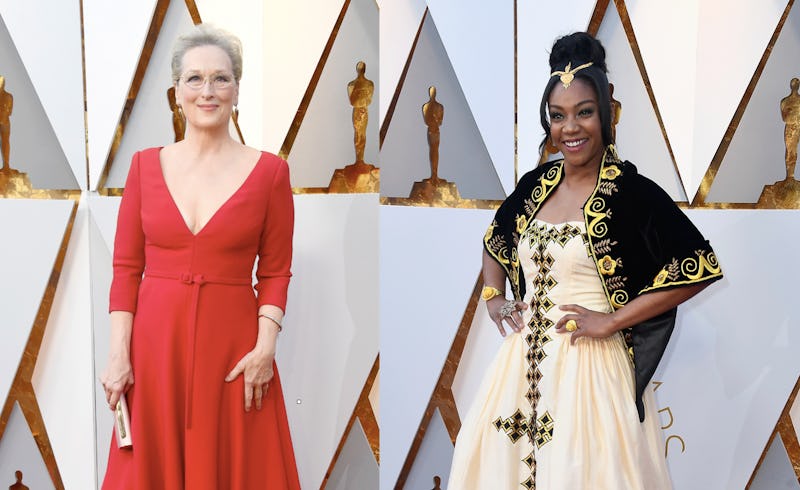 Frazer Harrison/Getty Images Entertainment/Getty Images; Frazer Harrison/Getty Images Entertainment/Getty Images
The Academy Awards red carpet is always full of exciting moments. One of those moments came when Tiffany Haddish curtsied for Meryl Streep and it was all sorts of charming. Yep, during the Oscars red carpet, Haddish managed to greet the famous actor while at the very hectic event. The comedian went rogue on the carpet as she made a beeline for The Post actor, climbing over a roped railing and doing everything she could to get her chance to meet one of her idols. Who can blame her, though? It's Meryl Streep.
Once Haddish greeted the Academy Award-winning thespian, the two embraced and shared an adorable moment on the carpet. It was admittedly a short one, because things move fast on the Oscars red carpet, so they didn't get to stop and chat for very long. But before the two left each other's sides, Haddish gave Streep a send-off that was fit for a queen: She gave the actor a small curtsy before the two went their separate ways. The whole thing was super cute, as expected.
The moment may have been brief, but it was yet another one that showed just how charming Haddish is, in case you somehow didn't know that already.
It seems like Haddish was super excited to meet the famous actor because she's a huge fan of the hers. The comedian mentioned in an interview with Vanity Fair that she would love to meet Streep one day. When she was asked whether she has any pop culture hero that she'd like to meet someday, she didn't hesitate with her answer. She said, "I wanna meet Meryl Streep, so she can be my mama. I want Meryl Streep to be my mom in a movie. I feel like she can do anything." Haddish definitely got her wish when she attended the Academy Awards, as she got to not only meet her idol, but also got to pay her respects to her as well. (And can you even imagine a movie with Haddish and Streep? The world isn't ready for that amount of awesomeness.)
In other Oscars-related Haddish news, the Girls Trip star showed up to the ceremony in an amazing dress. Not only was it stunning, but it meant something special to her. According to E! News, Haddish's Oscars attire was inspired by her late father. She told Michael Strahan on the red carpet that her dad was from Eritrea and gave her a piece of advice for her eventual Academy Awards appearance. She said he told her,
"'One day you're going to end up at the Oscars and when you go, you have to honor your people.' So I'm wearing an Eritrean, authentic princess dress. And I'm PROUD of it."
Haddish and Streep's fun interaction wasn't the only amazing part about the red carpet. As always, the pre-ceremony event was full of some cool moments. One of those moments came when Sandra Bullock and Nicole Kidman had a surprise Practical Magic reunion. Kidman surprised her former co-star while she was in the midst of an ABC red carpet interview. It was super cute and gave so many fans the urge for a sequel to the witchy film.
The red carpet was definitely a night for some fun celebrity interactions and moments (Helen Mirren taking a shot of tequila, anyone?). And the amazing moments haven't stopped during the actual Academy Awards ceremony, whether it was with Jimmy Kimmel's monologue or Mary J. Blige's performance. But, when it comes to fun moments at the 2018 Academy Awards, Haddish's curtsy for Streep was definitely one of the all-time best.