The Surprise 'Practical Magic' Reunion At The Oscars Has Fans VERY Excited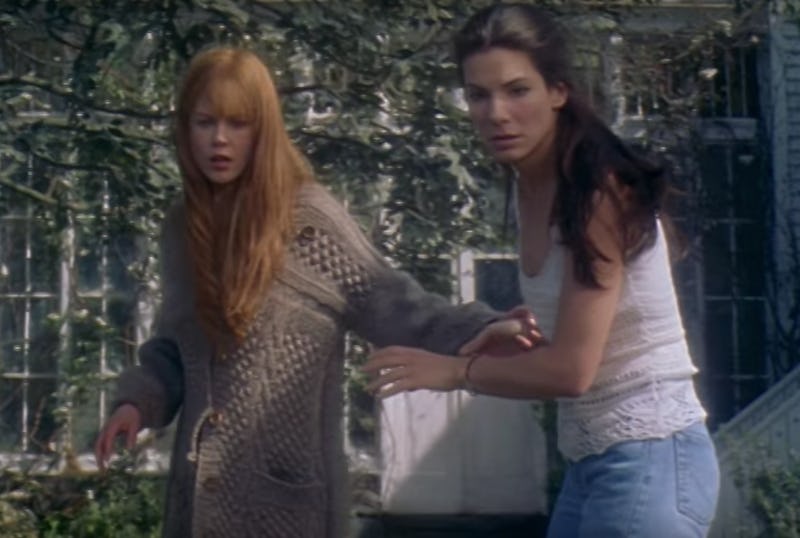 Warner Brothers
If you were watching the ABC Red Carpet for The Academy Awards this Sunday, you may have seen the Practical Magic reunion with Nicole Kidman and Sandra Bullock. Bullock was getting interviewed and up came Kidman, being her adorable self and interview-bombing Bullock much to her delight.
While some Halloween films have become iconic, like Hocus Pocus, others have quietly amassed a cult following and Practical Magic is one of them. While it's well loved, it's not as big of a Halloween classic, and that's a shame. The movie, for those of you who somehow missed this great late-'90s classic, is about sisters, witches, and love above all else — familial and otherwise. Playing the roles of Sally and Gillian Owens, Bullock and Kidman portray the two sister witches who are raised by their eccentric, meddling aunts in a community that shuns them.
As mentioned before, Bullock was just going about a regular pre-Oscars interview, as celebrities do every year. And who shows up? Nicole Kidman, that's who. Let's take a moment to first note how adorable and relatable Bullock's and Kidman's friendship is. How many times has your friend shown up when you weren't expecting and you can only react with snark? Because same.
And of course, it wouldn't be a Practical Magic reunion without talking about tequila, right? Getting to stand in the presence of Bullock and Kidman while they talk about drinking tequila is a dream. Does no one else have this dream?
While Practical Magic is a movie that fans look back on fondly, at the time there wasn't a great response from critics. It has a 20 percent on Rotten Tomatoes and a 46 percent on Metacritic. Roger Ebert wrote in The Chicago Sun-Times that Practical Magic, "doesn't seem sure what tone to adopt, veering uncertainly from horror to laughs to romance." It premiered at number one when it was released, though, and judging by the slew of fans praising this impromptu reunion between Bullock and Kidman, Practical Magic is still loved by many. The fans were so excited for this moment and could not get enough.
And with just a little smile from these stars, the tears were flowin' and the wishful thinking started happening with fans about a Practical Magic 2.
Many just could. Not. Deal.
With some iconic lines from the film, there is just no telling how much people really love this movie. And who wouldn't? It combines magic and sisterly bonds along with just good ole' fashioned '90s filmmaking.
Bullock hasn't done a movie since 2015, when she starred in both Our Brand Is Crisis and Minions, but she has a huge movie ahead in 2018. She'll be staring as Debbie Ocean in Ocean's 8, a spinoff of Ocean's 11. It'll star mostly women and is guaranteed to be totally badass. Kidman has already had a great year career-wise, staring as Celeste Wright in Big Little Lies. She's taken home an Emmy and a Golden Globes among other awards, for this role and is coming back for Season 2.
The last Academy Award Bullock won was back in 2010 for her role in The Blind Side and Kidman won one as well back in 2003 for The Hours. There's just something truly cool about two very seasoned actors coming together and just being so giddy around one another, like no time has passed since 1998 and Practical Magic. One sure thing from the duo's appearance on the red carpet is that their interview — even if it only lasted a few minutes — is just what Practical Magic fans needed.