You Can Thank Me Later For Finding All Of These Videos Of Luann From 'RHONY' Singing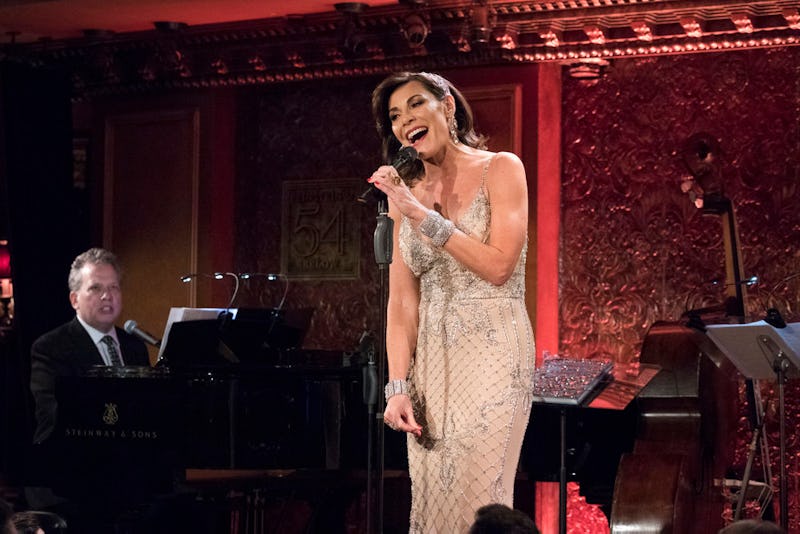 Heidi Gutman/Bravo
You can't hold a woman like Luann de Lesseps down. Through ten seasons of Real Housewives Of New York, she's had highs, she's had lows, and she always bounces back. This year, Luann was arrested in Palm Beach, completed not one but two stays in a rehab center, and threw her own cabaret extravaganza. Since not all of us Bravo devotees could make it to this exclusive event, I've compiled some videos of Luann's singing on Real Housewives Of New York so you can remember — lest you ever forgot — that you can never count out the Countess.
Luann's first hit was "Money Can't Buy You Class" in 2010, which was anode to rich people that have poor manners, because all the cash in the world don't mean you're nice. While it didn't chart #1 on Billboard, it became a cultural phenomenon. DJ James Kennedy of Vanderpump Rules just remixed it eight years later, so you know it still has relevance. Songs like "Chic, C'est La Vie" and "Girl Code" followed, and then Luann fell off her singing career to apparently focus on starring on the show and dive into her short-lived romance with Tom D'Agostino. Throughout all of that, though, Luann has always loved to sing, which is why when she announced her cabaret show this summer, fans were there for it.
Is she the best singer ever? Nope! Not at all! But what she lacks in vocal chops she makes up for in gumption and star power. The show, called #CountessAndFriends, is taking place at Feinstein's/54 Below in New York City, and there are still tickets available for her show on September 10. But if you can't make it to New York City, these videos of Luann singing will hopefully tide you over until the time when the Countess does a #CountessAndFriends World Tour.
Luann Explains Her Arrest
Hey, at least she can joke about it now.
Luann Greets Her Adoring Public
They like her. They really like her.
Luann Sings "Chic, C'est La Vie"
C'est bon! C'est bon!
Luann Rehearses
Because all of this doesn't just happen, you guys.
Luann Stops Sonja From Flashing Her Goods
This is normal Sonja stuff.
Luann Looks Amazing
She's not singing here, but she looks so great. You go, girl.
Luann Doesn't Notice Sonja Losing Her Dress
Why is she there again?
It's nice to see Luann rebounding back from what looked like a rough year. A divorce, an arrest, a lawsuit, and rehab are a piling-on of terrible situations, especially when you throw in the Bravo camera crew, but it seems like she's trying to come out the other side. Season 10 of Real Housewives Of New York has shown Luann leaning on her Housewives cast, and it's a good thing. For all of the fights and the drunken vacations, these women have been through real-life events together. They need each other through bad times, and luckily, they're contractually obligated to see each other through good times, too. Like Luann sings in her third single, it's "Girl Code," after all.