Here's What Went Wrong With Luann & Dorinda's Talk About Alcoholism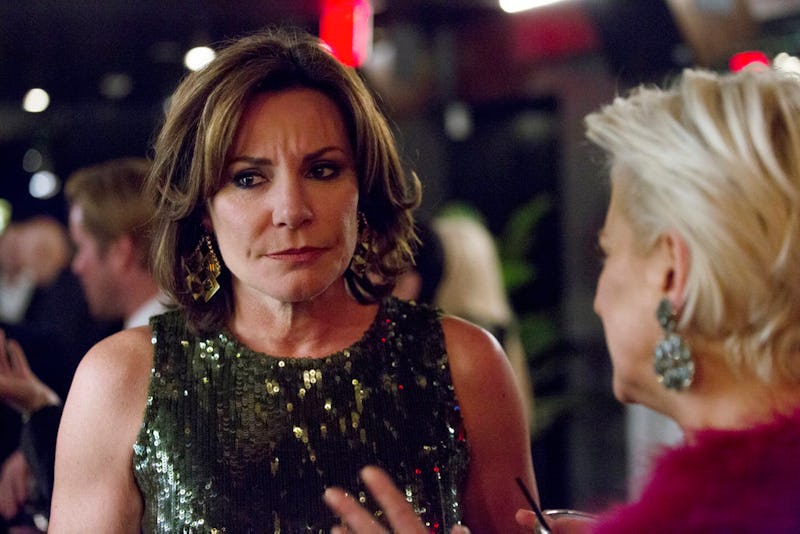 Heidi Gutman/Bravo
All of the Real Housewives franchises are more fun when the women are having fun, because it's uplifting and refreshing. On The Real Housewives Of New York, there is none of that these days. All of the friendships are so fractured right now and everyone has so many issues, that it's hard to know where to look. In Cartagena, Colombia this week, some of the women tried to mend their broken relationships to no avail. In fact, Luann and Dorinda's talk about alcoholism on RHONY didn't just cause more drama that was there before they started, but it was also problematic AF.
Luann and Dorinda are friends, and they were friends way before Dorinda arrived on the show. This is important, because it's not like their relationship is just for the cameras. That they knew each other before is why it's so disheartening to watch both women snipe at each other and go right for the jugular, especially when it comes to such sensitive issues.
Here's how it all went down: The women are all at dinner on their nightmare Colombian vacation when Bethenny and Carole — who are also squabbling — decide to take their argument to the table. Everyone else is encouraged not to listen, but… come on. I would listen. Half the table is shushing each other, half is trying to eavesdrop, and Luann tells Dorinda that she's screaming and being kind of aggressive. Welp, after a few drinks, Dorinda is ready to go off, and she tells Luann to go drink and drive and get arrested, calls her a felon, and basically shames the you-know-what out of her old friend. Yikes.
Both women are shocked and hurt about the other's insinuations about their character. Luann essentially called Dorinda an alcoholic, and Dorinda told Luann how she really felt about that December arrest. Both of them were being judgemental and mean about things that really need to be discussed in a supportive way. Because they each made some good points.
If this conversation had been had with three fewer cocktails, it would have gone much differently. RHONY has explored the idea that Dorinda has a drinking problem already this season. Remember when Bethenny took her to Puerto Rico and she got blackout drunk the night before and was extremely rude to Bethenny's charity partners? Bethenny had what appeared to be a genuine, deep convo with her the next day.
Here's the thing though: As much as drinking is addressed to create drama on the show, it is often also a punchline. RHONY has also shown Dorinda getting progressively drunker and yelling at everyone (this can be said for most of the women, though), and they frequently frame it as a joke, giving subtitles for her slurring. But there have been some serious IRL consequences that have come from drinking too much. At least for Luann, who took a plea deal for the December 2017 arrest but is reportedly back in rehab this summer and won't be attending the reunion.
But it's not like someone should have to get arrested or "come out" as having any sort of unhealthy relationship to booze for the show to maybe take a step back from using alcohol as a plot point. Alcoholism and addiction are serious issues that some viewers might be dealing with and the show could handle these moments a little more responsibly.
If everyone was seriously worried about Dorinda's drinking, they would have to bring it up together when everyone was sober, like Bethenny did in Puerto Rico. And Dorinda could have simply listened. It's easy to feel attacked, but when a conversation is framed as "I'm worried about you and I've noticed a few things," the person in question is probably less likely to call you a felon.
Amidst the yachts and the vacations, Real Housewives of New York had an opportunity to speak seriously about alcohol abuse and addiction, but it ultimately fell flat.
If you or someone you know is seeking help for substance use, call the SAMHSA National Helpline at 1-800-662-HELP(4357).