Apparently You Can Get Uber Credits For Shopping At Whole Foods & This Changes EVERYTHING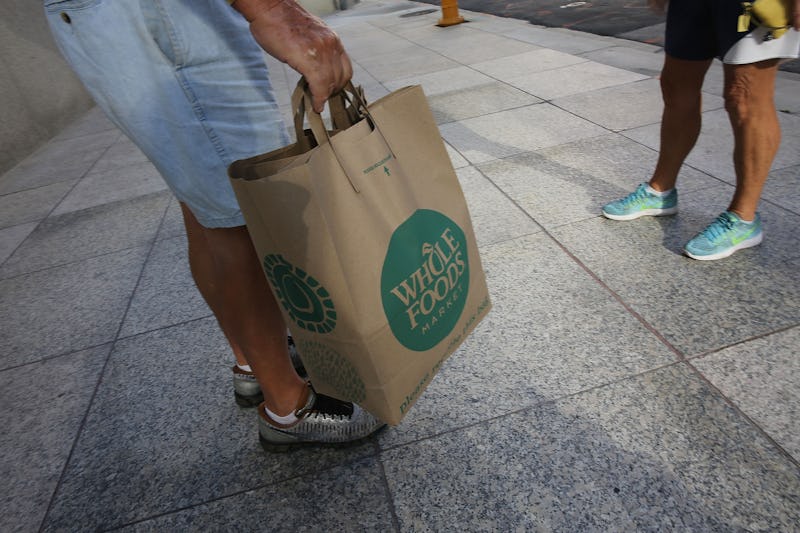 Joe Raedle/Getty Images News/Getty Images
If you're a bargain shopper, you're likely very conscious of the stores you visit. With billions of coupons distributed every year, there's really no excuse to overspend and not be on the lookout for deals. Perennial fave Whole Foods gets a bad rap for being overpriced, but the company has made an effort to lower its prices — although they still may not be as low as advertised. Regardless, you've now got a pretty good reason to shop at the supermarket chain, even if you'd typically stay away. It turns out that you can get free Uber credits by shopping at Whole Foods, and I'm not sure how I just found out about this. If you use Uber regularly, it may make Whole Foods worth it, even if it can be a bit pricier than other stores.
Here's how it works. Uber's Visa Local Offers program allows you to earn Uber credit when you use a Visa card at certain stores and restaurants. If you already have a Visa card connected to your Uber account, signing up is super easy. Just open the Uber app, scroll down to your messages and select 'Visa Local Offers.' The signup process takes less than a minute, and you start earning credit once you register. It's completely free, and the program includes dozens of businesses, including Whole Foods. This is a grocery shopping / ride sharing game-changer.
My closest Whole Foods offers 5 percent back, so I'd get $5 in Uber credit if I spent $100 shopping. According to Uber, there's a limit of $100 in credits per purchase, but you'd have to spend $2,000 at Whole Foods before you hit that threshold. After checking the app's list of participating stores, I realized my favorite sushi spot offers 10 percent back, which gives me a reason to grab takeout tonight. The list is pretty extensive — there are well over 100 participating businesses within 15 miles of me, and I'm definitely not in a major city. If you live in a more populated area like New York City or Washington, D.C., you'll likely have even more options.
Once you're registered, you don't have to do anything else. You'll see the credits the next time you're paying for an Uber and have to select a payment option. It almost seems too good to be true. I was seriously wondering if I was the last person to know about this, so I conducted a very scientific experiment and sent the question in a group chat filled with millennials who work at various media organizations and seem to know everything. Spoiler alert: no one knew. I already feel better that I'm not the last person on Earth to find out about Uber's rewards program.
Apparently, the program has been in place since August, so I truly have no idea how so many of us have been missing out on it. According to a press release from Uber, chains like Dunkin' Donuts, Neiman Marcus, QDOBA Mexican Eats, Steak 'n Shake, Walgreens, Wingstop and Yard House are all on board. You can even get credit when you go to the movies at Regal Cinemas. Uber has also released a list of participating businesses in large cities, so be on the lookout for those spots if you're searching for a deal.
I've already done my grocery shopping for the next week, but once my pantry is empty again, I'll be obsessively checking the app before I make any purchases. If I have to spend the money anyway, I might as well get Uber rewards for it, right? Whole Foods, I'm ready for you.