This Man Is Being Called A "Hero" For Helping Stop The Shooting At A Waffle House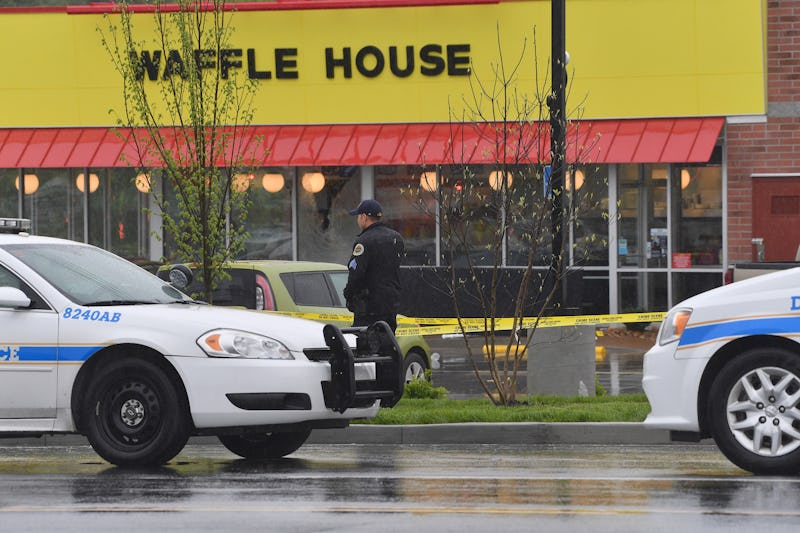 Jason Davis/Getty Images News/Getty Images
Four people are dead and four more were injured after a gunman opened fire on a Waffle House near Nashville, Tennessee. The number of victims could have been even higher, though, had a customer in the restaurant not intervened and wrestled the gun away from the shooter. James Shaw Jr., the Waffle House shooting hero, is being credited with keeping the shooting from growing even more violent.
Shaw Jr.'s actions were first highlighted by the Metro Nashville police. Spokesman Don Aaron told how Shaw Jr., who was near the bathrooms when the shooter entered the restaurant, took on the assailant and grabbed the gun from him. After fighting with the shooter to get the gun, he tossed it over the counter, leading the shooter to leave.
"He is the hero here," Aaron said of Shaw Jr., "and no doubt he saved many lives by wrestling the gun away and then tossing it over the counter, and prompting the man to leave."
As for 29-year-old Shaw Jr., he didn't do it to be a hero, he told The Tennessean. It was more an attempt to stay alive. "I don't really know, when everyone said that (of being a hero), it feels selfish," Shaw Jr. told the paper. "I was just trying to get myself out. I saw the opportunity and pretty much took it."
Had things worked out differently, Shaw Jr. might not have even been at that Waffle House. He was with friends after a fraternity party looking for somewhere to eat, and they first went to another Waffle House location. But, because it was too busy, they ended up coming to this one.
The other diners were lucky that he did. A witness in the parking lot told local news channel WTVF that "had that guy reloaded, there were plenty more people who probably could have not made it home this morning."
As for Shaw Jr., he was grazed with a bullet and went to TriStar Southern Hills Medical Center, where he was treated for minor injuries for about three hours and later released.
He told The Tennessean what happened after he ran for the bathroom in the Waffle House. "I remember I was like 'Dang, I'm basically in a barrel,'" Shaw Jr. told the paper. "There is no place for me to go."
"When he came in, I distinctively remember thinking that he is going to have to work for this kill," Shaw Jr. continued. "I had a chance to stop him and thankfully I stopped him."
The suspected shooter that Shaw Jr. disarmed is still on the run. He was last seen nearby the Waffle House wearing no shirt. Shaw Jr. didn't run after him for fear that he had another gun. Police have told residents to keep a look out.
"Keep your doors locked, keep your eyes open. If you see this individual — if you see a nude guy walking around this morning — call the police department immediately," police spokesman Aaron said.
Shaw Jr.'s protestations about being labeled a "hero" haven't worked thus far. "While I was in hospital, a girl that was there said you saved my life," he told The Tennessean. "I didn't do it to be hero."
The "hero" moniker may have stuck no matter how Shaw Jr. saved everyone, but plenty on the left are pointing out the fact that he did so without a gun. Parkland shooting survivor and activist Emma González was among many that pointed it out on Twitter.
"The local police say a man at the scene wrestled his gun away — looks like you don't need to arm a teacher (or a resource officer) to stop a shooting," González tweeted. "There goes the sales pitch for @SmithWessonCorp."
Shaw Jr.'s "hero" story could go on to save even more lives.