This Creepy Urban Legend Bears A Strong Resemblance To A Horror Short Story From 1971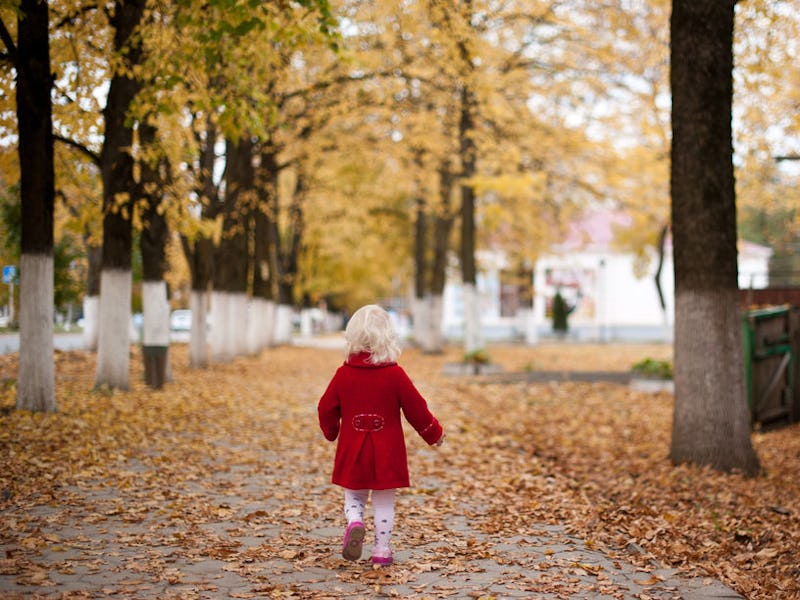 Sveta SH/Stocksy
It's almost Halloween, so let's take a closer look at the ways in which one very spooky folktale from the 18th-century American Midwest might have influenced the title story of an English writer's 1971 fiction collection. I interpret "Don't Look Now" by Daphne du Maurier as a retelling of "Le Nain rouge de Détroit," and I can't wait to tell you all about it.
The story of Le Nain rouge de Détroit — roughly translated, "The Red Gnome of Detroit" — originated around 1701, when a French trader named Antoine de la Mothe Cadillac founded Fort Pontchartrain du Détroit on the Detroit River. Fort Pontchartrain du Détroit would later grow into the automotive city we all know today. Nain Rouge is described as a short, red humanoid with an ugly face and sharp teeth, who is capable of bringing good or ill to the city.
According to the original legend, Cadillac insulted and assaulted Nain Rouge after a fortuneteller warned him to treat the creature well. As a result, none of Cadillac's 13 children inherited his Detroit estate, which went instead to an unrelated buyer, Jacques Baudry de Lamarche, and Nain Rouge began a centuries-long assault on the city as it grew.
The small, red figure quickly became a portent of doom in the Great Lakes region, with Nain Rouge spottings preceding mass fatalities and tragedies in Detroit. After Cadillac encountered the creature, another sighting in 1763 came just one day before Pontiac routed 60 British soldiers in the Battle of Bloody Run. Le Nain rouge de Détroit was reportedly present in 1805, a few months before a fire nearly razed the city. Over the years, Nain Rouge sightings have foretold executions, riots, and natural disasters.
According to Michigan's Otherside, Le Nain rouge de Détroit has not been spotted since 1976. Could that be because Nain Rouge featured prominently Daphne Du Maurier's short story "Don't Look Now" in 1971, and decided to keep a low profile afterward? Although I have found no evidence that Du Maurier ever came into contact with the legend, several bloggers, myself included, have noticed the similarities between the Nain Rouge legend and the 1973 film adaptation of "Don't Look Now." Let's take a closer look.
In "Don't Look Now," John and Laura take a vacation in Venice to help them recover from the loss of their young daughter to an illness. They've picked a poor time to arrive in the Italian city, however, as Venice has recently been the scene of several murders. Not exactly the most romantic destination anymore, is it?
John and Laura encounter a fortuneteller who claims to be able to see their daughter, Christine, reunited with them. After John sees a little girl around Christine's age running through the city, wearing a coat and a pixie hood, the fortuneteller warns them that they must leave Venice if they do not want to be the next victims of the serial killer who has been terrorizing the city. Naturally, John and Laura brush off the woman's advice and continue their Italian vacation.
Hmm, a fortuneteller offering a warning about a hooded figure to adults who refuse to heed her advice? Sounds pretty familiar already, right?
Laura is eventually called home to England by a family emergency, leaving John at the mercy of Venice's psychic environment. In his wife's absence, John's mental health declines, and he comes to believe that Laura has gone missing in Venice, forgetting that she needed to go home to take care of their affairs there. In a disorganized state, John sees the little girl running through the canals, chased by an unknown man. Believing this man to be the killer, John sets out in his own pursuit, determined to save the child from certain death.
He overtakes the girl's pursuer and follows her into a room, which he locks to keep out the murderer. Unfortunately, John has made a fatal error. From the short story:
"The child struggled to her feet and stood before him, the pixie hood falling from her head onto the floor. He stared at her, incredulity turning to horror, to fear. It was not a child at all but a little thick-set woman dwarf, about three feet high, with a great square adult head too big for her body, gray locks hanging shoulder-length, and she wasn't sobbing anymore, she was grinning at him, nodding her head up and down.
Then he heard the footsteps on the landing outside and the hammering on the door, and a barking dog, and not one voice but several voices, shouting, "Open up! Police!" The creature fumbled in her sleeve, drawing a knife, and as she threw it at him with hideous strength, piercing his throat, he stumbled and fell, the sticky mess covering his protecting hands."
Obviously, Du Maurier's playing into the Depraved Dwarf trope as part of her fake out was hella problematic, even in 1971, and the dehumanizing language Du Maurier uses to refer to her villain has lost none of its sting in the 47 years since the story first appeared in print. Still, I think it's worthwhile to examine the aesthetic and thematic connections between "Don't Look Now," which inspired one of the most tense horror-thrillers ever made, and the Great Lakes-area folktale, simply because Le Nain rouge de Détroit doesn't make an appearance every day.
In the Du Maurier story, Laura is the one with a red coat, not the pixie-hooded dwarf. However, when Nicholas Roeg directed a big-screen adaptation of "Don't Look Now" — starring Julie Christie, Donald Sutherland, and Adelina Poerio — the dwarf's coat became the striking red that everyone who has experienced this little horror gem, on page or on screen, remembers.
Even if you take the 1973 film version out of the equation, it's difficult to read "Don't Look Now" as anything other than a retelling of the Le Nain rouge de Détroit. From the creepy fortuneteller warning Cadillac and John of impending doom, to the merciless dwarf who exacts revenge on the man who did not heed a seer's ill omens, these stories revel in spectral horror, and beg us to look for the portents we ignore in our own lives.