Was 'Moana' Snubbed By The Golden Globes?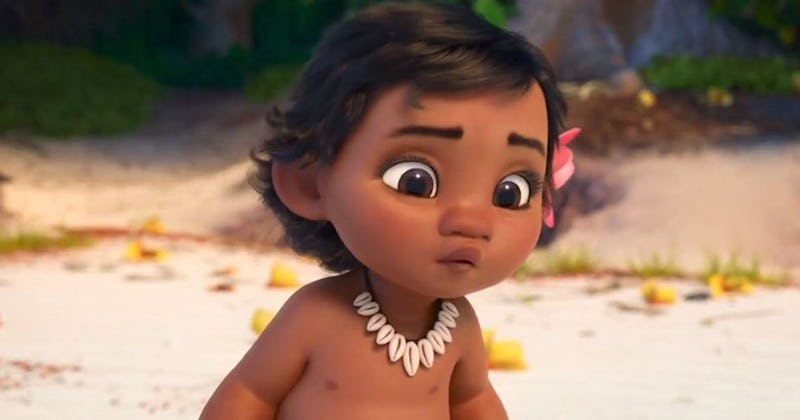 Walt Disney Motion Pictures
It is with a heavy heart that I must report that Moana didn't win a 2017 Golden Globe for Best Animated Feature. The latest Disney film lost to Zootopia, which... fine. Zootopia and Moana are both Disney properties, Zootopia and Moana were both wildly popular, and Zootopia and Moana both have incredibly important messages. Which is why many fans, myself included, are wondering if Moana was snubbed by the Golden Globes. Like, is it a snub if you can kind of see why the winner won? Let's examine.
Zootopia was a two-hour animal allegory about life and social issues, a rabbit named Judy Hopps as she learns how tough it is to be a law enforcer — especially when you're the first rabbit on the force. Moana was a Disney princess film about a Polynesian chief's daughter (not actually princess, thank you) as she finds herself and reconnects with her heritage on the open seas, without a love interest to be seen or referenced. Most people would agree that they're both really good movies, but I also feel like most people would agree that Moana was better. (OK, maybe it's just most people that I know who would say that. But, still, Moana was better.)
Listen, I'm not saying that Zootopia wasn't wildly popular. Obviously, it was; it was a box office smash, and people really connected with it. But, you know, so was Moana. In a neck in neck race, the fact that Zootopia was the one that pulled ahead over a film that gave visibility to a culture that doesn't often get it in blockbuster films like this one? And I'm not saying that Zootopia's message wasn't important. The film's acceptance speech got us this gem of a quote: "We wanted Zootopia to be a film about embracing diversity even when there are people who want to divide us using fear." Poignant, to be sure, but when it's said about a film with a predominantly white cast, as it beats out a film that actually gives visibility to diversity on and off the screen, it loses a bit of its impact. At least, for me.
Fans seem to be similarly torn due to the fact that both films handled such important issues and from such different point of views. Personally, I would call Moana not taking home an award on Sunday night a massive snub, but, in doing so, I would have to admit quite a bit of bias on my part. After all, I've never been a huge fan of movies starring animals, and Moana gave representation to an entire non-white culture, which is what I spend most of my time begging Hollywood via writing to do. The importance of her role as the first Polynesian "princess," as well as a woman whose struggle is between being true to her heart and being true to her duty — both of which are equally important to her and both of which she is encouraged by adults in her life to prioritize, gives Moana far more cultural impact than I feel Zootopia will ultimately have. In visibility alone, Moana broke new ground. In message, Zootopia treaded old ground.
But perhaps we Moana fans should take the high road and follow in the footsteps of star Auli'i Cravalho, who was one of the first to congratulate Zootopia on the win.
If the voice of Moana herself is a big fan of Zootopia, perhaps we owe it to her to stop our grumbling, and let that film have its moment. There's still the Oscars coming up, and I think we can all agree that Moana deserves an Oscar over Zootopia. Anyone who doesn't agree can show themselves out.