'Moana' Is The Most Influential Film Of 2016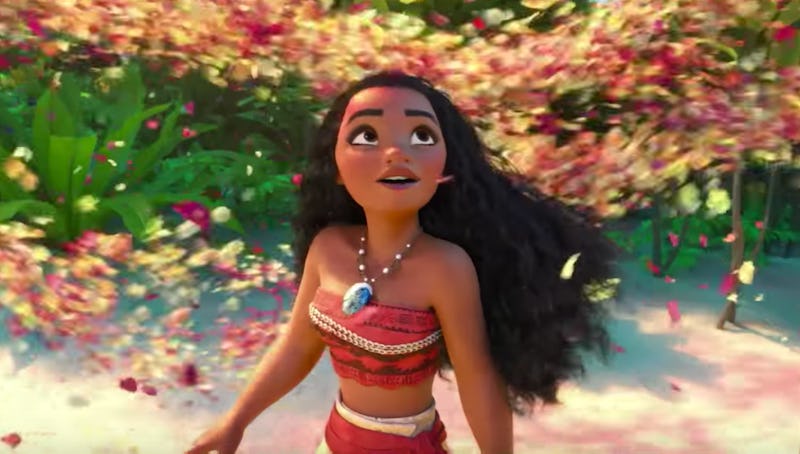 Moana might have come a bit late in 2016, but it's managed to become one of the most buzzed about movies of the year. The film is a financial hit, but the film's impact goes far beyond the box office. Following a teenage girl as she travels across the sea to go on a mystical adventure to save her island, Moana is a totally different type of Disney film than fans have come to expect. There is no love interest, no romantic duet, and no makeover. Moana has effectively broken the mold of what a Disney princess movie should be (for one thing, its lead character is not a princess), and Moana won 2016 by introducing a new kind of feminist hero to the big screen.
There are a lot of things that separate Moana from previous Disney heroines. Looking strictly at the films that fall under the Disney Animated Classic mod — Beauty and the Beast, Cinderella, etc. — Moana is truly unlike any character that has come before her. As the chief's daughter who's poised to rule her people one day, Moana is not a princess, but a leader in her own right. And unlike the stories of similar heroines like Mulan and Pocahontas, there is no point in Moana's story where the prospect of marriage is raised. In fact, she doesn't even have a love interest. Moana isn't expected to marry; instead, she's expected first and foremost to lead.
The unapologetic feminism in Moana reflects what audiences have been clamoring for in 2016. After the success of films like The Hunger Games series and Star Wars: The Force Awakens, it's clear that audiences are ready and willing to see female characters who do more than search the world for their princes or try on pretty dresses. Audiences, be they adult, young adult, or child, want to see more women being leaders on screen, not despite their womanhood or because of it, but just because they are leaders who happen to be women. Moana sets the perfect example for this trend by making its heroine the unquestioned leader to her people.
Moana is clear evidence of Hollywood's continued evolution towards creating more feminist and diverse stories. Simply looking back at recent Disney releases, it seems that Moana is built in a similar model as the already feminist Frozen, which starred a queen and a princess, but goes one step further by getting rid of the men and the tiny waistlines. Moreover, Moana is also helping diversify Disney's animated cast, adding the studio's first Polynesian heroine to the mix. Of course, Disney still has a long way to go in terms of diversifying their characters, but Moana's curly hair, dark skin, and athletic build make her a huge step in the right direction.
Diversity is slowly increasing in Hollywood (in front of the camera, at least), with more high profile roles and projects being produced specifically for women and people of color. The end of 2016 will bring the most diverse Star Wars movie yet, Rogue One, and 2017 will bring us Wonder Woman, Power Rangers, Jumanji, and a more diverse Marvel Cinematic Universe with Spider-Man: Homecoming and Thor: Ragnarok. But Moana isn't just setting an example for more non-white characters on screen. It's also making the case for diversity behind the scenes (despite being directed and written by a majority of white men), as filmmakers made an effort to ensure the cast of Moana was full of actors of Polynesian descent.
Then there's the fact that Auli'i Cravalho, who voiced Moana, is a native Hawaiian, and that Dwayne Johnson, who plays Maui, is also of Polynesian heritage, as are many members of the supporting cast. Compare this to another animated film of 2016, Kubo and the Two Strings, which featured a main cast of white actors voicing Japanese characters (with some Japanese actors voicing supporting characters). The difference between the casting of these two films is striking, and hopefully Moana will act as proof to future animated films that it is possible to feature casts that reflect the ethnicity of characters. It's something pretty new for Disney (see: Aladdin), but I can see it quickly becoming the norm.
Moana is an awesome, feel-good, Disney movie with songs co-written by Lin-Manuel Miranda, so no matter what, it'd be a crowdpleaser this year. But the movie truly won 2016 because of the effect it will undoubtedly have on films to come. May we one day live in a world full of movies like Moana.
Images: Walt Disney Studios; Giphy (3)