Watch Alec Baldwin's Trump Pop Into 'SNL Weekend Update' & Mock That Disastrous Phoenix Rally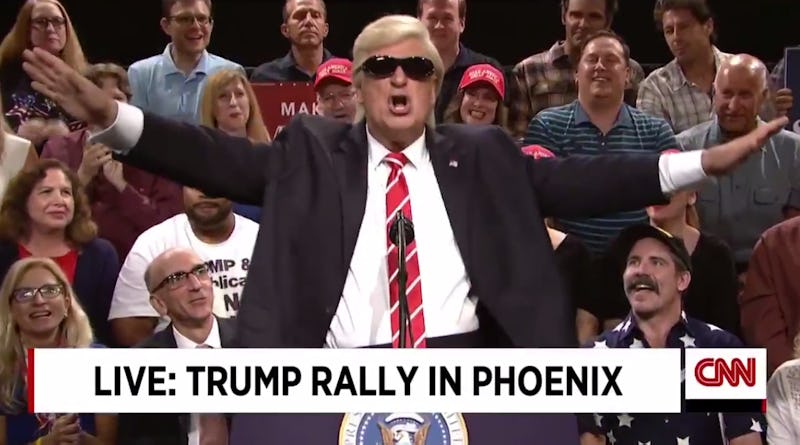 SNL Weekend Update: Summer Edition/NBC
Alec Baldwin reprised his Donald Trump impersonation on Saturday Night Live's third and final Weekend Update: Summer Edition, and he went all out on the barbs. Baldwin, in a Weekend Update spoof of real Trump's Phoenix rally, lampooned the president with complaints about the media and his choice to gaze directly into the eclipse sans protective eye wear. Baldwin's Trump also updated the audience on the U.S.-Mexico border wall before giving a heartfelt goodbye to former White House Chief Strategist Steve Bannon, who was booted from the Trump team one week ago.
Weekend Update has been bringing in the alums for surprise appearances, including the cake-loving Tina Fey in a Charlottesville segment that left viewers divided on her advice to stay at home and binge eat instead of engaging with white supremacists. Baldwin as Trump also addressed Charlottesville — namely the criticism directed at him after blaming "both sides" for the racist violence:
As we all know, there was a tragic victim that came out of Charlottesville, me. Folks, the media has treated me so unfairly by reporting my entire remarks, even the bad ones.
The SNL skit mocked Trump's real rally at the Phoenix Convention Center, where the president failed to condemn neo-Nazis for their actions in the Charlottesville tragedy and instead painted journalists as the true villains "trying to take away our history and heritage."
Thursday's Weekend Update skipped over any introductions from anchors Colin Jost and Michael Che and went straight into a cold open, showing Baldwin's caricature of Trump wearing dark glasses on his face. He informed the audience that yes, you can indeed damage your eyes by looking into the eclipse.
"I figured it out all by myself," Baldwin said. "Let me take these glasses off and see what you people look like. Wow, everyone's so white, so white here. It's fantastic."
Trump shocked people when video clips emerged of him taking off his protective eye wear and looking directly into Monday's solar eclipse. Fox News host Tucker Carlson praised the move as "perhaps the most impressive thing any president has done."
After some mandatory finger wagging at reporters for, well, reporting, Baldwin went on to promise a pardon for former Arizona Sheriff Joe Arpaio. The former law enforcer was found guilty of criminal contempt for intentionally violating a judge's order in a long-running racial profiling case. Although the real Trump did not pardon Arpaio at the Phoenix rally as it was speculated he might, he hinted that the former sheriff will be "just fine" in the future.
Baldwin as Trump rolled on to the border wall, backtracking on his determination to make Mexico pay for it and instead dropping the bill on American taxpayers — government shutdown be damned. "Military will stay home, there will be no FBI, Latin gangs like MS-13 will roam free chopping up people because we want this wall, right?" the SNL Trump threatened.
He then closed the skit by bidding farewell to Bannon, adding a surprise jab at son-in-law and senior adviser Jared Kushner. That day Kushner met with Israeli and Palestinian leaders to discuss peace talks. SNL's Trump said Bannon would continue at far-right Breitbart News to fight "the good fight against globalist cucks like my son-in-law, Jared."