Here's What You Actually Should Pay Attention To During The Democratic Debates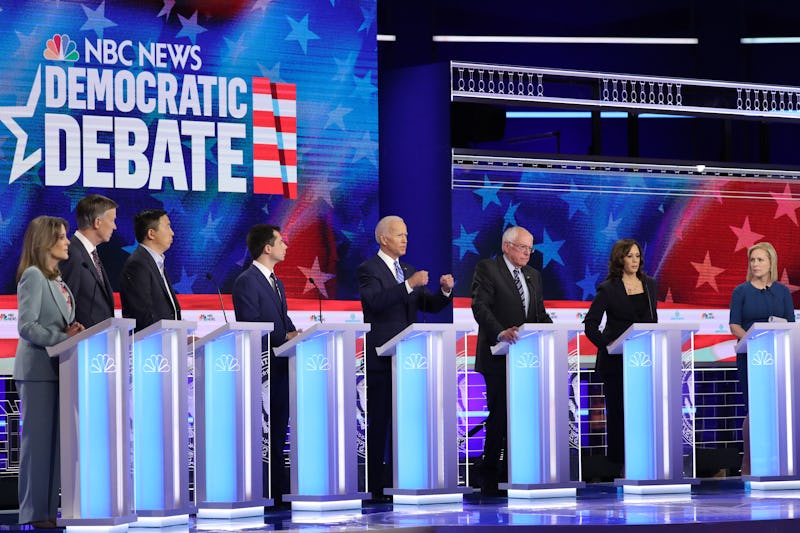 Drew Angerer/Getty Images News/Getty Images
The second round of Democratic primary debates have the potential to define the rest of the 2020 presidential race for the candidates that'll be on stage. Experts on gender in politics tell Bustle that tension between Sen. Kamala Harris and Joe Biden stemming from the previous round of debates, as well as a string of recent, racist comments from President Donald Trump, will make identity a central issue to watch for during these Democratic debates. They say it'll also be make-or-break for some lower-polling candidates' campaigns.
The first debates, hosted by MSNBC, saw their fair share of defining moments. On the first night, Julián Castro, Sen. Cory Booker, and Beto O'Rourke all spoke Spanish; Castro and O'Rourke clashed over immigration policy; and access to abortion was a focal point. Notably, Castro brought transgender people's access to reproductive health care to a debate stage for the first time.
There were fireworks on the second night as well, when Harris called out Biden's recent praise of lawmakers who were segregationists (he apologized for his comments after the debate) and his lack of support for busing policies, which were meant to help desegregate schools. And Pete Buttigieg, mayor of South Bend, Indiana, took the blame for an officer-involved shooting in the town, raising an important discussion about race and criminal justice.
CNN hasn't revealed what topics moderators will address with the candidates in this next round of debates, airing Tuesday, July 30 and Wednesday, July 31, so Bustle asked the experts what you should be watching out for — and what they hope the candidates will address.