Weird Facts About Fireworks For The Fourth Of July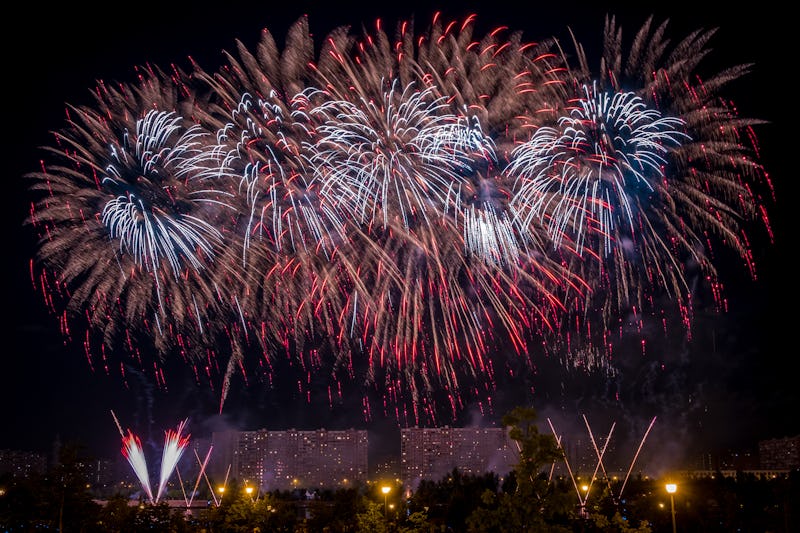 Алексей Облов/Moment/Getty Images
The Jul. 4 is coming up, and that means one thing — fireworks. While you've probably witnessed a fireworks display before, there are a few weird facts about fireworks that you might not have realized. Obviously a lot goes into making the presentation an enjoyable one, but they've got such science and history about them that they're worth exploring a bit further.
Traditionally, fireworks are made out of gunpowder, but there are other chemicals involved to help give off the effect you see on major holidays. When you go up on the roof to get the best view of the colorful display, it's actually a chemical reaction you're seeing. Of course, that's part of the reason why the displays are left up to the professionals. Since they're categorized as explosives, it's usually the job of a pyrotechnic engineer to make sure things go off pretty smoothly.
Science aside, fireworks are also a work of art. There are a ton of different types of fireworks that help keep things lively. Skyrockets are the type of fireworks that you see high in the sky, while pinwheels usually explode a little bit lower. And then of course, there are fireworks that are more about the sound than the display. Those are known best as firecrackers.
Here are a few fun, yet strange facts about fireworks that'll help you appreciate the holiday even more.