This $11 Dupe For Fenty Beauty's Body Lava Is Going Viral Because It's That Good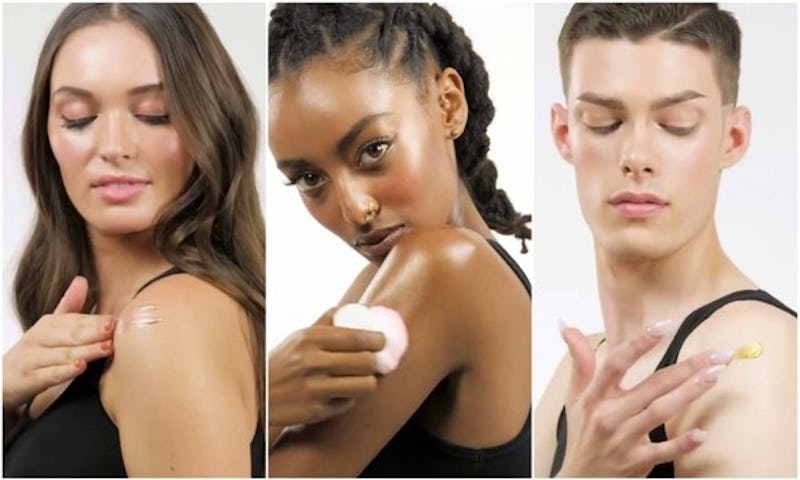 Wet n Wild
Rihanna brought the early 2000s back into fashion when Fenty Beauty launched its iconic Body Lava, taking the junior high trend of body glitter and giving it a grown up twist. And now Wet n Wild created a drugstore dupe of the body illuminator with its new MegaGlow Body Luminizer. When Fenty Beauty's body highlighter first dropped, fans were brought back to middle school dance days, where shoulders and collarbones were brushed with sparkles to bring a little bit of shimmer to the occasion. But the only downside to the glow-in-a-bottle product was its price tag: clocking in at around $60, not everyone had the budget to indulge in the throwback trend. And even if you had the extra cash to treat yourself to a new beauty buy, the golden liquid sold out pretty quickly and hasn't been restocked since, meaning many people missed out on the chance to gild their shoulders and arms.
While there have been copycat versions of Body Lava since — most notably the BECCA x Chrissy Teigen Glow Body Oil — many of them still had a high-end price tag. But Wet n Wild is now bringing one onto the market that has a drugstore price, opening up the world of glow to all. The Luminizer is the newest product in their line of MegaGlo highlighters, which come in six different hues but have been reserved for cheekbones and nose bridges. Now makeup fans have the option to make their whole body sparkle.
The cosmetic brand announced the drop on their Instagram Stories on Friday, Sept. 21, showing a series of three models rubbing the liquid onto their shoulders, demonstrating just how illuminated your skin can get.
The three different shades will hit the market on Thursday, Sept. 27, so you won't have to wait long to get your own hands on a bottle. According to Allure, the three different shades are "Heart of Rosegold," which is a metallic rose gold; "Gold Rush," which is a traditional gold shade; and "Invested In Bronze," which is your bronze option. The rose gold and gold options are vegan, and all the options are cruelty-free, gluten-free, and paraben-free.
The colors are all buildable, so you can decide how deep or light you want the shade. If you're looking for a subtle glow, you can rub it on like a normal lotion, and if you want to look more like a disco ball for a night out, then you can keep layering the pearl pigments.
The luminizer works double duty by not only being a highlighter but also a moisturizing lotion. Infused with skin-nourishing ingredients like argan, macadamia, sunflower seed oils, and grapefruit seed, it will leave your skin dewy in more ways than one.
The luminizer is going to clock in at an affordable $11 per bottle, and will launch on walmart.com and wetnwildbeauty.com on the 27th, and in-stores in Walmart a month later, on Oct. 22. With it being such a bargain buy, you can afford to try all of the shades — prepare to glow on a budget.