7 Women's March Hashtags To Use All Over Your Protest 'Grams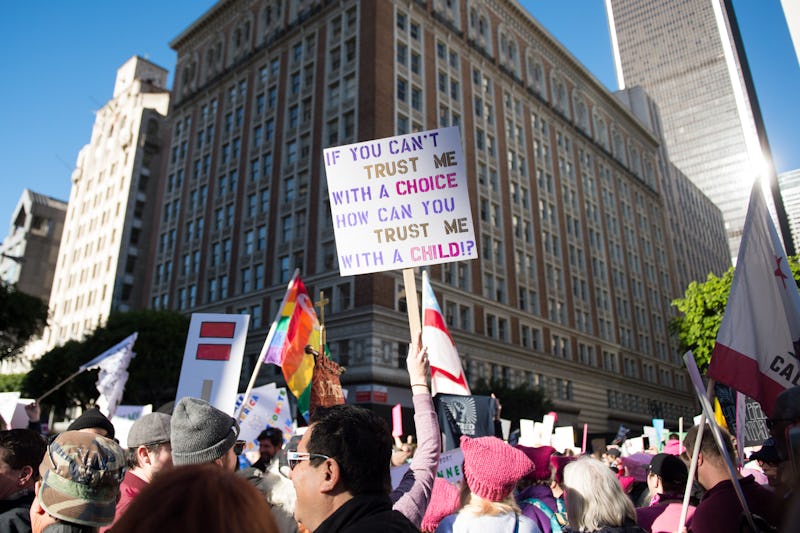 Emma McIntyre/Getty Images Entertainment/Getty Images
A year ago, on Jan. 21, 2017, women and men gathered in their cities — or traveled to larger metropolitans like New York, Los Angeles and Washington D.C. — to participate in the Women's March. Roars of resistance rumbled up avenues in a protest against the inauguration of Donald Trump as president. On both Jan. 20 and Jan. 21, 2018, Women's Marches will take place again all across the country. If you're wondering how to keep up with the action and include your documentation of the events, you should know what the Women's March hashtags are. This way you can stay in touch with all the inspiring speeches, signs, and chants ringing all around the world.
Hashtags are an innovative way to cluster information together. If you need to draw inspiration for lunch, simply Instagram search #lunch or browse Twitter. Communities and conversations exist within these hashtags, which is a pretty sweet tool for communication. You'll want to keep up with the numerous hashtags surrounding the themes of the Women's March 2018 for the entire weekend and the weeks beyond. The theme of this year's Women's March focuses in on mid term elections.
The midterm elections will for the most part be held, in case you want to circle your calendar in a giant red ring, on Nov. 6, 2018. The Women's March in 2018 is spotlighting the theme: Power to the Polls.
The description and mission of this march, as detailed on the official Women's March website, is "an event that will launch a national voter registration tour one year after the historic Women's March on Washington. This next stage of the movement will channel the energy and activism of the Women's March into tangible strategies and concrete wins in 2018." Say it with me now, VOTE. Or, in other words, #vote. This year's march addresses voter suppression at the polls as well as registration. Without further ado, the hashtags.
#1YearSinceWomensMarch
If there's one anniversary to celebrate in 2018 it's the 1 year return of the Women's March. The main event will be held on Jan. 21, 2018, in Las Vegas, Nevada, starting at Sam Boyd Stadium at 10 AM. But other events will be held in cities dotting America's map. You can find your local rally to attend through the Women's March official even locator. Look at all those freckles on that map!
#PowerToThePolls
Co-founder of the Women's March, Tamika D. Mallory, said in a statement on powertothepolls.com, "In 2018, we must turn our work into action ahead of the midterms. This new initiative will address voter registration and voter suppression head on. We marched for justice in DC, we created our plan in Detroit and now we're bringing the power of the polls to Nevada." Conveniently, you can always find a link on the website to register to vote. It takes 2 minutes. That's faster that putting your avocado open faced sandwich lunch together.
#TogetherWeRise
To commemorate the first Women's March in 2017, a book was published by the team that organized the Women's March. The book chronicles essays, stories and features images from the historical marches that occurred in 2017.
#WomensMarch2018
Hashtag your tweets and Instagrams with #WomensMarch2018 to link into the action taking place and inspiring populations around the world. Get sign inspiration and just plain old ~inspired~ by the power and unity of a movement.
#LookBackMarchForward
Reflect over the past 365 days and then put your marching shoes back on — whether those are heels, sneakers, hiking boots or whatever you care to wear!
#WomensMarchGlobal
Take a peek at this hashtag to see what's happening at all the events around the world that are taking place.
#WhyIMarch
Post your reason for marching, and read the shared stories of others to find out why people march and why it's so crucial to.