These Are The Worst Cities For Reproductive Health In America, But There Are Things You Can Do To Help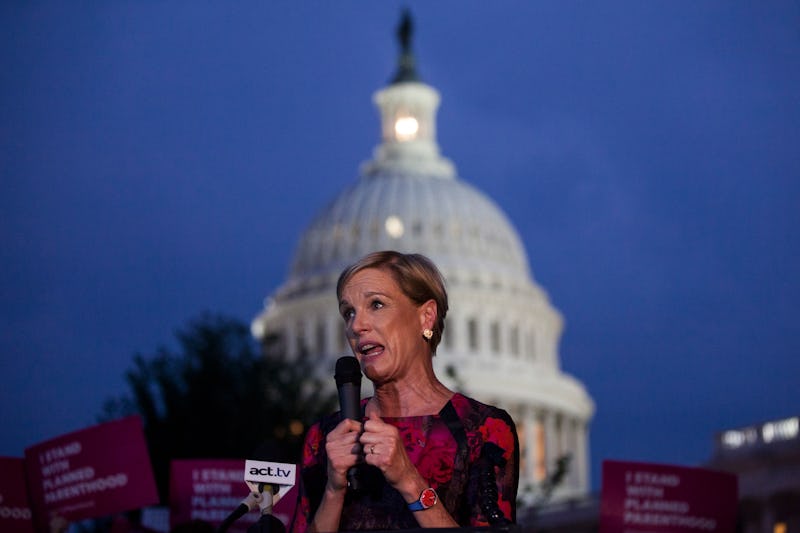 Zach Gibson/Getty Images News/Getty Images
Reproductive rights activists have been fighting for comprehensive reproductive freedom for decades, but in this political climate, that battle can often feel like a losing one. According to the Local Reproductive Freedom Index, released on Oct. 18, the worst cities for reproductive rights in the U.S., where people are feeling the most strain from restrictive policies, include places like Jacksonville, Florida; Memphis, Tennessee; Nashville, Tennessee; Phoenix, Arizona; and Las Vegas, Nevada. But there's good news yet: If you live in cities that scored low on the Index, there are steps you can take to engage with your local government and help protect your reproductive rights, and the rights of your fellow residents.
The Index is a landmark report and the result of a 40-city study by the National Institute for Reproductive Health (NIRH), which examined the top 40 most populous cities in the U.S. and used the presence or lack of 37 common reproductive policies to judge cities' reproductive health, rights, and justice policies on a scale from one to five stars.
According to the report, some attributes that helped cities score high on the scale included "protecting abortion clinic access, providing funding and coverage for reproductive health care, supporting young people's access to reproductive healthcare, supporting families' ability to be financially stable and lead healthy lives, advancing inclusive policies" and "taking a stand on reproductive health care issues at play at the local, state, or federal level."
This list is more than a way to tell if cities are progressive — it's a roadmap for resident involvement in policy improvement.
While no city batted zero, Jacksonville did nab the lowest score of one star, and cities earning 1.5 stars include: Atlanta, Georgia; Charlotte, North Carolina; Cleveland, Ohio; Detroit, Michigan; El Paso, Texas; Hartford, Connecticut; Las Vegas; Louisville, Kentucky; Memphis; Nashville; Oklahoma City, Oklahoma; Phoenix; and Richmond, Virginia.
As for what residents of these areas can do to protect reproductive health and improve policies, the NIRH Index does provide, along with the above list of attributes, a model city, meant to be "a blueprint that all localities can achieve [...] regardless of its current political climate or policy landscape." But looking at the index's model city — which includes seemingly basic policies for protecting abortion clinics, offering queer-inclusive sex education in schools, and committing to nondiscrimination — can be disheartening because it's so far from the reproductive reality many people live with.
Which is where getting involved, well... gets involved. The levels of activism and grassroots engagement with the government have been at soaring heights since Trump was elected, but nearly one year after his election, cognitive fatigue is high, too. In an era where just waking up and looking at Twitter is considerable emotional labor, it's hard to be involved, which is exactly why the first step in making policy changes is to stay as relentlessly engaged as you possibly can.
If you haven't been involved in local policy before, getting in can be daunting. That's where sites like It's Time to Fight come in. It's Time to Fight offers a look at current issues, organized by priority, which may be affecting your local reproductive freedoms. It also has a portal to help you find your local reps so you know whose office to call when you're ready to chat with your city's officials, as well as prewritten call scripts to use if you're not sure what to say about certain issues.
Once you have a handle on who your local reps are, you should learn which areas of policy need the most focus. Organizations like the Center for Reproductive Rights offer a running look at what reproductive rights policies are in the news from a broad U.S. perspective, and looking up local reproductive rights advocacy organizations, like the Planned Parenthood-operated Jacksonville Health Center in Jacksonville, can give you an idea of what's on the table in your city — and what policies are specifically concerning to other advocates in your area.
Meeting, talking to, and continuing to press your current local reps for better repro rights protection is essential, but looking to the future is also important. The same political staffer who runs It's Time to Fight also works with Road to 2018, a site dedicated to helping people protect Democrat seats and flip Republican seats to Democrat in the 2018 midterm elections.
Getting involved at that level can mean all sorts of things — donating to a local pro-reproductive health candidate's campaign, volunteering for that campaign, or even meeting up with them to discuss repro health issues that are important to you.
Saying "get involved and stay involved" is easy. Providing a list of areas of concern and ways to contact local officials is also easy. What's hard is doing the legwork, and keeping yourself safe in the meantime.
The NIRH Index concludes with encouragement for activists to get involved with one another and to "work in coalition to develop new ideas and evaluate existing plans," building a stronger relationship with local officials and strengthening the bonds between government and residents. But if you're a Democrat — or simply someone who votes Democrat for lack of other options — living in a Republican-controlled area, trying to forge bonds with officials can feel like shouting into the void. Here you may be, asking for basic sex education that's more than "don't have it," and your GOP lawmaker may be more concerned about narrowing the number of weeks where people can have abortions than they are about recognizing that comprehensive sex education literally reduces the number of abortions.
Remember, you can disengage when you need to, but also remember that becoming knowledgeable, getting organized, and networking with your fellow advocates creates a support network as well as an activist force. And though it will sometimes feel like you're not making waves, when you speak up loudly and often enough, local officials will take notice of you and the policies you support — because you'll force them to.