Twitter Thinks These Shoes Are The Next #TheDress & People Are Seriously Losing It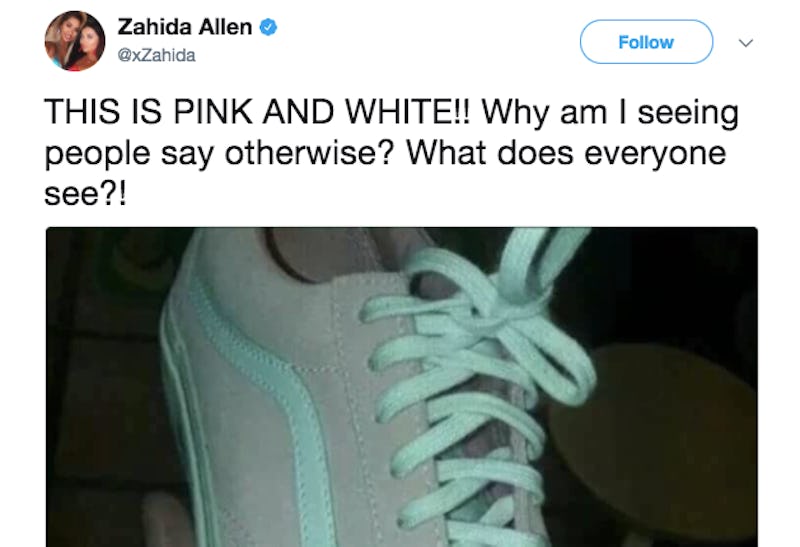 Friendships may come to an end. Divorces may be on the horizon. Some may even lose their jobs— all because the blue-and-black or gold-and-white dress has returned in the form of blue-and-gray or pink-and-white shoes. That may be total exaggeration. But the way the internet is freaking out all over again, who's to say this pair of pink-and-white (er, blue-and-gray) vans won't put a few relationships to the test?
It wasn't long ago that #DressGate2015 had nearly everyone divided. There was literally no escaping the debate as blue-and-black dress memes took over the internet. And it wasn't just a social media phenomenon either, making its way onto television via news broadcasts on the silly subject. Something as trivial as the color of a dress even had scientists, Photoshop experts, and everyone in between offering explanations as to why everyone perceived the garment to be a different color. You'd think the dress debate explained would restore harmony, but nope! It's probably still a sore subject for some households, never to be brought up again.
That is until a photo of pink-and-white vans surfaced on Twitter and got the internet riled as if 2015 never ended.
So, here we go again! All it took was one snap of these 'Old Skool' Vans sneakers to bring up distant memories of the blue-and-back dress. For some, it's obvious that the shoes are pink and white. For others, there's no questioning that they're gray with blue or mint greenish laces.
With #DressGate as a precursor, it won't be long before things get intense and people really start freaking out. If there was anything learned from the blue-and-black dress situation, it's that the fate of your relationships may rest upon the colors you perceive.
The pink-and-white shoes are already turning into homewreckers.
If only the mystery could be solved.
Some are using logic to explain the phenomenon. Hence, the shoes could only be pink and white.
Others have turned to Photoshop, again, to prove that blue and gray hues are nonexistent in the photo.
Perhaps, it all boils down to lighting.
Maybe it won't be long before Vans settles the debate once and for all. It didn't take long for the makers of the blue-and-black dress, British clothing company Roman Originals, to give a definitive answer via Twitter. As it turned out the dress was also sold in white/black, red/black, and pink/black versions, but there were never any options featuring gold or brown. Profiting off of the debate, the brand even restocked the dress for purchase.
Vans would be smart to capitalize off of all the attention, too. It's not the first time the sneaker brand has been a social media sensation. Thanks to Daniel Lara, aka "Damnnn Daniel, back at it again with the white Vans!", company sales for white Vans spiked following the viral video. The VF Corp, the apparel company that owns the Vans brand, could probably cash in on these 'Old Skool' pink-and-white sneakers now that they're trending heavily, too.
If turquoise-and-gray Vans don't even exist, this weird "Are they pink and white or blue and gray?" dilemma may just birth a new pair of sneakers. For now, the frustrating debate continues.