What Could Billie Lourd Bring To 'American Horror Story'?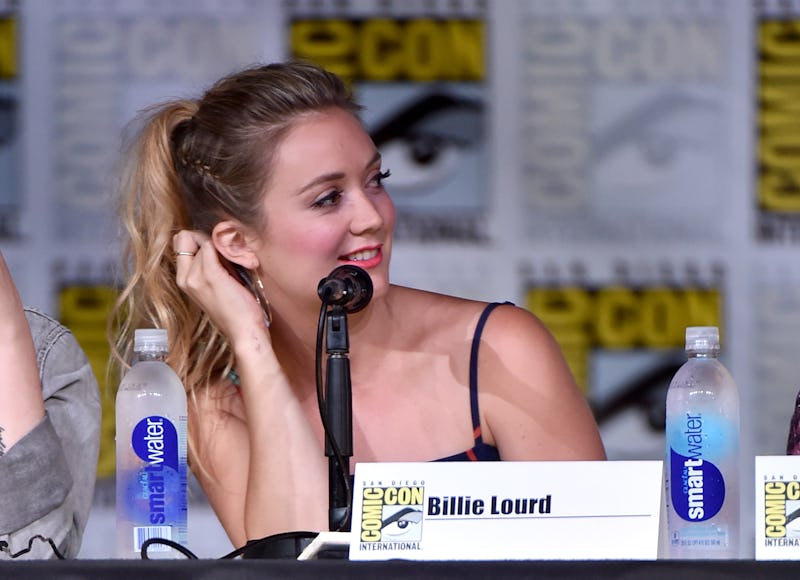 Alberto E. Rodriguez/Getty Images Entertainment/Getty Images
The universe has bequeathed good news for fans of the television horror genre. It was revealed by Deadline on Thursday that a Scream Queens' fan favorite has been cast in yet another Ryan Murphy horror-tastic TV show: Billie Lourd is joining American Horror Story, alongside series regulars Sarah Paulson and Evan Peters for the seventh season of the now-iconic FX series. Though the actor has limited experience on the screen — Scream Queens was her break-out role and her other major role was as Resistance controller, Lieutenant Kaydel Ko Connix, alongside her mother in Star Wars: The Force Awakens — I have no doubt she can keep up with Paulson, Peters, and whoever else joins the cast. Besides, she's the daughter of Carrie Fisher and grand-daughter of Debbie Reynolds, so she is quite familiar with "the biz," and the the cameras that come with it.
Despite her limited on-screen experience, the New York University graduated has shown that's she's got what it takes. Her Scream Queens character, Sadie Swenson aka Chanel #3 not only rocks hilarious Princess Leia-esque ear muffs, but is also a low-key sass-monster. The deadpan humor and timing Lourd had to pull off for the role of Charles Manson's illegitimate love-child is nothing to sneeze at, even if you happen to be in the practice of sneezing at impressive performances.
As per usual, Ryan Murphy and Co. are keeping the production under wraps, so it's not clear what Lourd's leading role will be in the upcoming series. In fact, the only information we know about Season 7 is based on a February 2017 interview with Andy Cohen on Watch What Happens Live, in which Murphy claimed that the new season was inspired by the November 2017 election which saw the Democratic candidate and popular vote winner, Hilary Clinton lose the election to now-President Donald Trump. "The season that we begin shooting in June is going to be about the election that we just went through, so I think that will be interesting for a lot of people," said Murphy in the interview.
But who could Lourd play with a premise as seemingly dry as politics? Could she be a gung-ho campaign manager or lobbyist? Maybe she'll play a sarcastic presidential aide who can detect something spooky is afoot. Or would we see her as a television news reporter — and if that's the case could she still wear a version of the Scream Queens ear muffs?
If the extra-secretive Season 6 of AHS is any indication, we won't have many details about Lourd's role in Season 7, or really anything about Season 7. But it stands to reason that the series will premiere in the fall like every other season of AHS, so I guess we'll have our answers by then. Until then, consider me at the edge of my seat. I'll see you at the edge of your seat too, and maybe we can share popcorn — it's just a thought.