Here's What 'Bachelor Winter Games' Contestants Win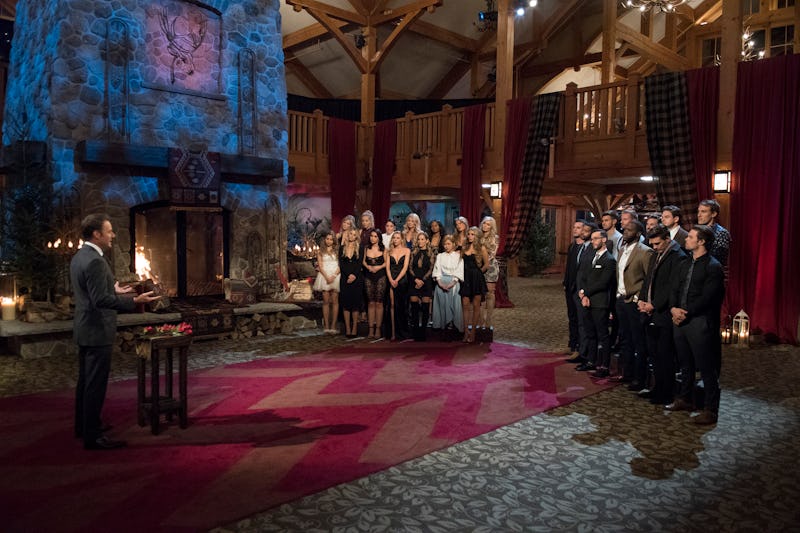 ABC/Lorenzo Bevilaqua
The nature of The Bachelor's franchise is tried and true — eligible men and women flock to a home in order to try, often in vain, to win the affections of their respective season's Bachelor or Bachelorette. There are romantic dates, plenty of coveted roses, and lots of pretty dresses. But the newest installment of the international hit show will turn things a bit on their heads. When Bachelor: Winter Games hits the screen, it will introduce an newly added form of competition to a show that has traditionally already only had one winner from the get-go. This more competitive nature seems to suggest that there would also be a prize, so, what do Bachelor: Winter Games champions win?
Though details of the actual proceedings of the show are sparse, right now it seems like those who come out on top of the athletic competitions will win the much-desired date card, according to contestant Lesley Murphy, who spoke with the Huffington Post about her time on the show. "There's a women's heat and a men's heat, and whoever wins each gets a date card," she said during an appearance on the outlet's Bachelor-centered podcast. "That's how that happens. And then you can ask whoever you wish."
Besides these date cards, Robert Mills (SVP of Alternative Programming at ABC) told The Ringer's podcast that the ultimate champions win "National pride" but that there is no money on the line. "For those of you that miss Bachelor Pad, there are Pad dynamics in there," he said. "They're not playing for the money, but you do have some competitions which are really fun ... They do couple up by the end and the winning couple is the reigning couple of Bachelor world. So they're playing for that." Plus, you know, "Pride. National pride."
On Bachelor Pad, which only aired for three seasons from 2010 to 2012, the winning couple of that show could choose to either split $250,000 or keep all of it for themselves — it spawned some ridiculous drama and some intense fights, as you might imagine. Meanwhile, on Bachelor in Paradise, in which all of the participants are paid regardless of the outcome of the show, the focus was more on coupling up — which led to several of the show's marriages like Carly and Evan's and Jade and Tanner's. Winter Games seems to be about pride in a competition won, plus love. Although, it wouldn't be surprising if these contestants also got paid a salary for appearing on Winter Games. Instagram #sponcon only pays so much, after all.
Mills also told The Hollywood Reporter, "At the end of the day, it's going to be about finding love again. It will have some of the Bachelor Pad DNA, in that there is going to be a competition element," he said. He did note that despite the similar competition aspects, it's still going to be very different from Bachelor Pad — and any of the other installments of the show — because it brings together so many different people from all over the globe. "The other thing we're excited about is having contestants form the international formats of The Bachelor," Mills continued. "So you have somebody from Bachelor Japan, Bachelor Australia, Bachelor Canada and Bachelor U.K. We're really excited to see if we can have some international romances as well as the competition in U.S. vs. the world."
It'll share some of the same common threads that Bachelor fans have come to know and love, but it's definitely going to put a new, international twist on things, which will breathe even more new life into an already time-tested franchise.