The Meaning Behind George & Amal Clooney's Children's Names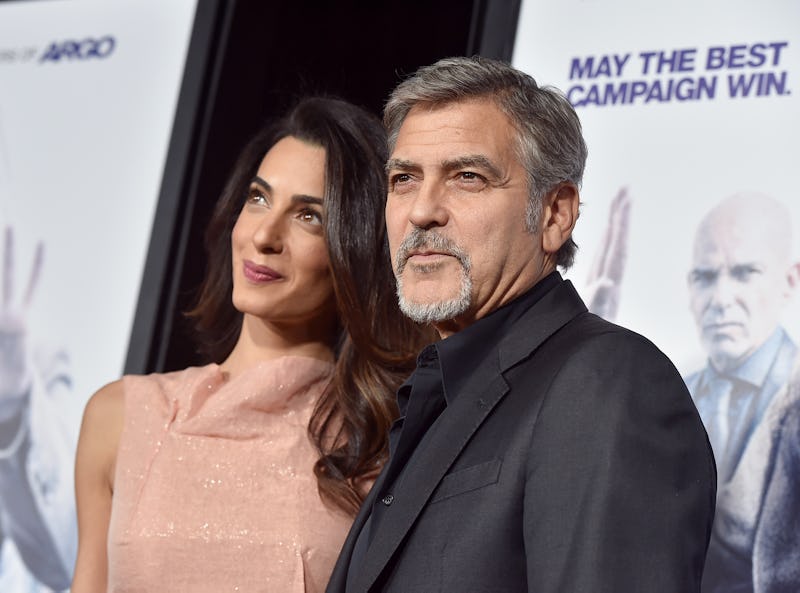 Kevin Winter/Getty Images Entertainment/Getty Images
The first of this year's famous Hollywood twins are here. George and Amal Clooney have welcomed their two children, a girl and a boy. In a statement to the Associated Press from their publicist, the couple announced their daughter's name was Ella and their son is named Alexander. But what do the Clooneys' twins' names mean?
The name Alexander is Greek and means "defender of man," according to BabyCenter. It's quite a name to live up to, considering that other well known Alexanders include Alexander the Great and Alexander Hamilton. Could the Clooneys' little boy be named for the founding father who is taking Broadway by storm? The couple did separately go to see Hamilton in 2015 — Amal brought her parents — so maybe it was a real life-changing experience for both of them. Either way, BabyCenter reported that Alexander is the 16th most popular name of the year, so great minds are apparently thinking alike in 2017.
If we're taking educated guesses here, perhaps Alexander is named after director Alexander Payne who worked with Clooney in The Descendants. In the 2011 film, Clooney plays a dad, which had The Wall Street Journal asking "Can Alexander Payne turn George Clooney Into A Dad?" Knowing Clooney has a sense of humor, I wouldn't put it past him to read that headline and know that's a really good story for the late night talk shows.
While Alexander is a more formal name that often gets shortened, Ella is often a nickname for monikers like Eleanor and Ellen, according to BabyCenter. The English name — perhaps a shout out to mom Amal's homeland — means "beautiful fairy woman" and is the 12th most popular name of the year. As NameBerry pointed out, Ella is also a popular name for Hollywood parents including John Travolta and Kelly Preston; Warren Beatty and Annette Bening; Ben Stiller and Christine Taylor; and Alex Rodriguez.
The couple hasn't officially revealed why they chose these names for their babies, but it's clear the human rights lawyer and her Hollywood actor husband are happier than ever. The Clooneys even had a lot of fun in the birth announcement they sent to publications like People: "This morning Amal and George welcomed Ella and Alexander Clooney into their lives. Ella, Alexander and Amal are all healthy, happy and doing fine. George is sedated and should recover in a few days."
Hopefully, when they're all ready, they'll write something as witty and enjoyable about the meaning behind their twins' monikers.