Here's What The Cast Of 'American Pie' Look Like Now, Almost 20 Years On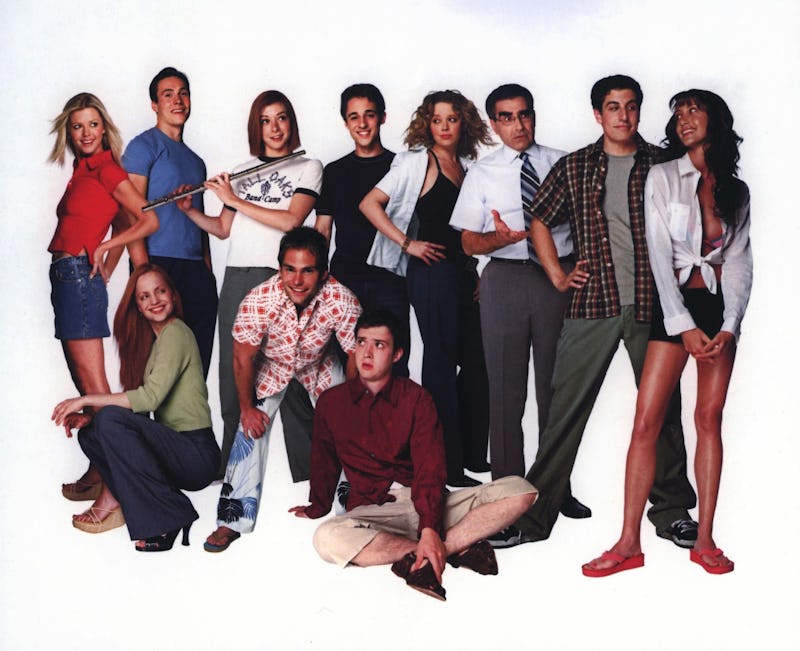 Universal/Kobal/Shutterstock
Way back when in 1999, one particular sexed-up comedy was the beginning of a whole series of films about coming of age and, well, a pie. Yes, you guessed it American Pie is nearly 20-years-old. I know, right? Who would have thought it was that long ago? It feels like forever and a day, yet, it has flown by. The cast is made up of actors who have become super familiar after the film, and nearly two decades after the movie was made, what do the cast of American Pie look like now?
It really is one of those coming of age films that everyone had to see, despite, well, the slightly blue content. Pale ale, anybody? And you know I don't mean craft beer here. Not to mention flutes in certain orifices, insanely hot exchange students, and the popularisation of the word MILF.
The franchise, all centred around four guys who want to lose their virginity, went on to have three sequels. One of the stars of the franchise Tara Reid, even hinted in a recent interview with Brazilian outlet Cinepop that there might even be a fifth instalment.
The majority of the cast involved were all relatively early on in their careers when the smash hit was made, I wonder how those (nearly) 20 years have treated them? If you've been thinking the same, all the info you need is right here...
Jason Biggs
Biggs, 40, who was 21 when the movie was made, played the main character and the guy who did the pie, Jim Levenstein. He has carried on acting, doing very well for himself on top of the American Pie franchise success.
Since he starred in the role, Biggs has continued as an actor and gone on to feature in films including Over Her Dead Body and My Best Friend's Girl, as well as starring as Larry in Netflix own brand drama, Orange Is The New Black.
Alyson Hannigan
Hannigan, 44, who played saucy band nerd Michelle Flaherty who famously said the "One time at band camp..." line, has been super busy since the film was released. Aged 25 in the first film, she has certainly been one busy bee. She has had much success as an actor, probably best known for starring in huge shows Buffy and How I Met Your Mother.
Seann William Scott
Minnesota born William Scott, 41, and his hunky jaw line, was 23 back when American Pie was released and Stifler became legend. He went on to star in some pretty heavyweight '00s hits like Dude Where's My Car and The Dukes Of Hazard. Most recently, he has been starring in the TV reboot of Lethal Weapon.
Tara Reid
Reid, 42, played the hottest gal in school Vicky Lathum. One of the older members of the high school cast baby-faced Reid was 24 when the movie was made. Reid has since starred in iconic films like Van Wilder: Party Liaison among others, and notably in the cult classic Sharknado films.
Eddie Kaye Thomas
Kay Thomas, 37, who at aged 19 was one of the youngest of the cast played stand out character Finch. His dalliance with MILF, Stifler's mum is pretty unforgettable.
He has since starred in other gross-out films such as Freddy Got Fingered and played a doctor on the sadly now cancelled American drama TV show, Scorpion. He has also lent his voice to Seth MacFarlane's Family Guy and American Dad.
Thomas Ian Nicholas
Nicholas, 38, was aged 19 played Kevin Myers when the movie was made. He was one of the main four sex-hungry virgins, who was in a relationship with Reid's character. He has continued acting post American Pie, starring in multiple films and also on TV shows like Grey's Anatomy.
Chris Klein
Klein, 39, played the jock yet uber sensitive character Oz. Aged 20 at the time of filming, he went on to feature in dramas like We Were Soldiers and at the moment is starring as the villainous Cicada in the TV adaptation of The Flash.
Shannon Elizabeth
Who could forget 44-year-old Elizabeth's exchange character? A super hot exchange student with a fetish for geeks? Jeeze, where was that person when I was in high school? Anyway, the oldest member of the cast aged 26 at the time, Elizabeth went on to have a brief but memorable role in Love Actually as well as starring as a main character in Swing Away and the soon to be released Playing With Beethoven.
Natasha Lyonne
Playing the hilarious character of Jessica, Vicky's best mate, Lyonne, 39, was 20 when the first film was made. She went on to star in films like But I'm A Cheerleader and hit TV shows like Portlandia. Currently she can be seen in Orange Is The New Black.
Mena Suvari 39
Suvari, 39, was aged 20 at the time played Heather, who was the sweet, singing love interest of Oz. She went on to star in American Beauty, Factory Girl, and is currently starring in hit TV show American Woman.
American Pie remains a coming of age classic, that is still able to shock all these years later. Lock up your pies, people.