This Is Where All The Tory Leadership Candidates Stand On Abortion Rights In The UK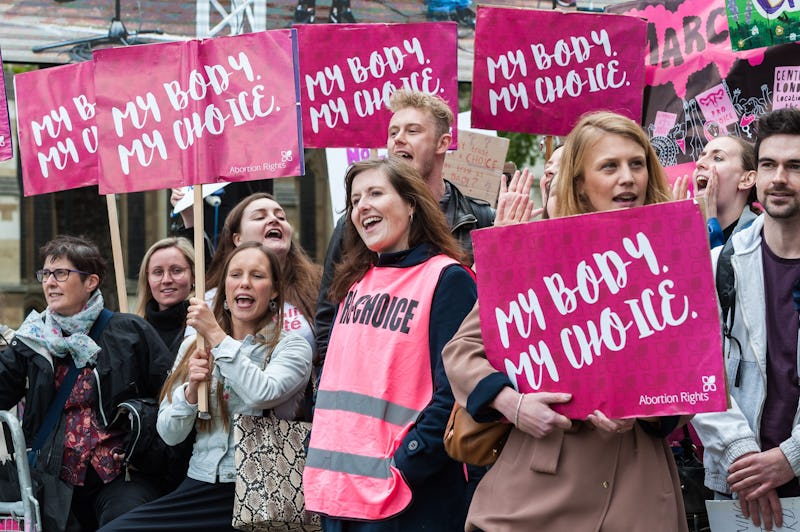 Wiktor Szymanowicz/Shutterstock
Now that Theresa May has resigned as Prime Minister, seven male politicians are jostling for the top job. But over the past few days, some rather disturbing comments have been made regarding the issue of abortion. Seeing as abortion is directly tied to women's rights and autonomy, it's a little worrying to think that the next potential Prime Minister may have restrictive views. So what better way to get to know the group than by seeing what every Conservative leadership candidate thinks about UK abortion law?
The current law revolves around the 1967 Abortion Act. This extends to England, Scotland, and Wales and although it didn't actually legalise abortions, it gave a legal defence to those who carried them out. In a nutshell, the law allows an abortion to be performed if two doctors (or one in an emergency) agree there is a need. The legal limit is 24 weeks. As the NHS states, an abortion can be carried out after this period in circumstances including if the mother's life is at risk.
But an 1861 law still applies in Northern Ireland, making abortion a criminal act with a potential life sentence. The only way a person can end a pregnancy is if continuing it will result in a serious health issue. Abortions in cases of rape, incest, or fatal foetal abnormalities are still criminalised. The government does now fund abortions for people travelling from Northern Ireland to England, reports the BBC, but the situation — which involves shelling out for travel costs and leaving friends and family — is far from ideal. The fact that Northern Ireland's Parliament, Stormont, has not been functional for over two years is preventing progress being made.
Some leadership candidates have been vocal about abortion; others less so. But by examining speeches, interviews, and voting records, you can get a pretty good idea of their stance on the matter.