Here's What That Cryptic "713" Means In Beyonce & JAY-Z's 'Everything Is Love' Album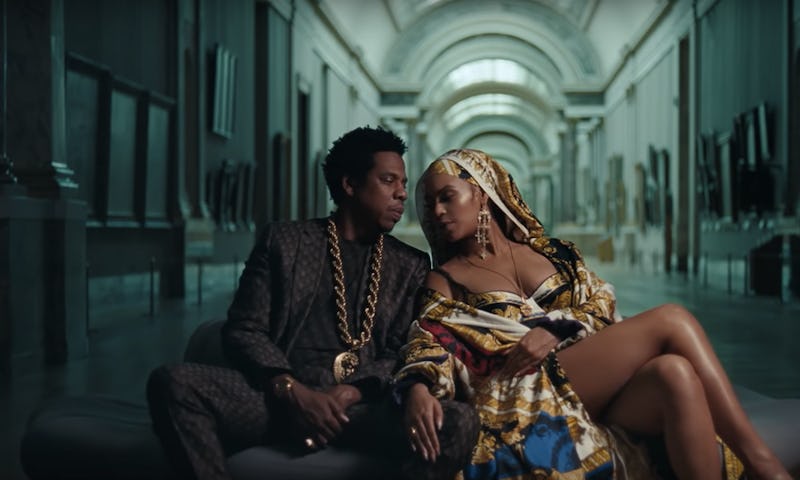 Beyoncé/YouTube
If you've already feverishly downloaded Beyoncé and JAY-Z's surprise joint album from TIDAL and memorized every lyric, you've likely guessed what the song "713" means in Everything Is Love: and you know it's a sweet shout-out to Beyoncé's roots. The numbers 713 are the area code of Bey's hometown — Houston, Texas.
In the homage to Houston, Bey sings, "I put it down for the 713 and we still got love for the streets." Giving a shout out to her hometown is nothing new for Bey, who heavily referenced Houston in her self-titled album in 2013, and Everything Is Love's "713" is another nod to her Texas roots. Besides being born and raised in Houston, the city is also where Beyoncé began her career when, at age nine, when she joined friends LaTavia Roberson and Kelly Rowland to form what would eventually become Destiny's Child.
The trio appeared on Star Search where they performed as rappers. What's more, the group — originally named Girls Tyme — regularly tried out new material in a Houston hair salon owned by Bey's mom.
"They used to go in and perform, and make the customers sit there. The customers couldn't leave, because they were locked under the dryers," Beyoncé's mom Tina Knowles told the Guardian. "Sometimes we would collect tips," Beyoncé added, "and go to this theme park called Astro World."
According to the website Visit Houston, when Bey heads home for a visit she usually frequents some of her favorite haunts, which reportedly include: The Menil Collection art museum, The Breakfast Klub restaurant, Pappasito's Cantina, BB's Café, Max's Wine Dive, Frenchy's Chicken, The Galleria, and St. John's United Methodists Church where she donated $7 million to help the city's homeless, according to Texas Monthly.
Beyoncé also grew up signing in the St. John's Church choir, and the church is so embedded in her roots that the Guardian reported that she had been known to take a red-eye flight to attend a Sunday service while she was a member of Destiny's Child.
The church's pastor Rudy Rasmus told the newspaper that St. John's regularly added the group to its prayer list. "There are many times that we know they're gonna be going through something, that we pray extra, and they've had those times during their careers," he said. "You know, lots of transition."
Houston natives know that Bey's not shy about lavishing her hometown with love. "She called herself Miss 3rd Ward in the video for 'Pretty Hurts' and appeared winning an award as a young girl. Between clips, she says, 'I love you, Houston.' Two other videos for the album were shot in Houston," Joey Sewing reported for the Houston Chronicle.
"'Blow,' filmed at the Funplex entertainment complex on Beechnut, featured Solange. 'No Angel,' shot in the Third and Fourth Wards, included cameos by local rappers Paul Wall, Bun B., Slim Thug, and Trae. She even donned a No. 13 Rockets jersey (James Harden's number) in the video."
In keeping with her commitment to support Houston, Bey also pledged to assist with relief efforts in the aftermath of Hurricane Harvey. "My heart goes out to my hometown, Houston, and I remain in constant prayer for those affected and for the rescuers who have been so brave and determined to do so much to help," she said in a statement to the Chronicle. "I am working closely with my team at BeyGOOD as well as my pastor (Rudy Rasmus at St. John's in downtown Houston) to implement a plan to help as many as we can."
According to its website, BeyGOOD partnered with Bread of Life, Greater Houston Community Foundation, and Texas Southern University, to help hurricane victims find temporary homes, to rebuild neighborhoods, and to provide people with basic necessities.
The "713" lyrics: "Ain't no way to stop this love / Ain't no space if everything is love," makes it clear that Houston will always be in Bey's heart. Because, there's no place like home.