The Meaning Behind Blue Ivy's Rap Is Too Deep For Mere Mortals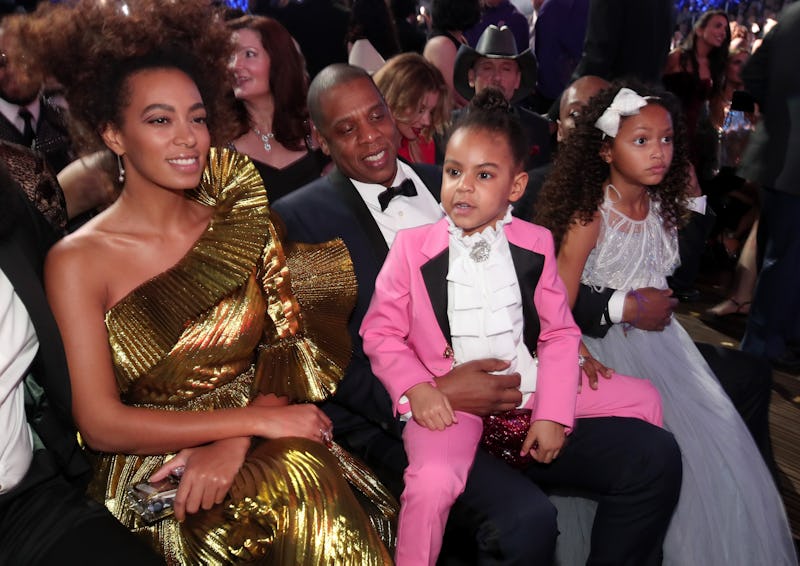 Christopher Polk/Getty Images Entertainment/Getty Images
Music by JAY-Z and Beyoncé is always worth a little analysis, but does the same go for music by their daughter Blue Ivy? That's the question the world is left wondering since Blue Ivy freestyle raps on the bonus track, "Blue's Freestyle/We Family," from JAY-Z's 4:44. While listeners can't agree on the lyrics of Blue's rap just yet, that doesn't stop them from giving meaning to the many interpretations that have cropped up on the internet since it was revealed that JAY-Z and Beyoncé's daughter is featured on the physical album version of 4:44. And let's just say that "Blue's Freestyle" pretty much solidifies the fact that the 5-year-old Blue Ivy is wiser and cooler than you'll ever be (as if you needed the reminder).
The lyrics to JAY-Z's part of the bonus track "Blue's Freestyle/We Family" are about being united to people from around the world with the rapper criticizing President Donald Trump's fearmongering by saying, "More worried about Trump than anyone overseas, feel me?" Shockingly, Blue doesn't get political in her rap before this, but with JAY-Z starting off his section by referencing his family and talking about peace between cultures, it makes sense to include his own young daughter on the song.
But from there, sense may just need to go out the window. Because, while Blue Ivy Carter is a god among children, she is just a kid and probably (going out on a limb here) did not put as much thought into her freestyle as her dad did to his lyrics. Yet, despite only being on this Earth for a mere five years, Blue Ivy was able to unleash some lyrical meaningfulness that is blowing people's minds — even if no one truly understands what she's saying.
Yet, she kicks off the song with a broad scope as she clearly raps, "Everything, everything." And, yes, that could be foreshadowing her dad's message of unity later on in the song.
However, maybe Blue Ivy's rap is less about her dad's words in "We Family" and more about a lesson she learned from her mom — female empowerment. Because the standout line from her freestyle is "Never seen a ceiling in my whole life." And while some people interpreted that to mean that Blue's talking about being super wealthy, the majority of listeners thought she was really implying (in her own way) that the glass ceiling doesn't exist for her and she has no limitations. Snark aside, that's a really beautiful thing and proves that Blue Ivy just might be a role model for the ages.
Sure, she may lose the message during her "Boom shakalaka" part, but it's still super catchy — and somehow emotionally moves you nonetheless.
Plus, one Twitter user even theorized that the "Boom shakalaka" lyrics could possibly relate back to womanhood (girlhood?) and feminism if they're referencing the legendary Chaka Khan. (OK, they're probably not, but it's worth a laugh.)
Regardless of what you hear Blue singing — or what the 5-year-old's intentions were when she came up with this rap — what can be taken away from "Blue's Freestyle/We Family" is the knowledge that JAY-Z and Beyoncé are raising a daughter who is confident. She not only has the unconscious charisma that often comes with being a kid (and always comes with being a kid who has the outrageously talented JAY-Z and Beyoncé for parents), but she has been raised to know that she can do anything. And really, that's the only meaning of "Blue's Freestyle" that people need to know.