Blue Ivy's Freestyle Rap Lyrics Are Worth A Closer Listen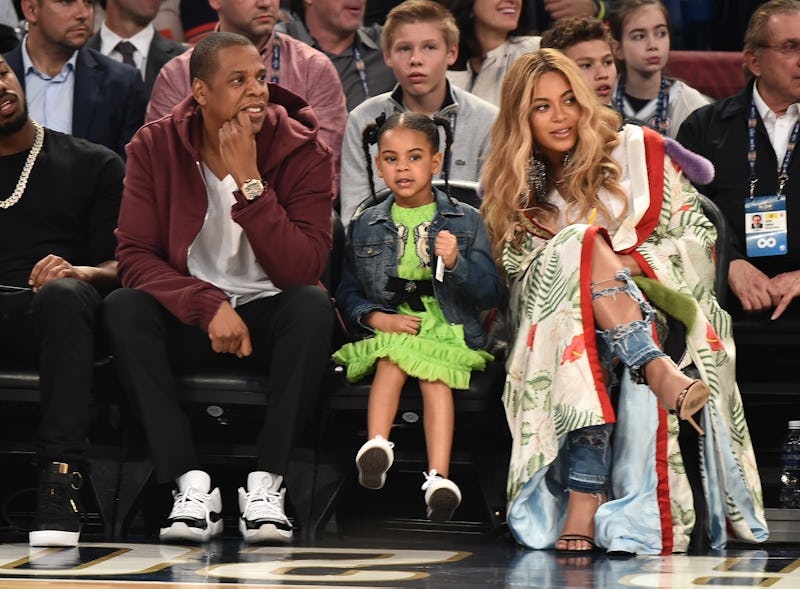 Theo Wargo/Getty Images Entertainment/Getty Images
When JAY-Z released his thirteenth album, you probably didn't think you needed anything else from the rapper. Yet, when news broke a week later that the physical album of 4:44 will feature a bonus track of Blue Ivy rapping, everything changed. Although JAY-Z and Beyoncé's daughter has been a part of their music before, the 5-year-old's contribution to the song "Blue's Freestyle/We Family" has taken her involvement to a whole new level. So if you have gotten over the shock that there's more to 4:44 than JAY-Z initially released — and that this "more" includes a freestyle from his daughter — you can now focus on the lyrics of Blue Ivy's rap on 4:44.
While Blue Ivy is much more comprehensible in "Blue's Freestyle/We Family" than she was in JAY-Z's "Glory" (you know, since she was only a newborn when her cries were featured in his 2012 song) or even in Beyoncé's "Blue," it's still difficult to understand the young rapper. But that hasn't stopped people from trying to decipher what Blue's saying in the beginning of the 4:44 bonus track. With no official lyrics released by JAY-Z's camp yet, her rapping is left to people's listening skills right now — and the range of lyrics on the internet just goes to show how differently people interpret words. However, some things are for certain, like the fact that Blue Ivy kicks off her freestyle by rapping, "Everything, everything," and wraps it up with some "Boom shakalaka"s.
After that, most everything else she says is up for grabs — although there are some moments of clarity that listeners can agree upon. One potential lyric in particular that is really resonating with people is, "Never seen a ceiling in my whole life." Not only do most people hear this lyric, but it's also extremely deep for a kindergartner. Yet, with a mom like Beyoncé — who has continued to shatter the glass ceiling for women of color — why would Blue be familiar with ceilings that could stop her from rising to the top?
If you're still having difficulty catching what Blue is saying, you're far from alone and the lyrics site Genius has provided its (incomplete) take with the following transcription:
"Everything everything this my only single thing
Everything I hear is my answer
And if you think I say, then [?]
I never hear that, I be in the posse
Never seen a ceiling in my whole life
Everything I seen, everything is rotten
Never sit in silence [?] Carter
Innocent we seek them
I and say we see them
[?]
Boom shakalaka
Boom shakalaka
Boom shakalaka
Boom shakalaka
Everything in shaka
Everything in faka
Everything in shaka
Everything in faka"
But if some of those lyrics aren't what you're hearing, here is another interpretation that Twitter user @OfficiallyKingJ came up with.
Some of the interpretations are wildly different with Genius coming up with the opening being "This my only single thing" and the Twitter user hearing something about sneakers — which kind of makes sense for a child to be rapping about. And while Genius has the depressing lyric of everything being "rotten," you could interpret it much more optimistically with Blue saying everything is "sparkling."
Unless JAY-Z releases the official lyrics for this bonus track, fans may never know exactly what Blue is rapping about. And considering that she was presumably ad libbing since the song is called "Blue's Freestyle" and that she is a young child, perhaps no one will ever know for sure what she's singing. That means Blue's lyrics could remain a mystery forever. Yet, the varying interpretations are almost fascinating enough on their own and in this case, JAY-Z's daughter rapping on his latest album makes the uncertainty not only bearable, but extremely worthwhile.