Brooklyn Beckham Just Got The Sweetest Little Tattoo In Honor Of His Siblings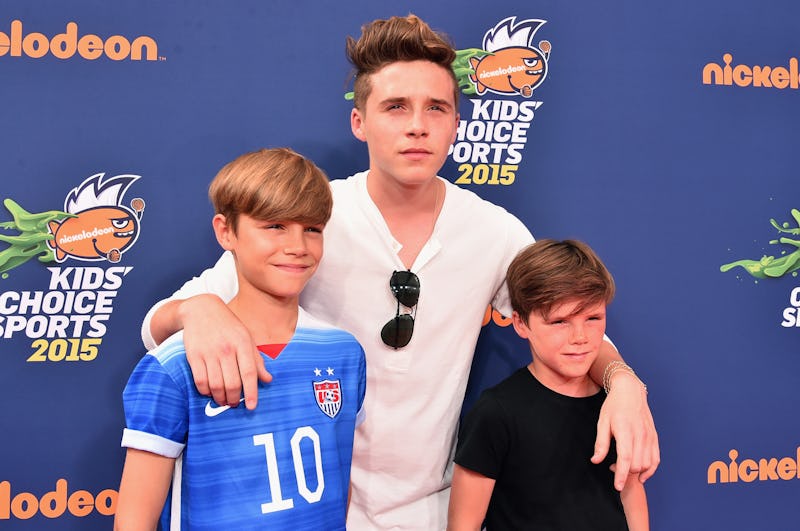 Alberto E. Rodriguez/Getty Images Entertainment/Getty Images
Siblings argue and annoy each other from time to time, but the love is permanent. Some show that unconditional adoration by getting matching jewelry. Others just keep a family photo in their wallet. But some tend to go above and beyond, like a certain young celebrity. Brooklyn Beckham just got his siblings' birth years tattooed on his arm. The ink design is so cool that you might just want to copy it.
There are tons of different matching sibling designs out there. Instead of getting an anchor or an infinity sign, you might want to consider something simpler — like Beckham's latest design. The 18-year-old got a tattoo of six number across his forearm. At first glance, the design looks like a date, but, upon closer inspection, it turns out that it's three dates.
Beckham's tattoo reads "020511." His brothers, Cruz and Romeo, were born in 2002 and 2005, while his sister Harper was born in 2011. How's that for sibling love? I guess when your dad is David Beckham, who has over 40 tattoos himself, you find a way to get creative with body ink.
The teen posted a black and white photo of his tattoo without a caption. It wasn't until the tattoo artist Mr. K posted an image with the caption "his siblings" that it all started to come together. Beckham's three younger brothers and sisters are six, 12, and 15, he couldn't exactly get matching ones with them. This was a good alternative.
Beckham might be 18-years-old, you know, the legal age to get inked, but he already has seven tattoos. Well, eight now. He has a bald eagle on his hand, camera on his bicep, and "made in England" tattooed on his foot. So his most recent is actually the daintiest of them all.
It's not his first permanent tribute to his family, either. Beckham has the words "mama's boy" tattooed over his heart. Basically, he's a walking tribute to his family. The most recent one for his siblings, the one for his mom, and for his dad there's the ink in general. It won't be long before he's tatted up just like the soccer star.
There's no telling how many more the teen star will have by his birthday, if he already has eight of them within eight months. Or maybe the whole one tattoo a month thing is intentional.
Dr. Woo, a well-known celebrity tattoo artist posted a photo of the work he did on Beckham earlier in the month, as well. He got an angel shooting an arrow right above his stomach. He hasn't explained what it means, but it's one of his largest ones thus far. To follow it up with a dainty one is unexpected, but adorable.
On top of Mr. K and Dr. Woo, he also has gotten tatted by Evan Tattoo, who specialized in dainty designs. Beckham got the number seven tattoo on his pinky knuckle in October. The star has yet to explain what it means.
The 18-year-old is getting tatted so fast that people can't even catch up. Like father, like son, I suppose. Actually, his mom has some tattoos too. Although there are rumors that Victoria Beckham is getting hers removed.
There's only three more years until his next oldest brother turns 18. So I guess we'll all have to wait and see if the itching for ink runs in the family. Who knows, they could all get matching one when they're all of age.