How To Tell If Your Long-Term Relationship Is Based On A Deeper Connection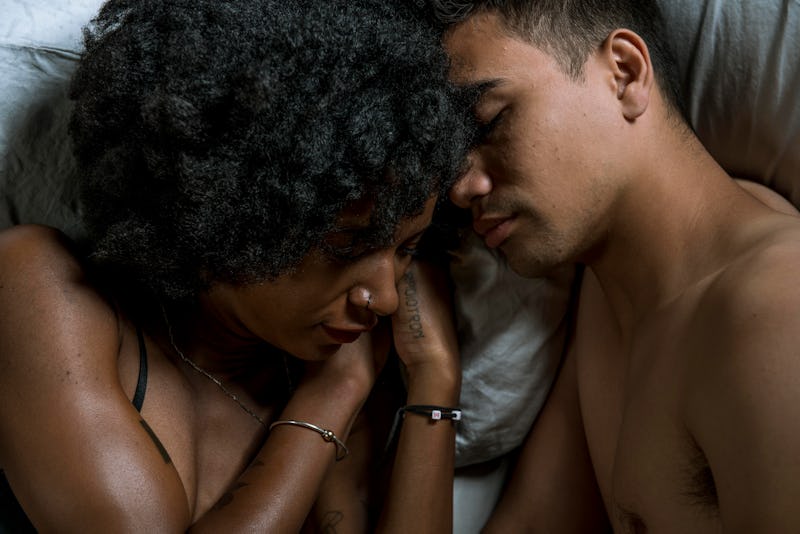 BDG Media, Inc.
It might seem like common sense to all you seasoned relationship vets, but one thing I've learned over the course of my first-ever long-term relationship that surprised me is just how much a relationship can change for the better over time. Even if you have a super strong connection initially, the more time you spend with someone and the better you get to know them, the deeper your connection can become — and emotional intimacy in a long-term relationship is so much different than emotional intimacy in a brand-new relationship.
"In new relationships we can reflectively listen, spend quality time with our new partner without distractions, and make thoughtful gestures to build closeness," Javanne Golob, LCSW, an expert in cultivating emotional intimacy, tells Bustle. "The longer two people spend together, the longer they have to explore each other's inner worlds. With time we can become highly attuned with one another and be able to understand our partner's motivations instead of misinterpreting their actions. Communication can become clearer and hopefully with time we feel more and more safe to share vulnerable parts of ourselves."
When you first start dating someone new, all the lovey-dovey vibes make it easy to feel a super close bond right away, but after you've spent months (or even years) building trust and getting to know each other, you'll be able to form an even deeper connection with your partner — which makes your relationship as a whole stronger, too.
"Emotional intimacy is the glue which holds a long-term relationship together," Golob says. "In being able to trust our partner and know they are holding us in their heart we continue to make choices that benefit the couple versus the self. When we don't feel safe to share our innermost thoughts and feelings and that our partner deeply cares about us, distance can form in a relationship... Emotional closeness bonds us, satiates us, and fuels the desire to stay committed."
Simply put, the more open and vulnerable you are with your long-term partner, the greater the potential to connect on a super deep level and build amazing emotional intimacy with them. If you want to know what emotional intimacy looks like in a long-term relationship, here are three things that long-term couples with tons of emotional intimacy have in common.