This Is What Gretchen Carlson Has Said About Showtime's Roger Ailes Series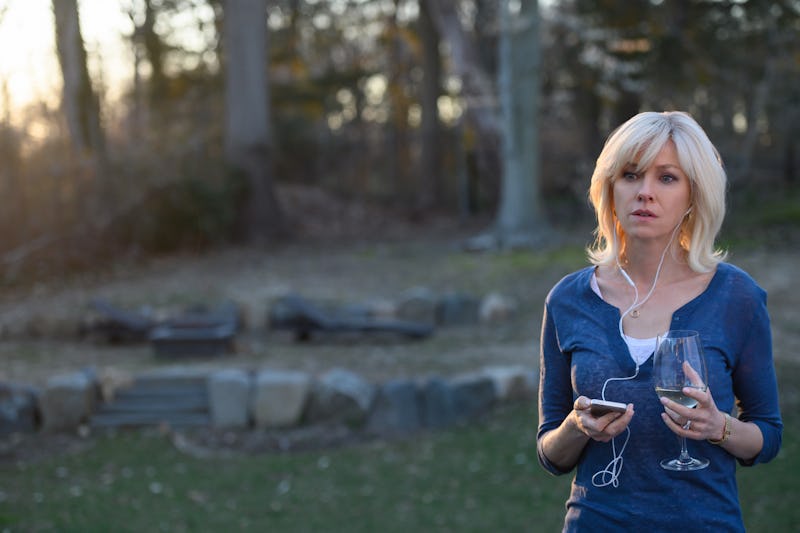 JoJo Whilden/SHOWTIME
Roger Ailes' alleged workplace abuse at the network he built, Fox News, has been widely reported for quite some time. Showtime's The Loudest Voice dramatizes those allegations, with Russell Crowe portraying Ailes himself and Naomi Watts taking the role of former Fox News anchor Gretchen Carlson. But even though she's a heavy focus on the show, details of what Gretchen Carlson thinks of The Loudest Voice remain unclear for legal reasons.
According to Huffington Post, Carlson is forbidden from speaking explicitly about her alleged mistreatment at Fox News due to a settlement agreement she signed with the network in 2017. That means she's not allowed to speak to the validity, or much else, of projects like The Loudest Voice that follow that story. So, viewers might never know exactly how she feels about the series.
She has, however, given her opinion in vague terms. "I can't take part in any of these projects, so I just hope for accuracy," Carlson told Huffington Post. "In watching what I've seen thus far, it's an incredibly emotional experience for me. When you experience [harassment and assault], you go through a certain recovery process, and there's a sense of PTSD that can affect [you] for life."
She also said that if The Loudest Voice is able to facilitate further conversations about what is appropriate and what is not, then she sees it as a success. "Any time, again, that we can bring it to the national or international scene, I think that it's positive," she continued in the Huffington Post interview. "I think a lot of women and men are going to be having conversations after they watch The Loudest Voice and they're going to probably decide to come forward for the first time. So from that perspective, I think that it's a great project."
So, even though Carlson isn't able to go into much detail of how accurate the show is to her, her relationship with The Loudest Voice generally seems to be positive. But that's certainly not the case with everyone portrayed in the show.
Laurie Luhn, a former Fox News employer who also made sexual abuse allegations against Ailes, sued Showtime for $750 million after learning that she'd be a character in the show. According to Variety, she alleged that former New York magazine journalist Gabriel Sherman, who Luhn granted interviews to and who broke much of the story regarding Ailes' allegations, was "cashing in" on her experience in an unfair way.
Luhn's suit was eventually dropped before the series premiered, and "the matter has been resolved to the parties' mutual satisfaction," Luhn's lawyer said. But it's clear that she's not thrilled with her story heading to the screen.
Though the women featured in the series might have mixed feelings about the show, or may not be able to legally say everything they'd like to, the people behind The Loudest Voice are confident in the impact it can have. Watts talked to the Hollywood Reporter about playing Carlson, and said she did a ton of research even though she couldn't speak to her directly.
"In terms of Gretchen, I think it's an incredibly powerful story in that there are many people who could have been taken down by this level of power, and just to survive in a place that was that misogynistic is incredible," Watts said. It's also an incredibly encouraging story that she was able to come out with dignity and grace."
Even though we may never know much more about Carlson's opinion about The Loudest Voice, viewers can rest assured that the actress behind her wants to do her justice.
This article was originally published on