Here's What Harrison Ford Really Thinks About Alden Ehrenreich Playing Han Solo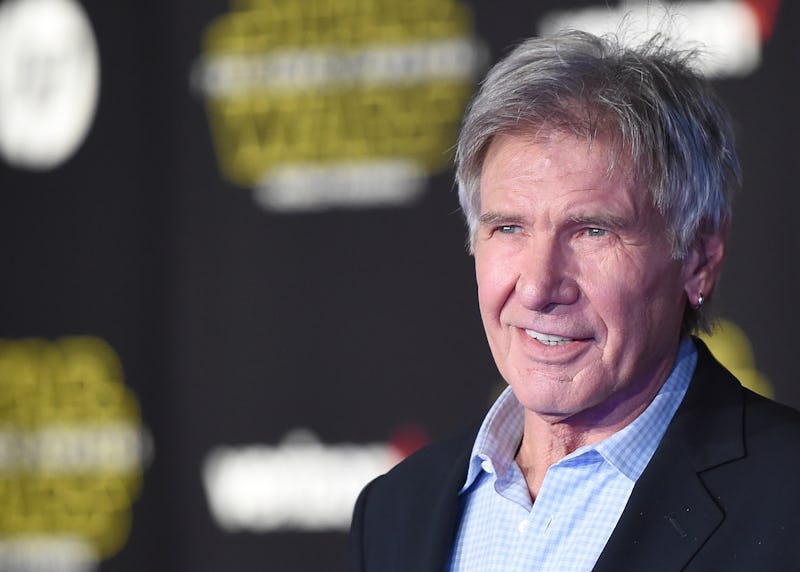 Jason Merritt/Getty Images Entertainment/Getty Images
At the premiere of Solo: A Star Wars Story in May, Harrison Ford was notably absent, despite many of the other original Star Wars actors showing up. It left many fans wondering if Ford was upset to pass on the torch to Alden Ehrenreich. But don't worry — there are no hard feelings between the two Hans. As it turns out, what Harrison Ford thinks of Solo and Ehrenreich's take on the beloved character is all positive.
In an interview with Parade in May, Ehrenreich explained that he had a chance to meet up with Ford for lunch. "I was mainly interested in his career, his journey as an actor and how he's navigated all of that. He was very supportive. He gave me his vote of confidence, so that was really awesome," recalled Ehrenreich.
Prior to that interview, Ford paid a surprise visit to an interview Ehrenreich did on Entertainment Tonight, as seen below. When Ehrenreich was asked if Ford had given him any guidance on playing the iconic role, Ford actually barged in, jokingly demanding that Ehrenreich "get out of my chair and get out of my life." The pair quickly shifted to pleasantries, shaking hands and hugging, before Ford was asked what he thought about the young actor's take on his character. Putting his arm around Ehrenreich, Ford shared that he thought the actor's portrayal of Han Solo was "spectacular," saying, "I thought he was so smart about what he did and how he did it. I just couldn't be happier."
Even though Ford is clearly happy to see Han Solo's story continue after the character's devastating death in Star Wars: The Force Awakens, he's admitted that seeing another actor take on his role is still an odd adjustment. MovieWeb reports that At Star Wars Celebration in 2017, Ford joked that he wasn't looking forward to watching Solo. "Of course I'll be watching it as a fan. But it will be weird. It will be a little weird," said the actor. But, like on Entertainment Tonight, Ford also praised Ehrenreich's performance. "I've met the fellow who is going to play the younger Han Solo, wonderful guy, very sweet, and a very good actor. I'm delighted in the choice," said Ford.
Ehrenreich has not only won support from Ford, but also from Mark Hamill. After attending the Solo premiere, the original Star Wars actor took to Twitter to praised the film, writing, "NO SPOILERS until everyone's seen it, but I can't wait to see it AGAIN. #SoHighFromSolo"
In a red carpet interview with Entertainment Tonight at the AARP Movies for Grownups Awards, Hamill says that although Ehrenreich taking on such an iconic role will undoubtedly bring criticism, there's no reason why that should get to the actor. "It's like when they did the prequel to Butch Cassidy and the Sundance Kid. Tom Berenger and William Kat were great. But they said, 'Oh but he's not like Robert Redford and he's not like Paul Newman.'" recalled Hamill. "That's already hard, but the trailer looks fantastic, I don't know what everyone's complaining about. The trailer makes you want to see the movie and I'm dying to see it, so it works."
With both Hamill and Ford on-board, Ehrenreich hopefully went into Solo confident, and fans should feel the same about the actor's take on the character. Seeing a new actor play an iconic role that so many people love is tough, but now that audiences know that Ehrenreich has the blessings of Star Wars icons, it should be far easier to accept this new version of Han Solo.