This Is Why Jamie Redknapp Won't Be Voting For His Dad Harry On 'I'm A Celeb'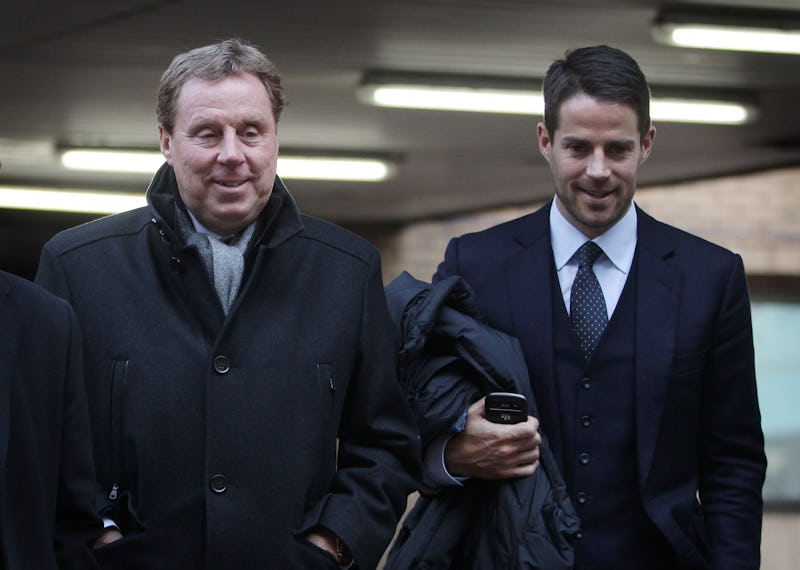 Peter Macdiarmid/Getty Images News/Getty Images
Between stuffing his face with bugs and braving the worst the Bushtucker trials have to offer, former Birmingham City football manager Harry Redknapp always has time for a quick joke and a bit of banter. He's quickly become a fan favourite on I'm a Celebrity...Get Me Out of Here! however there's one reluctant fan back home who's secretly hoping he's kicked out of the jungle: his son, footballer Jamie Redknapp. So, what does Jamie Redknapp think of Harry on I'm A Celeb? Don't worry, there's no bad blood between the pair and in fact it's actually for an adorable reason.
While speaking with The Mirror, Jamie made it clear he wasn't going to be gunning for his dad to say on the show. He declared, "I'm going to try and vote him out. I want him to come home and see my mum and get him out of there."
Honestly as far as reasons not to support somebody go, it's pretty adorable. Jamie added that his mum's a bit more torn on his dad being on the show and said, "My mum is more nervous than anything as she misses him whenever they are apart."
He also revealed that his father hadn't actually said a word about being on the show, so he found out with the rest of us when his dad's face was blasted all over the internet. Jamie explained, "I was actually really surprised when I found out he was going to be on [I'm a Celeb] because he didn't tell me, I read it in the paper."
Recently, he also wrote a first person piece for The Daily Mail about how he felt about his dad braving the Australian jungle. Jamie described what it was like seeing his father on the show and wrote, "I do not think I have seen him laugh this much in years. He looks like he is having the time of his life."
I'm a Celeb is a place where people are pushed to their limits, some for the worse and others for the better. It seems like Redknapp has thankfully fallen into the latter camp as Jamie explained, "It is a little strange seeing him there. When we were growing up, dad was never a great lover of a walk in the woods. He struggles to make a cup of tea too, but that doesn't seem to have stopped him here."
Jamie's dad is a bit of a football legend and it's no surprise that the other football lads he's come across have rallied behind Harry.
"I've been struck by the overwhelming support for my dad since he went into the jungle," Jamie wrote. "Football is such a tribal sport but it feels like everyone has got behind him. Wherever I go, it's the first thing I'm asked: 'How is your dad?'. Soon followed by: 'Do you think he can win it?'"
Well, if you listen to the bookies, they'd go with a resounding yes. According to betting site Oddschecker via Lad Bible, Redknapp has odds of 1/1 of winning followed closely by Emily Atack at 8/1.
Honestly, as long as he stops carries on uniting the internet and handing butt soap to his fellow Islanders (sorry Fleur East), I think he'll do just fine.
The next episode of I'm a Celeb...Get Me Out of Here! will air today on ITV at 9pm.