Jessica Chastain's Husband Has A Job That Make The Pair An Even More Perfect Match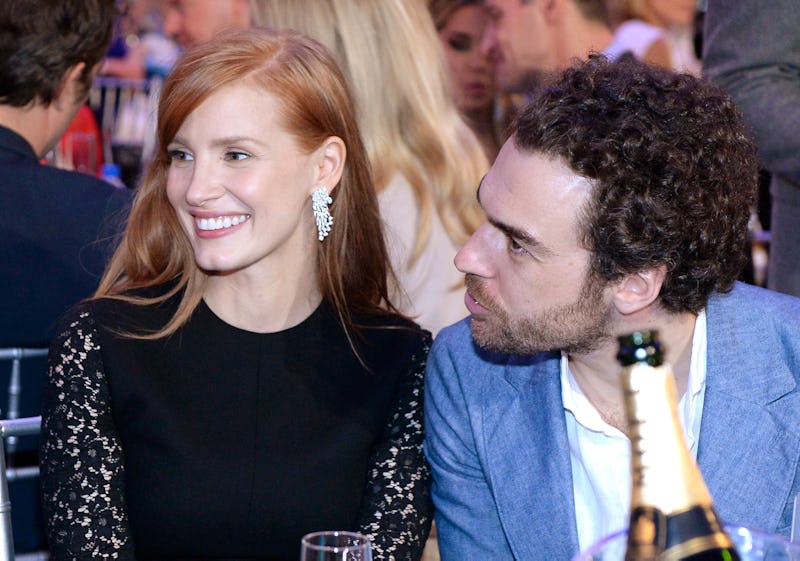 Kevork Djansezian/Getty Images Entertainment/Getty Images
Jessica Chastain isn't one to share many details about her private life. But while not too much is publicly known about Chastain's Italian husband Gian Luca Passi de Preposulo, he sounds like a total catch. Of course, the fact that there aren't many details is likely why fans want to know what Chastain's husband's job is, among other fun facts. Well, as it turns out, he has a fascinating career that allowed him to meet actors and big-name celebrities behind the scenes for years before he started dating the Zero Dark Thirty lead. Oh, and also he's from an ancient Italian noble family. No big deal.
Passi de Preposulo works in high fashion. He was previously the director of public relations at Armani. He told Vanity Fair in a 2009 profile that he even considered Roberta Armani to be his mentor and mentioned that, as part of his job, he hung out with some of Armani's most high profile clients — including George Clooney, Julia Roberts, and Leonardo DiCaprio. Since then, he's become an executive for the Italian lifestyle brand Moncler, which specializes in jackets and sportswear, particularly high-end down jackets that ensure that the customer looks as good skiing down the mountain as they do entering the lodge for cocktails after. His career choice probably makes him a particularly great partner to his glamorous, fashion-forward wife.
If you're looking at his handsome face on the red carpet or thinking about his cool job, you've probably come to the conclusion that this guy is like an Italian prince charming. But you're wrong. He's an Italian count charming. According to People, Gian Luca is the son of Count Alberto Passi de Preposulo. His father still owns the castle-like massive 17th century estate Villa Tiepolo Passi, where the happy couple tied the knot in June, 2017.
The villa is in Treviso, a Northern Italian city near Venice. According to the historic manor's website, it's been in the family since the 18th century, and it's absolutely stunning. Tourists can take tours of the grand halls, lush gardens, and ripe vineyards on Sundays, while others might opt to rent the location for their own wedding (hot Italian husband not included).
Though the Passi de Preposulo has only owned this villa for some 200-plus years, according to the Villa Tiepolo Passi website, the family is originally from Bergamo and can trace their heritage through their archives back to 973. The family was previously known simply as de Preposulo, but, after a member of the family helped broker peace negotiation between two factions in the region in the early 1300s, people added "pas" (the word in the region for "peace") to their name, which later evolved into "Passi."
Unfortunately, their wedding did not make Chastain a countess. The Italian government officially dissolved the aristocracy post-World War II in the mid-1940s, when the Kingdom of Italy became a republic. As such, the government does not recognize any royal or noble titles, which makes him a count in name only. Regardless, hopefully at least someone in his family will keep hold of the villa and invite Gian Luca and Chastain over frequently. According to People, the estate produces its own Prosecco (free bubbly!), and the garden has to be seen to be believed.
Passi de Preposulo doesn't seem to shaken up by his questionable noble status, however. In the aforementioned Vanity Fair profile, he offered as his personal quote: "It's not the title that's important—you have to be a count inside yourself." Also, who needs a title when you have a great job and a revered Oscar-nominated partner by your side?