'The Handmaid's Tale' Reveals Luke's Fate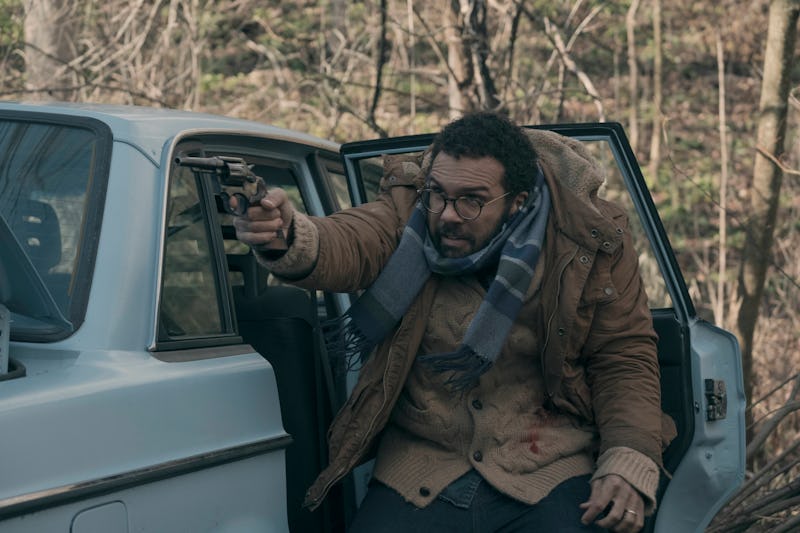 Hulu/George Kraychyk
There are Episode 7 SPOILERS in this post. Up to this point, Hulu's new television series, The Handmaid's Tale, has not strayed very far from its central character, Offred, and the trauma she undergoes as a handmaid in the new Republic of Gilead. But true to its title, Wednesday's Episode 7, "The Other Side," tells a different story of what the new fundamentalist dystopia has done to her husband, Luke — and reveals what's written on the note Offred sends to Luke in Episode 6.
In the book, we never find out what happened to Luke after their unsuccessful attempt to flee their home in Boston; readers are led to believe that he's most likely dead, like Offred does at the beginning of the first episode, and there's no mention of him in the epilogue. However, now it's clear what Offred was told by a member of the Mexican trade delegation in last week's episode, and that the TV adaptation of Luke is still very much alive. Over the course of the episode, he survives both a gunshot wound and a car crash after his captors' ambulance skids off the road, and flees over the Canadian border as planned with the help of a group of scavengers.
While Luke's pain is front and center in "The Other Side," the episode also demonstrates just how the fall of the United States and the rise of Gilead mirror the problems and struggles that real-life refugees face. June, Luke and their daughter Hannah are forced to leave every part of their old life behind and hide in the trunk of their own car while fleeing to a safehouse, because all legal methods of escape are no longer viable — they made the mistake of waiting for visas and in that time their current passports have become useless. Luke also must leave all hope of rescuing his family behind to make it to the border and only survives out of sheer luck; three years later, he now lives with other displaced people in a neighborhood of Toronto known as "Little America," and the walls of the U.S. embassy are covered with photographs of lost and missing persons.
It's in that embassy that Luke is finally given the note. Remember, Offred only had a few seconds to jot something down on a small notebook, so it doesn't say much. What it does say, according to Offred's voiceover, is this: "I love you so much. Save Hannah." That the camera focuses on Luke and Offred's faces rather than the words on the paper makes the scene all the more powerful.
So where does The Handmaid's Tale go from here? There are another three episodes left in the season, and Hulu has already renewed the show for Season 2, which means that one day Luke and Offred might eventually be reunited in Canada; in the book's epilogue it's suggested that Offred escapes there herself soon after her tale ends, potentially with Nick. But whether or not that will definitely happen happen — and how Nick might react, now that we know he's still romantically interested in Offred — is anyone's guess.