This Is The Tragic Story Behind The Title Of Joe Biden's Memoir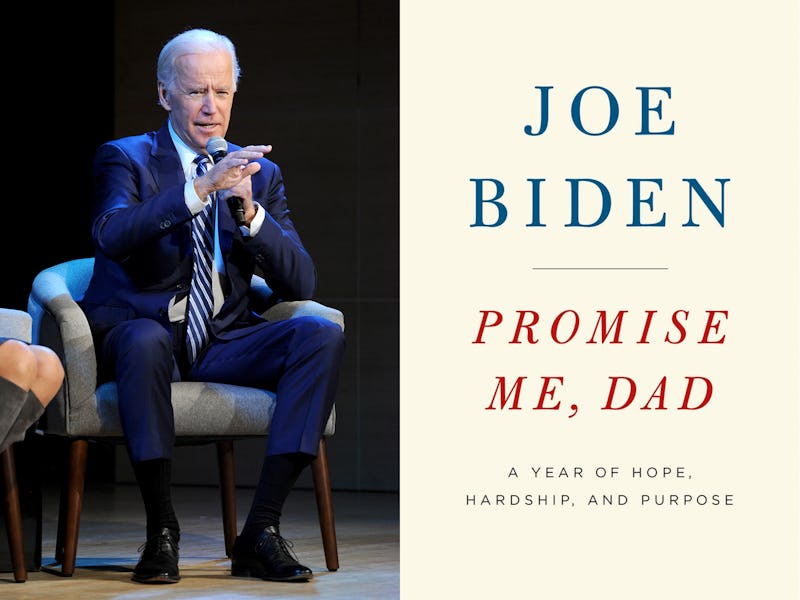 Craig Barritt/Getty Images Entertainment/Getty Images
In his first book in a decade, former Vice President Joe Biden chronicles in heartbreaking detail one of the most challenging years of his life: the year his son Beau fought and lost his battle with brain cancer. You don't have to go further than the front cover of Promise Me, Dad to get all the feels, though, because the title of Joe Biden's memoir has a special significance, and you're going to want to grab tissues before you learn what it is.
A moving memoir of grief, hope, and healing, Promise Me, Dad chronicles the incredible personal journey of a man not only shouldering the massive responsibilities of the vice presidency, but one reckoning with the imminent and unavoidable death of his beloved son. During his second term as Barack Obama's right-hand man, Vice President Joe Biden was faced with dozens of political crises at home and abroad, but his biggest challenge was a personal one: his son Beau Biden's glioblastoma diagnosis at age 46, and the gut-wrenching months of cancer treatments, hospital visits, and eventual mourning that followed.
With honesty and vulnerability, Biden's memoir invites readers into the most intimate moments of this unimaginably painful period of his life, including the one that inspired the book's title, Promise Me, Dad.
Promise Me, Dad by Joe Biden
As revealed in the book. Joe Biden was having dinner at his son's house the fall before Beau's death when he had a conversation that would change his life. After sharing meal family with the whole, Beau and his wife, Hallie, asked the Vice President to stick around to speak in private. By this time, Beau's cancer was beginning to become more obvious in physical ways, but the son wanted to reassure his father that despite his illness, things were going to turn out just fine. As his father recounts, Beau had come to terms with his own death, and in that moment wanted to give his dad the same peace of mind.
Biden describes the emotional scene in a chapter of his memoir titled "Can You Stay?":
" 'But Dad, look at me. Look at me. I'm going to be okay no matter what happens. I'm going to be okay, Dad. I promise you.' I was jolted by the realization that my son was beginning to make peace with his own death. Then he leaned across the table and put his hand on my arm. 'But you've got to promise me, Dad, that no matter what happens, you're going to be all right. Give me your word, Dad, that you're going to be all right. Promise me, Dad.'
'I'm going to be okay, Beau,' I said, but that wasn't enough for him.
'No, Dad,' he said. 'Give me your word as a Biden. Give me your word, Dad. Promise me, Dad.'
I promised."
After that night, and following his son's death, the words Beau said to his father that night became the voice in Biden's own head, one that comforted him, guided him, and kept him company, even in his darkest and most desperate moments. That phrase and the book's title — "Promise me, Dad" — immediately became more than just one son's dying plea to his father. It became a beacon of hope that Biden would use to guide him through his grief and aid him in his healing.
Excuse me, but can somebody please pass a tissue? Never mind, I'm going to need the entire box, because the story behind this book title is just as beautiful as the memoir itself.
Joe Biden's memoir, Promise Me, Dad, is available now wherever books are sold, and I dare you to pick up a copy and look at the title without crying your eyes out.