The True Meaning Of "Red Wheelbarrow" On 'Mr. Robot' Is More Complicated Than You'd Think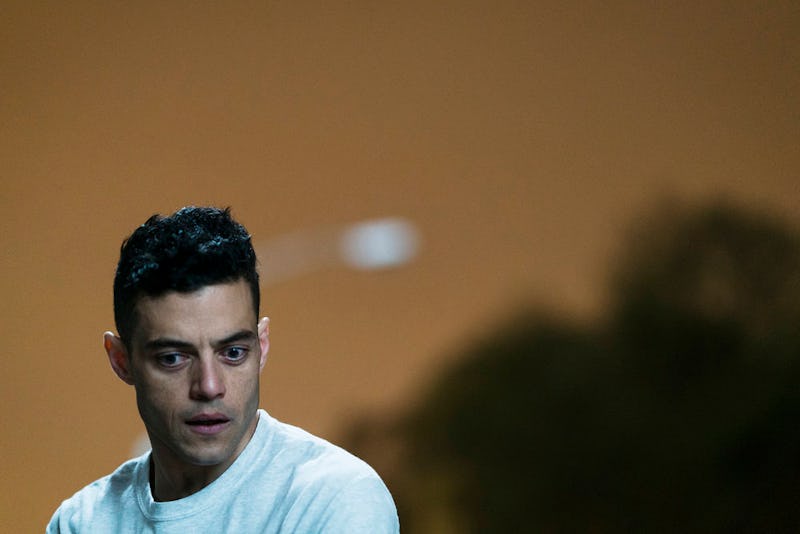 Michael Parmelee/USA Network
On the USA psychological thriller Mr. Robot, Season 3 of which kicks off on Oct. 11, mysteries that are introduced at the beginning of the season are usually solved by the end. But the show also incorporates a lot of cryptic phrases and names. Throughout Season 2, one particular was appearing with little explanation. What does "Red Wheelbarrow" mean, and why is it so common in the world of Mr. Robot?
In the first episode of Season 2, Elliot is seen writing in a notebook that he has titled "Red Wheelbarrow." Inside of it, he writes his thoughts and feelings down about "living with his Mom," as he calls it. Eventually, viewers learn that Elliot's mom's place was actually prison, and that "Red Wheelbarrow" is the name of his prison journal, where he documents his days and tries to combat Mr. Robot. (You can actually read a version of Elliot's notebook, penned by creator Sam Esmail and show writer Courtney Looney, and titled — of course — Red Wheelbarrow.) Later, Tyrell leaves messages for Elliot written on a menu for a BBQ restaurant that carries the same name.
But where did the phrase "red wheelbarrow" come from, and why is Tyrell so familiar with it? Does it have something to do with the connection between Tyrell and Elliot? It may be a somewhat spooky term, but it turns out that Red Wheelbarrow isn't a codeword or any kind of secret — it's simply the name of a poem.
The poem Red Wheelbarrow by William Carlos Williams was originally published in 1923 , and it seems to have a profound impact on both Tyrell and Elliot. While Elliot never reveals why his prison journal carries that title, Tyrell has a personal connection with the poem. In the Season 2 finale, Tyrell recalls a memory where his father used to be proud of him for being able to recite the poem when he was a child. Tyrell admits that the poem serves as a reminder of his father, and specifically "a reminder of what I never want to become."
The poem itself is short, a scant eight lines, and reads:
"so much depends
upon
a red wheel
barrow
glazed with rain
water
beside the white
chickens"
The poem illustrates an image but does not explain the context of the imagery, nor does it ever reveal what is so important about that red wheelbarrow. The wheelbarrow is a central object in the poem, but its importance is left up to the reader. Two different readers can look at the same red wheelbarrow, or the poem, and have an entirely different emotional reaction to the events. It's similar to how Tyrell and Elliot both look at their own actions and have very different feelings regarding them.
Tyrell and Elliot are both two sides of the same coin — they're both disappointed with E Corp and are willing to topple the economy to take it down, but for entirely different reasons. Tyrell once sought to climb the corporate ladder of E Corp and lashed out against it when he was rejected by it, while Elliot has always hated E Corp for contributing to his father's death. E Corp is their "red wheelbarrow," and everything depends on it.
But how did they both come to the conclusion that those would be the two words that united them? Is it a coincidence that "Red Wheelbarrow" is the name of the journal in which Elliot struggles against the ghost of his father and that it happens to be the poem that Tyrell would recite for his? The Season 2 finale sought to prove, without a doubt, that Tyrell was real and not a figment of Elliot imagination — but the fact that they both share an interest in this particular poem is cause for suspicion.