Starbucks' New Salted Cream Cold Foam Cold Brew Tastes Just Like Caramel Candy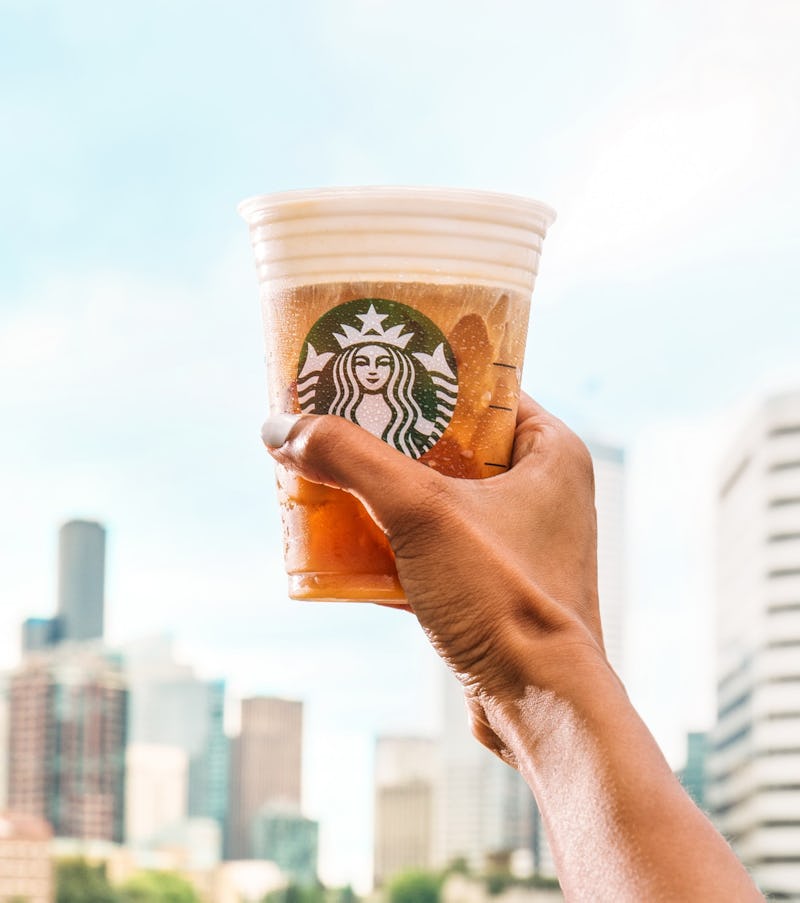 Starbucks
It's safe to say that most of us can agree that summer is basically synonymous with iced coffee. Few things are better than taking a break from the hot weather with an ice cold caffeinated beverage in hand. Luckily, Starbucks has gone above and beyond to make the classic drink even more delicious this year. First there was the Cold Foam Cold Brew, and now they've upped the game with the Salted Cream Cold Foam Cold Brew. It might be a mouthful of an order, but for those of you wondering what Starbucks' Salted Cream Cold Foam Cold Brew tastes like, trust me: it's worth ordering, and is just as delicious as it sounds like it would be.
Starbucks is adding the new drink on Tuesday, July 10, and the best part about the whole thing? This is a permanent menu addition, not just a limited edition summer drink. That means that if you love it, you can get it whenever you want from now on, which is pretty awesome.
Cold Foam is still a new item on the Starbucks menu, as it was just introduced nationwide a few months ago, in the spring of 2018. If you've ever ordered an espresso drink, you're familiar with regular old foam, but Cold Foam is a whole different story. Cold Foam is a thick, rich foam for cold beverages that gives any cold drink a smoother finish. According to Starbucks, it's "a modern twist on the classic as a perfect finish to cold beverages. Frothed cold instead of hot by blending nonfat milk until it is smooth, creating layers of creamy texture and flavor without the cream." While some drinks come with Cold Foam automatically, you can add it on top of any cold drink.
Obviously, it also tops the Salted Cream Cold Foam Cold Brew. The base of the drink itself is made with the classic Starbucks Cold Brew coffee, with an added hint of caramel. It's then topped with salted cream Cold Foam instead of the regular Cold Foam. The result is an icy cold caffeinated drink with the taste of sweet caramel, as well as the rich, slightly salted foam on top. It's perfect for anyone who wants something that tastes sweet but not incredibly sugary, and that will give them an energy boost on a steamy summer afternoon. If you like the Vanilla Sweet Cream Cold Brew drink, you'll likely really enjoy this one as well. Considering the fact that you can get Cold Foam on any iced drink, you can likely add Salted Cream Cold Foam to any cold drink as well.
And if this sounds a little bit too sugary for you, don't worry: Starbucks is also introducing another new permanent drink on July 10. The Salted Cream Cold Foam Cold Brew will be introduced alongside the Iced Vanilla Bean Coconutmilk Latte. This one is, obviously, a latte made with coconut milk, and it's both dairy- and syrup-free. It features vanilla bean coconut milk shaken with ice and topped with espresso shots. While the vanilla bean flavor of the coconut milk makes this drink slightly sweet, the lack of syrups makes it ideal for anyone who doesn't want anything too sugary.
On top of that, Starbucks also announced this week that they plan to eliminate plastic straws globally by 2020. A press release from the company states that they will "eliminate single-use plastic straws from its more than 28,000 company operated and licensed stores by making a strawless lid or alternative-material straw options available, around the world." The company believes that this will eliminate "more than one billion plastic straws per year from Starbucks stores." In a time when it couldn't be more important to focus on taking care of our planet, it's truly amazing to hear that a huge company like Starbucks is taking the steps towards eliminating plastic waste.