What Even The Biggest Kel Mitchell Fans Get Wrong About Ed From 'Good Burger'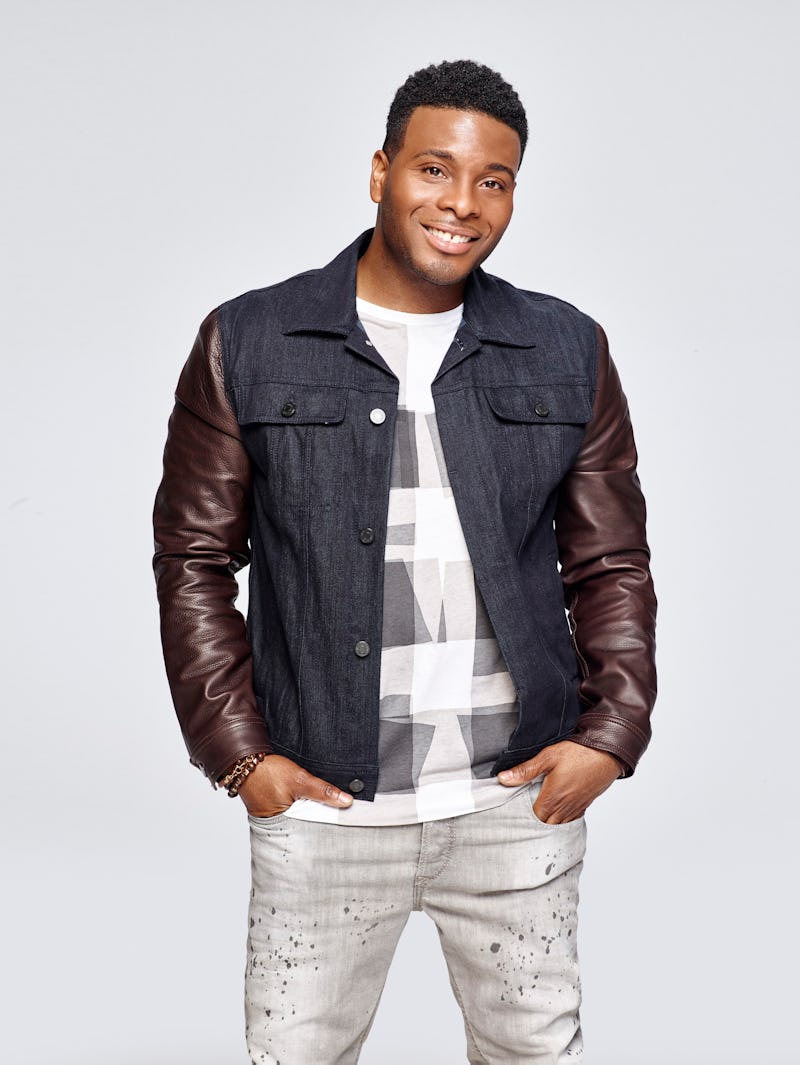 Nickelodeon
Kel Mitchell is shorter than you think he is. When he arrives at the Bustle offices to promote Game Shakers' Nov. 25 "Danger Games" crossover, the fact that he isn't well over six feet tall is striking, because the actor is known for playing some truly larger-than-life characters. Ed from Good Burger. Repair-Man from All That. Kel Kimble from Kenan & Kel. Double G from the aforementioned Game Shakers. Through his roles, Mitchell bridges the gap between older and younger millennials, starring in shows as iconic characters that have made him beloved by kids at heart and kids — including his own children, of course. But even years after the Good Burger movie, the actor wants you to know there's something you've been getting wrong about Good Burger's Ed all these years.
When most people think of Ed, the first thing that comes to mind is comic relief. He is the idiot, the buffoon, the one who's always several steps behind everyone else, remembered for his comedic screw-ups more than anything else. But none of that is why he's such a beloved character to this day, according to Mitchell. "My mom used to say Ed was very similar to Forrest Gump. He was just this real nice, humble guy," says the actor. "It wasn't that he was slow. His mindset was just on one thing. I think that's why everybody felt that he was a real lovable character."
Mitchell, too, gives the impression of being a lovable character in real life. He laughs frequently and loudly and gestures with his whole body. He lights up when asked a question as if excited by the chance to answer it and says "thank you" when presented with facts like his iconic status in the hearts and minds of '90s kids everywhere. In that way, I don't feel like I'm so much interviewing Kel Mitchell as I am watching a natural entertainer make even the most mundane part of life extraordinary.
Considering that, it makes sense that, while we might remember such iconic lines as Ed's "Welcome to Good Burger, home of the Good Burger" and Kel's "I put the screw in the tuna," their humanity and complexity should stick with us, too. And, sometimes, that does happen. For example, Mitchell lists the Kenan & Kel episode he's most proud of as "Bye Bye Kenan," the two part special in which Kenan's family moves away, separating the titular boys. According to him, numerous fans — including former Floetry member Marsha Ambrosius — have told him the episode always makes them cry.
"For me, it was such an awesome episode because of the fact that it was very dramatic, and I got to show my dramatic chops," he says, pushing his rolling chair away from the desk in excitement. "I came from theater, and I was in all kinds of dramatic plays before the comedy." But don't think that he's discounting comedy entirely. In fact, Mitchell credits comedians as being the ones who know how to do drama very, very well. "We have to take something dramatic in our lives and make it funny for people on stage." he continues. "That's really where it's medicine to the bone, being funny. We know how to pull from that dramatic area."
On Game Shakers, Mitchell credits his character Double G as being influenced by the likes of Kanye West and P. Diddy. The show follows a pair of seventh graders, Babe (Cree Cicchino) and Kenzie (Madisyn Shipman), who create an app called Sky Whale for a school project and, when it blows up, start a company called Game Shakers with their friend Hudson (Thomas Kuc). Double G initially wants to sue them for using one of his songs in the app, but then decides to become their business partner instead. Mitchell performs a lot of music in character for the show, and in "Danger Games," which will bring Game Shakers and fellow Nickelodeon show Henry Danger together, Snoop Dogg will even cameo.
"He's a fan [of Game Shakers]," says Mitchell with a booming laugh. "So, he hit us all up... This is the first thing he'll be in, and then we'll bring him back and put him in more stuff." In the episode, Double G is "trying to show that he's a bigger star" than Snoop Dogg. So, when Snoop Dogg holds a charity concert, Double G hosts a "charity revenge concert" to be bigger and better than Snoop Dogg's. Taking something dramatic — philanthropy done not for the good of others but to make yourself look good — and making it comedic? Classic Mitchell.
Of course, it hasn't always been good times. After Kenan & Kel, both Mitchell and Thompson both tried out for Saturday Night Live; Thompson made it and still performs on the show to this day. Mitchell didn't. Despite the fact that Mitchell has had a steady stream of work on and off the camera from the '90s to now — from cameos on Good Luck Charlie and Sam & Cat to co-writing and producing Dance Fu to appearing in Khalid's "Young, Dumb, & Broke" music video — a 2006 Myspace hoax convinced the internet that he was dead for a while. And, in his personal life, Mitchell's six year marriage to Tyisha Hampton-Mitchell ended in a divorce in 2005, after which he hit an all-time low.
But then he became the stage manager for a Los Angeles-based nondenominational church and found his way again, according to a People interview quoted by Fox News in 2015. He married Asia Lee in 2012. He does standup shows and visits schools and theater groups to speak to kids. Mitchell, a self-proclaimed "cool dad" to son Lyric and daughters Allure and Wisdom, tries his best to pay it forward to the next generation. Which is something he learned from his psychologist father and teacher mother.
"Growing up on the southside of Chicago, [my parents] had hobbies for me because you can get into the wrong crowd. My outlet was drama and acting," he says. It's a rare somber moment in the interview, though he still chuckles as he gives a shout out to the summer theater group he joined at the time. "I always promote to kids have a hobby. And to parents, if their kids are going through something, get a hobby for them... I feel like my parents did that for me."
But that isn't the only thing the actor is serious about. He's older and wiser than he was when he was a kid whose outlet was drama and acting, and he's branched out into music, directing, editing, and so much more. This life experience shows and informs his words and actions. "I've been around the whole entire [production] crew, and so I kind of tell the kids [to] remember that this is a team effort. It's not about you," he says with humble seriousness. "It's all teamwork. When I come out, I say what up to everybody, let's all have fun, we don't like any sad faces, it's all good energy."
As soon as he's done answering, Mitchell is nodding his way through another smile, eyes wide and expectant for the next question. Ready to laugh. Ready to make me laugh. Ready to make us all laugh. Because Kel Mitchell may have defined our childhoods in the '90s, but he's still fascinating to watch even in 2017.