What Flavor Is The Dragon Frappuccino?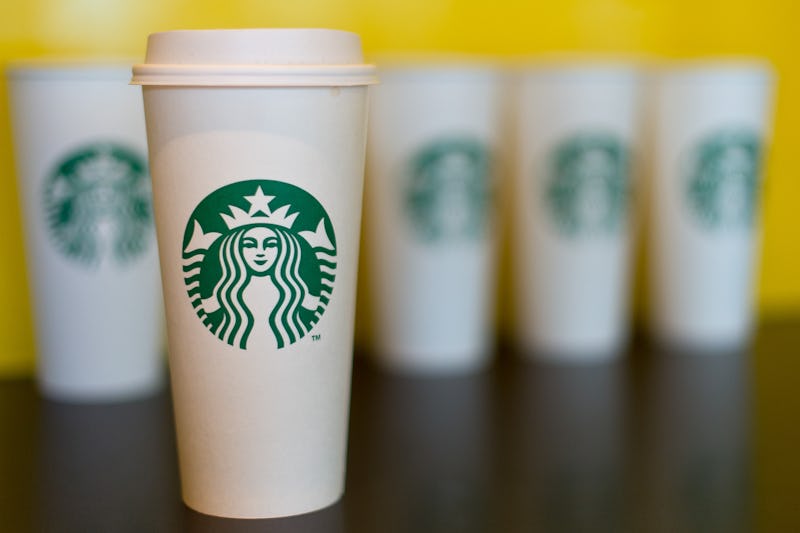 Ben Pruchnie/Getty Images News/Getty Images
There are a few baristas who might think they were punked today. When I visited three different Starbucks locations that was the look I was given after asking for a Dragon Frappuccino — the spin-off of the much obsessed over, Unicorn Frappuccino. Are you confused what I'm talking about and haven't heard of the Unicorn Frappuccino either? Let me explain. Released for a limited run last week, it took over the internet and gave Instagram users a fun new prop for their pictures. Made up of a creme base, mango syrup, sour blue syrup, and "pink and blue powder," the drink was available while supplies lasted in the United States, Canada, and Mexico from April 19 to April 23. The unicorn obsession has exploded with all types of new products out there, such as Tarte's Magic Wand Unicorn Horn Brushes.
Well, unicorns, it's time to take a back seat. The age of the dragon seems to now be upon us. Once the limited supply of Unicorn Frappuccinos ended, the demand continued. Enter the creative baristas of Starbucks. A select group decided to use the left over ingredients to create a new drink — the Dragon Frappuccino. Social media posts have noted the secret menu item is less sweet with caffeine in it, unlike the Unicorn Frappuccino.
So back to actually trying to order it. Unfortunately getting your hands on this mystical drink might prove to be a bit more difficult. When I tried to purchase one the barista's responses ranged from "What's that?" to "I've never heard of it." Then I explained exactly what's in the Dragon Frappuccino.
A Dragon Frappuccino has three core ingredients.
1. Green Tea Frappuccino
This on the menu frapp is made up of a cream base, ice, milk, and, the ever trendy, matcha powder.
2. Vanilla Bean Powder
A nice mix to the frappuccino for added flavor.
3. Berry Cup Swirl
Here was the problem. Each Starbucks I went to didn't have a berry syrup and was very confused about why I was asking for it. The closest I got was the third location mentioning they had a berry hibiscus base, which sounded interesting, but not like a proper substitute.
Unfortunately, it seems like the odds of trying this drink are not in my favor. I'll have to rely on social media users for the time being to find out more information about this mysterious concoction. Feeling determined to find it? I wish you the best of luck on your quest. Go find that dragon.