Here's What Went Down With 'Vanderpump's James & Lala Before His Jaw-Dropping Declaration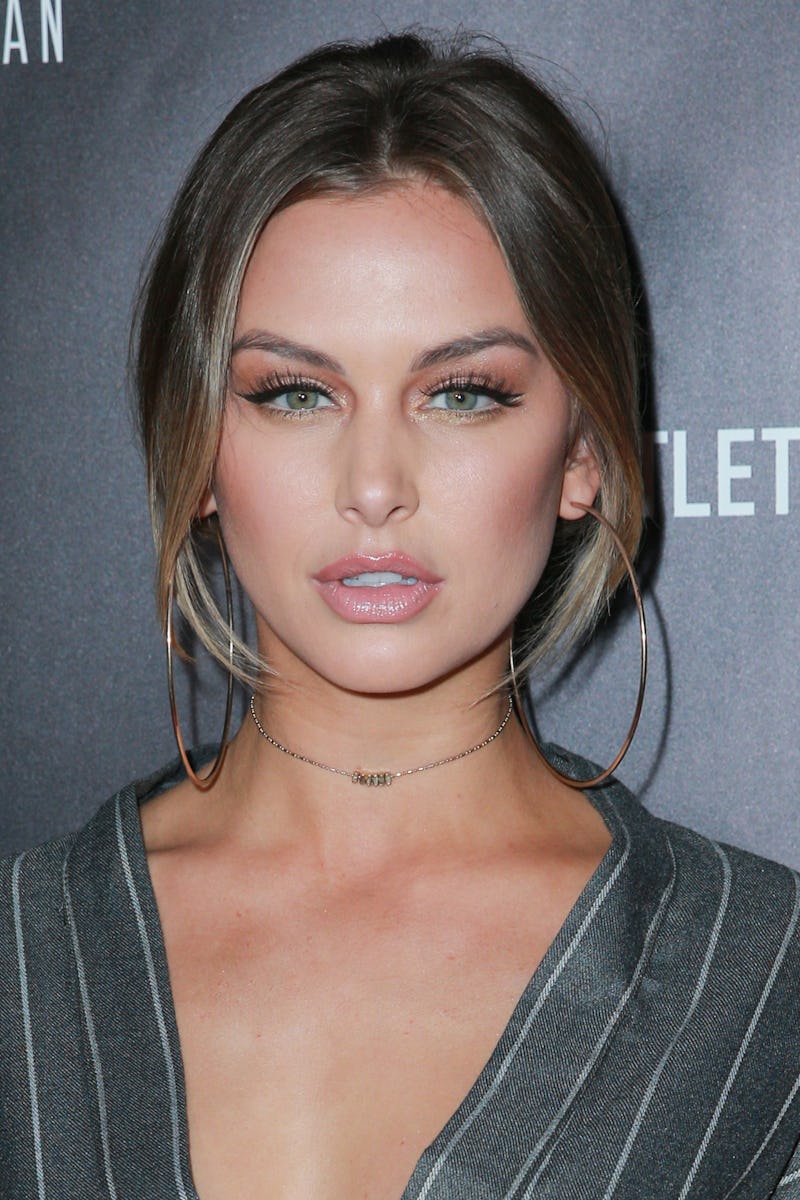 Rich Fury/Getty Images Entertainment/Getty Images
James Kennedy is treading on thin ice on Vanderpump Rules, and he, like usual, is the only one that can see it. James has a tendency of treating everyone around him really poorly and blaming it on the drink, but it sure seems like Lala is close to having enough of his you-know-what. She's threatened to dump the chump, as it were. Viewers who don't have an encyclopedic knowledge of Vanderpump Rules like I do (I'm not proud, trust me) may be asking what happened between Lala and James on Vanderpump Rules? Their Season 6 fighting has actually been a long time coming.
Lala started as the new girl on Season 4 of Vanderpump Rules, and she and James hit it off pretty quickly. It helped that the women on the show were being super mean to the new hostess, with Katie inferring that Lala sold her body in order to get trips and rides on private planes to Europe. (This was gross.) James was initially interested in Lala in Season 4, and he wanted to hook up with Lala in order to get revenge on then-girlfriend Kristen Doute, whom he was convinced was cheating on him. Lala and James did a "will they, won't they, are they" thing for a while, but eventually these two ended up just being friends. Best friends, too. Lala and James were always seen hanging out with each other, recording music or ganging up on the rest of the gang (remember when Lala told the group that they weren't working on their summer bodies? Way harsh, Tai).
In Season 5, Lala was dealing about rumors of a married boyfriend (which she always denied), and James brought current-girlfriend Raquel onto the scene, and everything was mostly cool. They each had their relationship, and Lala and James remained pals and confidantes. There is always drama on Vanderpump Rules, but Lala and James, despite their tiffs, always seemed unaffected by it all. Lala even disappeared from SUR for a little bit, but her friendship with James was always there. In Season 6, it's easier to understand why James and Lala are on the outs. It's because not only does James keep insulting Lala's recently divorced boyfriend to her face, but he also flat-out told her he loved her.
Earlier in Season 6, James told Lala that she was only with that "fat man because he pays for your rent," but he'll soon "get bored with you." What does a person even say to that? Lala, to her credit, was remarkably poised, telling James that he needs to cool it with this nonsense or else Lala's gonna bail on him as a friend (which would be fair). Lala even went to Raquel to explain why James was on thin ice. "James just said something about my man. Normally if somebody else said that, we would have a lot of problems," Lala told Raquel. She then added, "You've gotta keep him in check." Raquel, to her credit, agreed.
And that brings us to current times, when James is trying to explain to Lala that he doesn't have anything nice to say about Lala's boyfriend because he doesn't think Lala's man is "good enough" or worthy of Lala's time. Who is, then? Oh, James probably thinks he is. What James is doing is unfair on multiple accounts. It's unfair to Lala because he probably thinks that Lala will eventually come running to him, and that's a lot of pressure. It's unfair to Raquel, because Raquel is his girlfriend, a girlfriend who had to come to Lala and say, "Hey, James seems to act differently with you than his other friends. What's up with that?" Lala told Raquel that she would never do anything to interfere in their relationship, because Lala, at her heart, is a kind, decent person.
James, though, is proving to be the ass he vowed to leave behind with his drinking (he has left neither behind). Besides thinking that attacking Lala and the man she loves is going to bring her closer to him, James is also saying some really terrible, misogynist stuff about his alleged best friend. In the Feb. 26 episode of Vanderpump Rules, James said that the only reason Lala and he aren't still together is because he was a poor busboy at the time. If he was a rich DJ, she would have stayed with him. He is insinuating that Lala is a gold digger and is only with her current man because he has the cash to back it up. To add insult to injury, James made a reference to Ray-J and Kanye West and their respective sexual relationships with Kim Kardashian West. In this situation, he was Ray-J, who got to "hit it" first before the rich Kanye came along. This is disgusting but also confusing, because James likes to call himself the white Kanye West.
In any case, James is still numb or stupid to the fact that Lala is about to walk away. At the present time, Lala has done many an interview describing how she and James are no longer friends. She told Us Weekly that their friendship is "nonexistent." "I have him blocked from my cellphone to all social media," she said. "You know you come for me, but when you come for my man, game over." The final straw has yet to be aired, but it's great that Lala is able to set that boundary with James — he may have been one of her closest friends, and it's hard to walk away from a bond like that. But Lala is choosing herself and her relationship over her time with James on Vanderpump Rules, and it seems like a healthy decision.