Everything You Need To Know About 'Winter Games' Contestant Ally's 'Bachelor' Season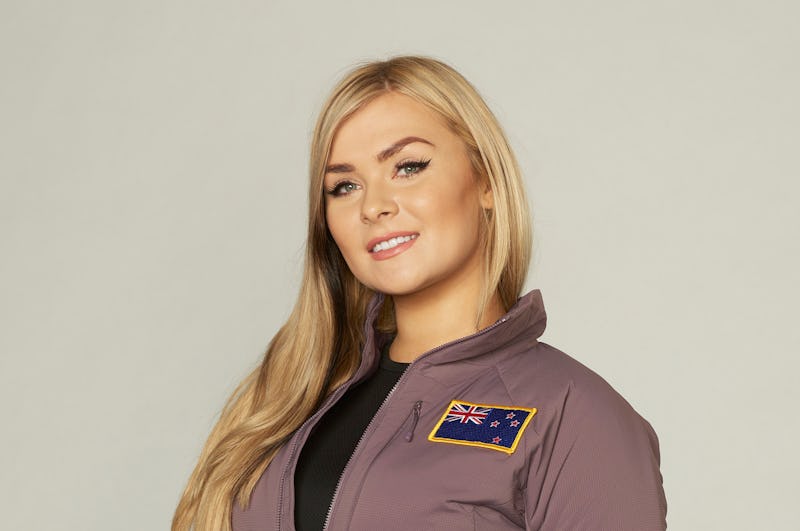 ABC
The residents of Bachelor Nation have done a lot of things for love and Ally from The Bachelor New Zealand journeyed nearly halfway around the world to participate in The Bachelor Winter Games. Since most U.S. viewers will remember or at least recognize the Americans who have joined Winter Games, Ally — along with the rest of the international cast — has a certain air of mystery about her. But even though she calls the faraway land of New Zealand home, Ally's experience on The Bachelor will be oh-so-familiar to fans of the franchise. Because some things, like looking for love on The Bachelor, are just universal.
Although Ally Thompson was on The Bachelor in New Zealand, the 24-year-old wasn't born there. As her Bachelor bio states, Ally is originally from Worcester, England and moved to New Zealand fairly recently when she was 19. She currently lives in Nelson on the South Island of New Zealand where she is a certified yoga instructor and has a cosmetic tattooing business.
Ally was on Season 3 of New Zealand's The Bachelor, which is the country's most recent season that wrapped up in May 2017. (Meanwhile, in the U.S., Arie Luyendyk Jr. is the 22nd Bachelor.) Ally initially competed alongside 18 other women to win the heart of Bachelor Zac Franich, who is a coach for a "surf lifesaving club" (an organization that promotes water safety in its community), a lifeguard, and a kayaker.
Thanks to recaps from Sarah Templeton of the New Zealand website Newshub, you can learn about every moment of Ally's season of The Bachelor even if you're from the U.S. Her first break came in Episode 3 when she was on a group date with three other women. They had to compete in three lifesaving water races and Ally was the winner. Not only does that prove that she's athletic enough to be on Winter Games, but it also earned her some alone time with Zac. (Zac also noted in this episode that Ally resembles Kirsten Dunst.)
Things got a bit messy in Episode 7 since The Bachelor New Zealand introduced "intruders" — three women who came onto the scene while the season was already in progress. Shortly after, in Episode 9, Ally was part of some drama in the house due to one of these intruders, Karina. The women found out that Karina had previously dated the host of The Bachelor, Dominic Bowden. While it would be fairly ridiculous if a U.S. contestant had dated Chris Harrison before appearing on the show, recapper Templeton noted that New Zealand is a "country where there are only two degrees of separation."
But some of the women were still unhappy about this revelation and so Ally joined forces with contestant Rosie to call Karina out. It led to a (what else?) dramatic fight. Despite the argument, Zac kept Ally, Rosie, and Karina that week after Karina told Zac about her past. It seems that the intruders continued to rub Ally the wrong way though. Templeton noted that in Week 10, Ally appeared annoyed when a different intruder, Sarah, got picked for a date.
In retrospect, the fight between Ally, Rosie, and Karina can be looked at as a bad omen. Because Weeks 10, 11, and 12 saw Zac eliminate Rosie, Ally, and Karina, in that order. Ally's elimination came during Week 11 after she participated in a group date in Bangkok, Thailand. She graciously complimented the other women left on The Bachelor when Zac sent her home.
In an interview with Newshub, Ally explained that she was probably sent home because Zac had a stronger connection with the other girls. "We were more in that bro zone, I guess," Ally said. "Maybe when we were having a pint of beer cause I kind of chug back my beer. I'm not really ladylike — maybe that was the bro-zone part," she added with a laugh.
She also noted that she probably would have fallen hard for Zac if she had stayed on the show longer. So Ally was OK leaving when she did since she wasn't too emotionally invested. But she said she was sad to leave the other women, including runner-up Lily, who will be joining Ally on The Bachelor Winter Games.
Neither she or Lily should be too upset about losing on The Bachelor since Zac broke up with his final choice, Viarni, six months after the finale aired. (Stuff.co.nz reports that Zac is currently dating a New Zealand TV personality.) So while Ally didn't get too far on The Bachelor New Zealand, she has another chance at romance during Winter Games. Plus, with her yoga expertise and her success at the sports challenges on The Bachelor, she could win more than love during this cold-weather competition.