Here Are The Prime Suspects So Far In The Creepy Murder Mystery Of 'Sharp Objects'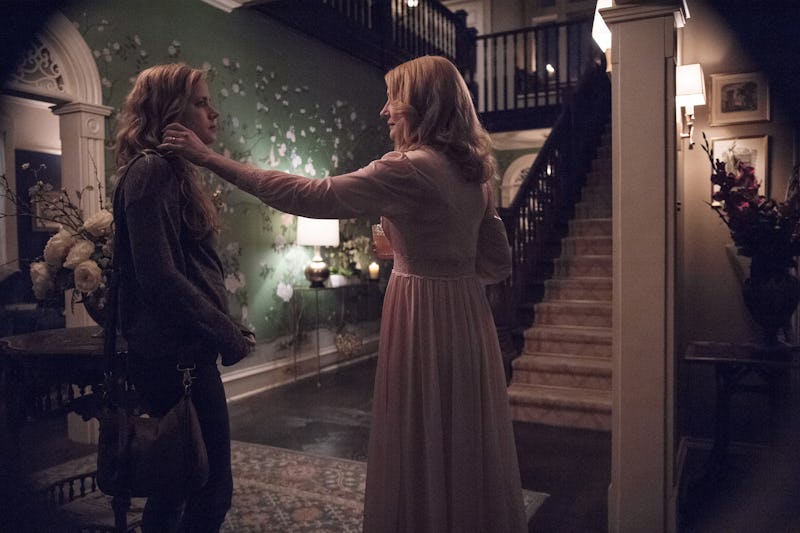 Anne Marie Fox/HBO
Major spoilers ahead for the premiere of Sharp Objects. HBO's Sharp Objects miniseries, which premiered Sunday, July 8, adapts Gone Girl author Gillian Flynn's morbid whodunnit. The show stars Amy Adams as St. Louis-based journalist Camille Preaker who's forced to return to her hometown of Wind Gap, Missouri when two girls go missing and subsequently are found murdered. The mystery of who killed Ann and Natalie in Sharp Objects is just one of the town's many secrets.
It's immediately obvious that Camille has some issues. Not only is she always carrying small bottles of Absolut Vodka in her purse, but she appears severely depressed, has triggering flashbacks, and even self-harms. Viewers later see her mother, Adora (Patricia Clarkson), compulsively picking at her eyelashes, implying that Camille has inherited some of her mother's behaviors.
At the start of the episode, St. Louis Chronicle editor, Frank Curry (Miguel Sandoval), assigns Camille a story about the two missing young women. He then asks her what her hometown is like. "Only real industry is hog butcherin', so you got your old money and your trash," she tells him, apathetically. "Which one are you?" Frank asks. "Trash. From old money."
Camille seems severely reluctant to go home. What's more, the journalist keeps having what are presumably flashbacks to something tragic that happened in her past.
Time seems to have passed Wind Gap by. Since the town's main export is (appropriately) butchering, the whole town seems steeped in a sort of gothic haze. Not only does Camille's mother live in an intimidatingly large house that looks straight out of the antebellum south, but their white family employs a uniformed black maid. On top of the uncomfortable racial politics, there remains the troubling reality that two young girls have gone missing, and no one knows who did it.
The first victim was a girl named Ann Nash, who was murdered the previous year. And in the first episode, the body of missing Natalie Keene is discovered, her teeth violently ripped from her mouth. In the course of her work, Camille butts heads with both outsider detective Richard Willis (Chris Messina) and Chief Vickery (Matt Craven) for asking too many questions.
Though Camille doesn't reveal much, she does seem suspicious of Ann's dad, Bob Nash (Will Chase). He appears to be dealing with some anger issues, snapping at his younger daughter, Amanda, when Camille is visiting their home. What's more, Bob wasn't at the house when Ann went missing, telling Camille he was driving home at the time.
Although it sounds far-fetched, another possibility is within Camille's own family. Her mother, Adora, keeps telling her not to snoop around. "Bob Nash called," she tells Camille. "He said you spoke to him. That's not right, Camille. Not right at all. Aren't these families in enough agony without you hashing over it?"
The two have a complicated relationship, to say the least, and Adora appears to be both an overbearing and a neglectful parent. However, the obvious reason for their tense relationship is revealed in the episode's final scenes: Camille's sister Marian died when she was a girl.
And while Camille's half-sister, Amma (Eliza Scanlen), appears at first to be very wholesome, it's obvious that there's a darkness to her, too. While the girl is in her house, she wears tea dresses and big bows in her hair, spending her time playing with her dollhouse. In town, however, Amma lets her hair fly free while she floats around Wind Gap on rollerskates. Could she have murdered her peers, or is she just another rebellious teen pushing back against her strict mother?
Finally, there's John Keene (Taylor John Smith), Natalie's brother. Camille asks the police if he's a suspect in his sister's murder, but they won't tell her. If he is, perhaps that means he killed Ann the previous summer, too — especially if the police's serial killer theory is correct.
Fans of the book already know what happened to Ann and Natalie, and it's easy enough to spoil yourself on the ending if you really want to know. But those who would prefer following their own theories to the conclusion can see how the suspect list is narrowed as the eight-episode miniseries continues. There are more skeletons in Wind Gap than just these two violent deaths.
If you or someone you know is considering self-harm or experiencing suicidal thoughts, call the National Suicide Prevention Hotline at 1-800-273-8255 or text HOME to the Crisis Text Line at 741741.