Relive Danny's Journey From K'un Lun To NYC Before 'Defenders'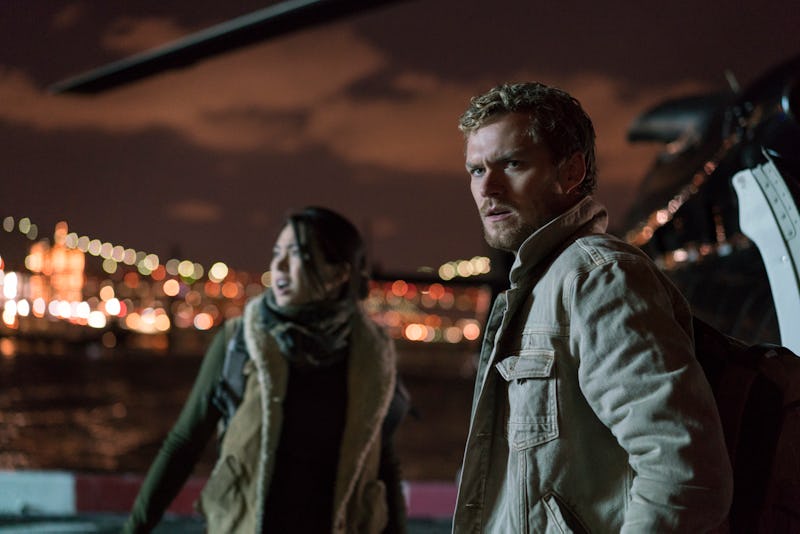 Sarah Shatz/Netflix
The first four Netflix Marvel series have all been leading up to the Aug. 18 premiere of The Defenders, but each have attracted different audiences. It's totally understandable if you haven't caught up with every series, or need to refresh on a particular member of the super team from Daredevil to Iron Fist. So if you're curious to find out what happened to Danny before The Defenders, for example, look no further.
Iron Fist differed from Daredevil, Jessica Jones, and Luke Cage in a few ways. Danny Rand (Finn Jones) may have grown up in New York City, but he's not exactly a street-level hero at first. For one thing, Danny came from a rich and privileged background. He's the Tony Stark of the group — though he actually has more in common with Christopher Nolan's take on Batman/Bruce Wayne, if you ask me. There's also a little StarLord and a dash of Thor mixed into his personality. Danny started off as a typical late '90s kid who loved Outkast, called his family lawyer J-Money, and snagged one of the first ever iPods. You know the type.
Then, after both of his parents perished in a plane crash, preteen Danny was taken in by monks in K'un-Lun, a mystical hidden city that also serves as a martial arts magnet boarding school. They have a dragon, too. Eventually, Danny faced said fiery beast and was given the chance to wield the Iron Fist and protect K'un-Lun from enemies. He received a chest tattoo and a glowing punch as part of his new gig, but needs to focus and "charge" his chi in order to use his powers.
Season 1 opened with Danny returning to New York — barefoot, grimy, and ready to take on The Hand, the mysterious organization that went after Matt Murdock in Daredevil Season 2. Here's what happened to Danny next:
Make New Friends...
Danny soon met up with Colleen Wing, who runs a dojo in Chinatown and turned out to be a member of The Hand, but like a chill member. She ultimately left them, including her mentor Bakuto. He died, but was dragged away by the Hand, so will probably return. That said, Colleen is cool. She is a fierce fighter with a lot of sarcasm and high emotional walls.
One of Colleen's students happened to be Claire Temple, the Phil Coulson of The Defenders who has been in every series and treated everyone's wounds. Claire's not too impressed with Danny, but she and Colleen have an excellent teacher/student friendship.
But Keep The Old
The first thing Danny did upon his arrival was to go to his father's company and look up his old friends, Joy and Ward Meachum. They didn't recognize him at first, and even had him institutionalized. Ultimately, the two friends believed him and reunited. Danny tried to blend into business life. That didn't work out.
The Meachum patriarch Harold was also presumed dead, but was secretly living in a penthouse unbeknownst to his daughter. Only his assistant, his son Ward, and the Hand — who brought him back to life — knew his whereabouts. Danny's arrival threw this into chaos. Madame Gao, who you know from Daredevil, tried to recruit Danny. He pursued her for a while. There were drugs involved. Harold died again, for real.
There's also Davos, Danny's old pal from K'un-Lun who was understandably a little jealous and upset that not only did an outsider like Danny earn the title of Iron Fist, but then almost immediately abandoned his post as guardian of K'un-Lun and escaped to New York. At the end of the season, Davos teamed up with Joy in Europe. Who knows what they could be planning.
You Had One Job
Speaking of K'un-Lun, Danny and Colleen (oh right, they're maybe dating now) went to visit Danny's roots... only to find that it had been destroyed by the Hand. All of his former students and teachers are now dead.
That's where Danny is left at the end of Iron Fist Season 1. Guilty that he abandoned his duty and more determined than ever to put an end to the Hand. Fortunately for him — The Defenders is right around the corner.